Sustainability
Innovation is a powerful tool. It's at the heart of what we do every day, from designing great outdoor gear to finding new ways to minimize the global impact of our business. Our passion for sustainability is driven by a three-fold philosophy: People/Product/Planet™.
People: Promote fair, humane working conditions, support social initiatives and foster diversity in the outdoors.
Product: Produce performance apparel and equipment that meets the expectations of mountain professionals and enthusiasts.
Planet: Produce environmentally conscious products and encourage good stewardship in the outdoors.
People
We believe everyone should have the opportunity to lead a full life and enjoy the physical and spiritual benefits of the great outdoors. Marmot's people-based initiatives are centered on five core values:
•We conduct business with integrity and compassion.
•We're advocates for the well-being of our employees.
•We believe the outdoors are for everyone, regardless of race, ethnicity, gender-identification, sexual orientation, body shape, or fitness level.
•We foster a love for the outdoors and access to wild places.
•We support our local communities.
Diversity, Equity, and Inclusion
Marmot is committed to hiring and supporting a diverse workforce and to representing the true diversity of the outdoor participant community. We were the first company to sign the Outdoor CEO Diversity Pledge, which pairs outdoor brands with inclusion advocates in order to advance representation for people of color across the industry.
Fair Labor Practice and Working Conditions
Protecting and promoting the well-being of the people who make the products we sell is a core component of our business. In partnership with our parent company, Newell Brands, Marmot holds our supplies and vendors to a strict code of conduct mandating safe working conditions, fair and legal hiring, scheduling, compensation, and other worker-protection practices. Our vendors are subject to a regular regimen of on-site audits to ensure their compliance.
Human Trafficking and Slavery
The California Transparency in Supply Chains Act takes aim at eliminating slavery and human trafficking from global supply chains. The CTSC Act requires companies that do business in California to disclose their efforts to ensure their supply chain is free of human rights violations. We will not work with any suppliers who engage in human trafficking and/or slavery, forced/prison labor, or child labor.
Product
We think of Marmot innovation as a way to create better human experiences. For products in the field, that means best-in-class warmth, protection, and ease-of-use. For products in development, that means forward-thinking design and sourcing to help reduce waste, pollutants, and inefficiencies. Our product-based initiatives:
•We reduce consumption by making only high-quality, durable, long-lasting products.
•We reduce water, energy, and other resource usage through innovative product design, manufacturing, and logistics.
•We avoid the use of chemical treatments.
•We champion change by continuously participating in industry-wide initiatives to improve the sourcing and manufacturing process.
Product Transparency
Marmot strives for the highest level of performance and protection with the lowest possible impact on the planet. We have a rigorous process of selecting sustainable materials and manufacturing methods. To make that process easy to understand we've developed a product rating system. Our Good-Better-Best rating measures the level of environmental impact in three important categories:
•Recycled materials: We adhere to the Global Recycled Standard.
•Eco-friendly fabrics: We're bluesign® certified.
•PFC-free technologies: Flurocarbon-free water-repellency treatments.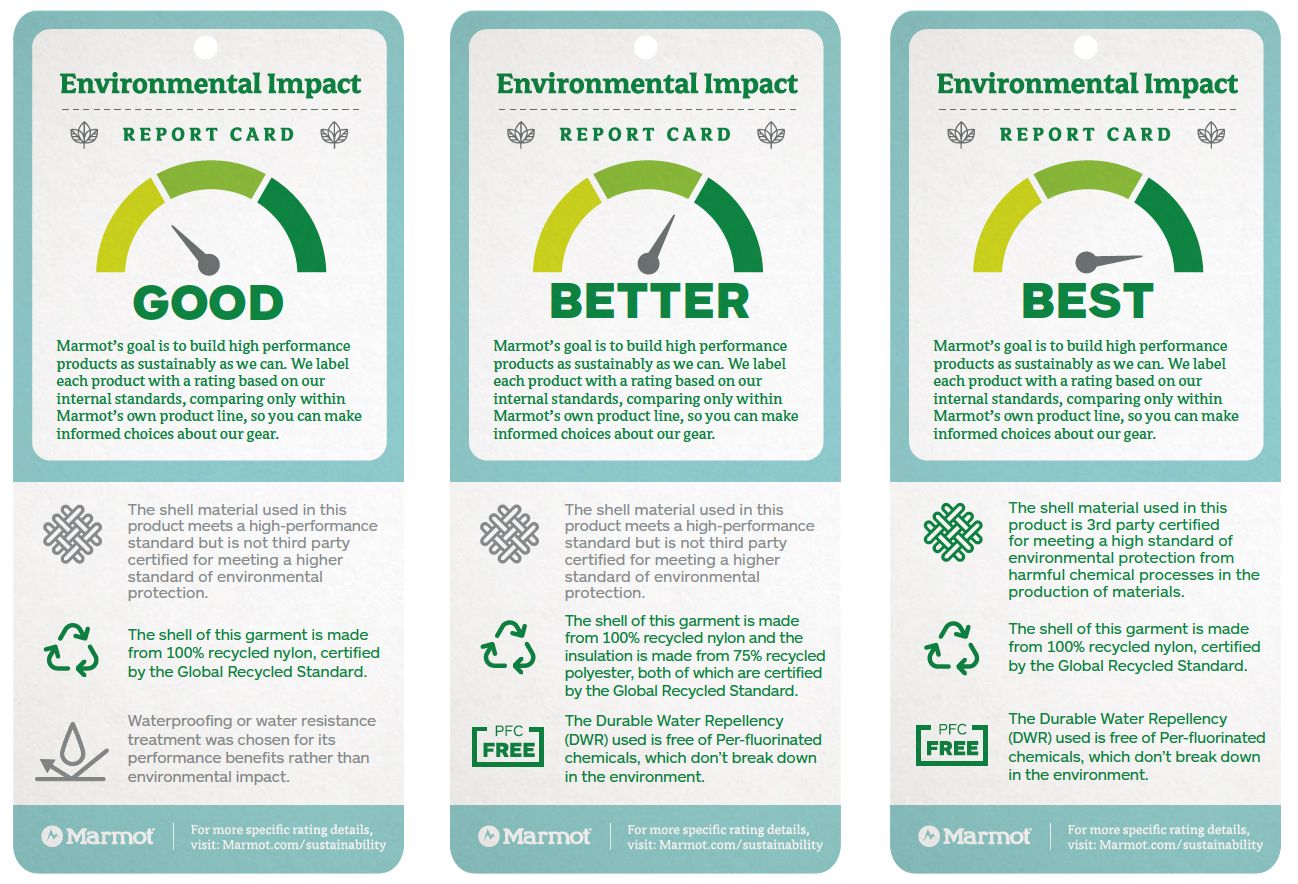 bluesign®
bluesign® certification helps us move toward a world of low- or non-pollutant textiles, environmentally and human-friendly production and the conservation of limited resources.The bluesign® system is based on partnering with brands and suppliers to focus on tangible improvements in resource productivity, consumer safety, water and air emission, and occupational health and safety.
PFC Reduction and Elimination
Outdoor apparel is designed to keep you dry. Traditional manufacturing techniques have relied on water-resistant chemical coatings to help garments shed water. Some traditional flurocarbon-based chemicals, such as perfluorooctanoic acid (PFOA), persist indefinitely in the environment and pose potential health risks. We've eliminated PFOA from all new Marmot products and are making progress toward eliminating perfluorocarbons from our supply chain altogether.
Recycled Content
Marmot pledges to increase our use of recycled materials in our products. We believe in producing top-tier performance pieces while simultaneously taking items out of the waste stream. We leverage partnerships with groups like Thread International to help bring traceable recycled content into our fabrics. All Marmot products that contain recycled polyester and/or nylon are labeled UpCycle®.
Animal Welfare
We make every effort to secure our raw materials in a responsible manner, including any Animal Derived Materials (ADM). Marmot ensures strict requirements, transparency, and traceability. Our guiding principles are the Five Freedoms of animal welfare as underlined by the World Organization for Animal Health:
•Freedom from hunger, malnutrition, and thirst.
•Freedom from heat stress of physical discomfort.
•Freedom from pain, injury, and disease.
•Freedom to express normal patterns of behavior.
•Freedom from fear and distress.
Responsible Down Standard
Marmot was an early adopter of humanely sourced down. We were working with our suppliers to improve the process even before the establishment of the Responsible Down Standard (RDS) in 2014, and remain committed to using only RDS-certified down. Only products with 100 percent certified down and feathers carry the RDS stamp of approval.
Planet
Marmot makes great gear and apparel. Why we make it lies at the heart of our mission. We're a company of athletes and adventurers. We're motivated by the richness and beauty of the natural world and the chance to experience it with others. But how do you outfit adventure-seekers in their quest to explore the world's highest peaks, map out first ascents, venture off-trail without adversely affecting the environment? We do this by minimizing our impact on the planet and its resources, protecting wild places and wild creatures, and supporting scientists and researchers working to protect our planet.
Carbon Reduction
In a world of global manufacturing, moving raw materials and finished goods from one location to another results in energy consumption and carbon release. In 2011, we launched a transportation reduction initiative designed to reduce the miles that raw materials and products travel. We've since reduced our air-shipments by 60 percent.
Forest Stewardship Council Certification
Marmot uses recyclable and reusable materials to keep waste to a minimum and reduce the impact of our packaging. Our in-store product tags are Forest Stewardship Council certified, which means at least 70 percent of the paper comes from FSC-certified forest, while the remaining 30 percent is sourced from controlled wood.
Access Fund: By supporting the Colorado-based Access Fund, Marmot aims to protect climbing access and the integrity of America's outdoor climbing areas.
Leave No Trace: The member-driven Leave No Trace Center for Outdoor Ethics teaches people how to enjoy the outdoors responsibly.
The Conservation Alliance: The Conservation Alliance engages businesses to fund and partner with organizations in an effort to protect natural habitats.
American Alpine Club: The American Alpine Club (AAC) vision is united community of competent climbers and healthy climbing landscapes.
Alpine Club of Canada: The ACC strives to bring together and give a voice to Canada's mountaineering community.
The Outdoor Foundation: Established by the Outdoor Industry Association, the Outdoor Foundation seeks to inspire and grow future generations of wilderness enthusiasts.