Women's Strollbridge Jacket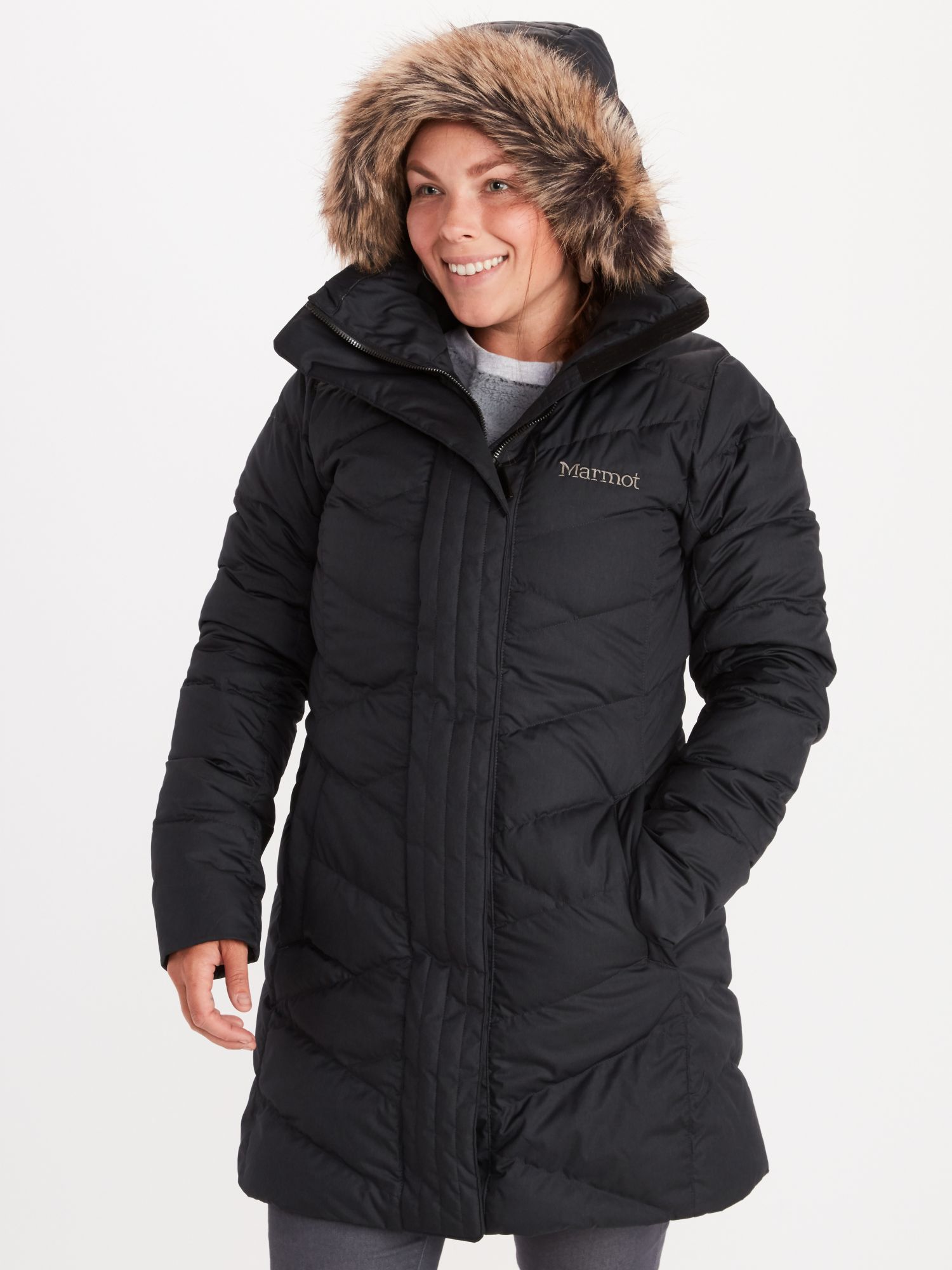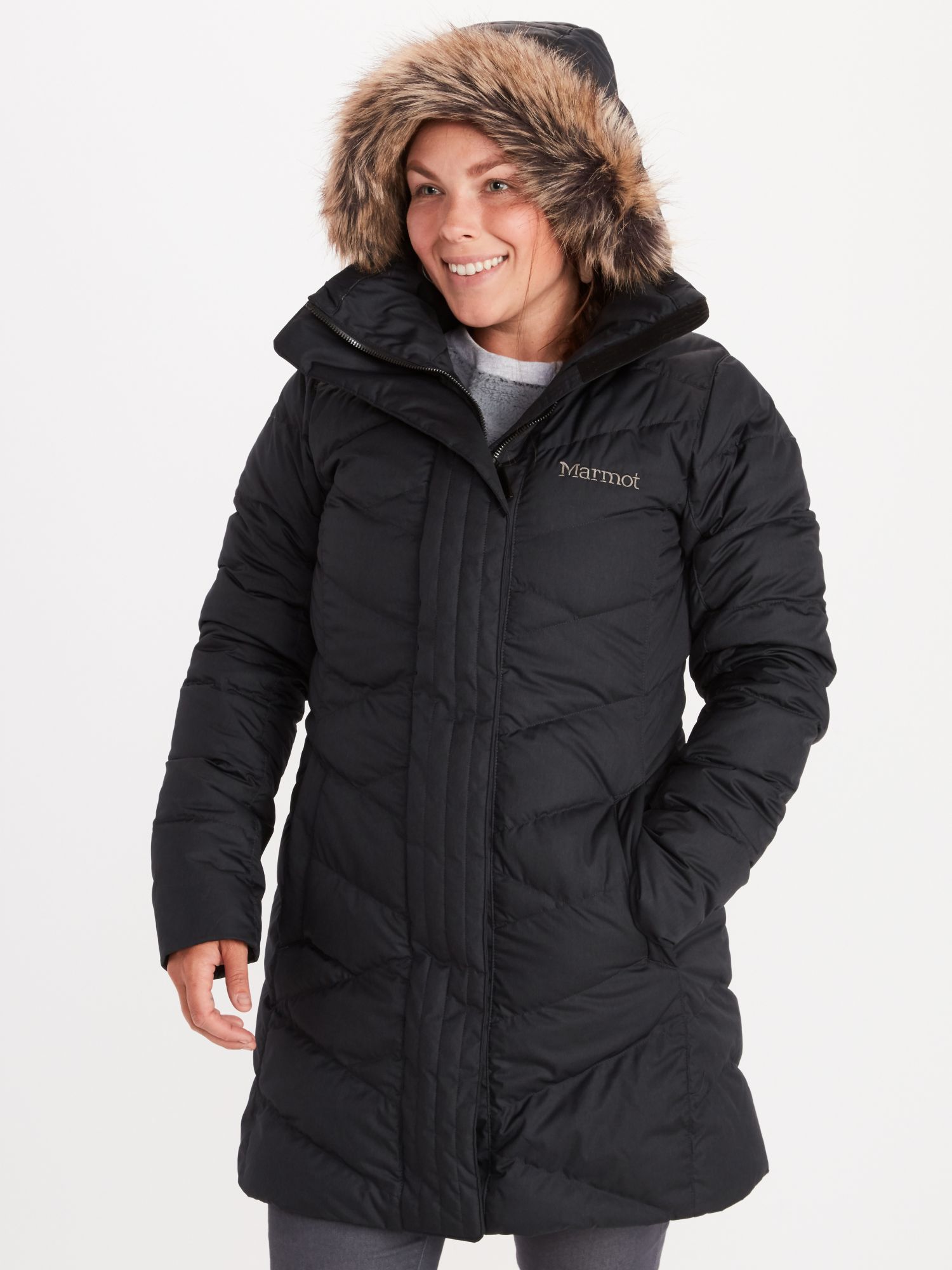 Women's Strollbridge Jacket
Final Sale: may not be returned or exchanged
Final Sale
This item cannot be exchanged or returned. Valid while supplies last. All sales final.
Selection will refresh the page with new results.
Final Sale: may not be returned or exchanged
Final Sale
This item cannot be exchanged or returned. Valid while supplies last. All sales final.
Product Details
Features
700 Fill Power Down with Down Defender
Zip-Off Hood with removable Fur Ruff
Zippered Handwarmer Pockets
Hidden Flash Pocket
Internal Zip Pocket
Micro Fleece Internal Cuffs
Description
The hustle of the city calls for a jacket that has shameless confidence in the face of cold encounters. Thankfully, there's the Strollbridge Jacket. Designed with water-resistant 700-power-fill down, a zip-off hood with removable fur ruff and handwarmer pockets, this jacket boldly enters the cold.
Specifications
Product Weight:

1lb 14oz (850g)

Main Fabric:

100% Polyester Melange 2.9 oz/ yd | 69% Acrylic, 31% Polyester Fur 22.7 oz/yd

Insulation Type:

700 Fill Down with Down Defender, 136.1g

Center Back Length:

33.5in
Rated

3

out of

5
by
Kim0816
from
Beautiful but runs small
I love the look of this coat and the magnetic closure is pretty cool. However, I found it to run small, especially through the arms and chest. I returned it.
Date published: 2019-11-30
Rated

3

out of

5
by
KAH3
from
Cute Coat
I thought the jacket would be warmer. I like the color, style and fit but I'm still a little chilly in 30 degrees standing outside for kindergarten recess.
Date published: 2021-01-27
Rated

5

out of

5
by
Ctina244
from
Great jacket!
I've had this jacket for a little over a month and absolutely love it! It has a lovely design, fits great, and so far has kept me warm in WI winters. The zipper can be tricky at first but I got used to it. It is not a big deal- I'd rather have a heavy duty zipper than a flimsy one. I also love the deep pockets so things don't fall out easily.
Date published: 2018-12-29
Rated

3

out of

5
by
kerk97
from
I want to LOVE this coat but....
I received a Strollbridge jacket for Christmas and I have some feedback. I am looking for someone to please teach me the trick to making the zipper work easily. I read the reviews, assumed some people were incompetent (sorry!!) and now have buyer's remorse because I, too, cannot zip my coat. Sometimes (rarely), I get it on the first try and it is SO easy and sometimes (most of the time) I give up after trying 10 times. I am a technically proficient person and I find this zipper absolutely baffling and incredibly frustrating. PLEASE tell me there is a trick and PLEASE tell me what it is or I might have to return it. I have this beautiful, WARM coat that actually fits my almost 6'0 body and I can't benefit from that warmth because most of the time I can't zip it! Argh. Also, the red coat does not look the same in person as it does online AND it has a different color name online as it does on the tag I received. Website calls it Claret, tag says Vin Rouge and they really look quite different so that was frustrating. I'd overlook the color oops if someone can help me figure out the zipper. It is a beautiful, well made, WARM coat with great features. I WANT to love it but right now, I don't.
Date published: 2020-01-16
Rated

5

out of

5
by
redrayne5
from
My favorite winter coat!
I bought one of these for myself at Costco, and another for my sister, here on Marmot's official website. Both of us have middle schoolers who are in track... These Strollbridge jackets keep us warm while sitting for 3-6 hrs in those cold metal stands, with the wind blowing and the snow falling. We couldn't be more pleased with these!
Date published: 2020-05-09
Rated

3

out of

5
by
Sara43
from
Love the jacket but the zipper is the pits.
Overall, I love the jacket. It is super cute and comfy but the zipper is ridiculous. I need at least 2 extra minutes to put on the jacket because I cannot get the zipper to work. You need to line up the double zipper perfectly in order for it to zip and not split. It is extremely annoying. Why even have two zippers?! I gave an average score ONLY because of the poor performance of the zipper.
Date published: 2018-10-26
Rated

5

out of

5
by
Pilar
from
Perfect for GA Winters!
I bought this last year and after using it for an entire winter, I couldn't be happier! It's perfect for Georgia winters (which aren't too cold compared to the north). Love the length, the fit, etc. I didn't have any issues with the zippers. I also love that it has magnets so you can easily close the jacket without zipping up.
Date published: 2019-09-25
Rated

5

out of

5
by
KS_Jenny
from
Great Coat for Waiting at the Bus Stop
I bought this coat for waiting at the bus stop in 6 degree weather. I'm very happy! This coat is very light but provides excellent warmth. It also has a pocket in the upper section for my bus pass. My only complaint is that the zipper is hard to get started. I usually have to wiggle it until it falls into place.
Date published: 2018-02-14
Rated

5

out of

5
by
Kkmd23
from
WARM!
I bought this jacket from Costco a few months back because I just moved to NYC for school and have to walk everywhere. It is so warm! I had to walk in the middle of a blizzard and with just a sweater on I was practically sweating! If you want to make sure to he warm while walking around outside, this is a sure bet!
Date published: 2020-12-18
Rated

5

out of

5
by
Stephanie0710
from
Great fit!
I love this jacket! Flattering fit and perfect length for me. I am 5'5" tall 130 pounds athletic build. I bought a small. The length falls just below my fingertips and about mid thigh. Like previous reviews mentioned, the zipper can be tricky but not an overall issue. This is not a deal breaker for me. Also, the color has a bit of a sheen to it so sometimes on a black pant it appears somewhat dark navy. Also not a deal breaker for me. I am very happy with this purchase!
Date published: 2018-12-25
Rated

2

out of

5
by
Nica
from
Great,But
The jacket itself is great--everything I was looking for. BUT that zipper is a HUGE problem. I read the reviews ahead of time so, caveat emptor, but still it is a PROBLEM. Thus,a much lower rating. Otherwise a great coat
Date published: 2020-03-24
Rated

4

out of

5
by
TSanda
from
Love it!
The jacket fits great and is super warm. Only issue is that it does not zipper on the first try or 2nd, 3rd or 4th. On average it takes about 5 tries to get the zipper heads to line up exactly and then the zipper engages. Kind of a pain - every thing else is great!
Date published: 2020-01-27
Rated

5

out of

5
by
Eila
from
LOVE THIS COAT!
Fits true to size and the gray is a bit darker than picture,which I was so happy about. I am a teacher so this has kept me warm during outside time and love that the hood is removable! Another Marmot win for me! I use Marmot products skiing, worth every penny!
Date published: 2021-01-20
Rated

3

out of

5
by
Kscoop
from
Great jacket terrible zipper
I purchased this at the same time as the CHELSEA coat and there is a distinct difference In the zipper. This coat is stylish and warm and fits very well.... I love the magnetic closet rather than snaps and buttons.... BUT that zipper is truly awful!
Date published: 2018-12-16
Rated

5

out of

5
by
Momomags
from
Practically Perfect!
Pittsburgh weather has not been super cold so far, but the jacket seems very warm! What I like: hood attaches with a zipper, not snaps so it stays attached and there are no gaps for cold air to enter; the slightly-fitted silhouette; the magnets in the storm flap - genius!; the ribbed cuffs; the length - easy to get in and out of the car, but long enough to cover my bum; lack of Velcro on the pocket flaps which seems to catch all the lint and fuzz from gloves and mittens; the interior pockets (although it took a long time to find the "secret pocket", I now find it very convenient for my phone); the depth and lining of the exterior pockets - so cozy! What I wish had been added: 2 additional exterior pockets, so there would be 4 total - 2 for hand warming and 2 to hold gloves, keys, wallet, etc. But I've been looking for the perfect winter coat/parka/jacket for many months and researched options from Patagonia, LL Bean, Columbia, REI, Arc'teryx, North Face, Montbell, etc.; the Strollbridge had nearly all of the features I was looking for.
Date published: 2020-12-29
Rated

5

out of

5
by
AbbyMN
from
Perfect jacket!
I love this jacket! I love the magnetic feature to cover the zipper and the warm fleece by your hands. It has a nice hidden chest pocket that holds an iPhone. I am 5'1" and the length is perfect! Warm for cold MN winter!
Date published: 2020-12-05
Rated

4

out of

5
by
PAhiking
from
My go to coat
I bought this over a year ago and this is my go to coat for every day life in the winter - keeps me warm and looks good. The zipper is a little tricky sometimes but the only minor complaint that I have about the jacket.
Date published: 2021-06-03
Rated

5

out of

5
by
SDB123
from
Great coat for women this winter!
I have been excited to wear my first Marmot coat this winter! With the need to be outdoors so much due to coronavirus, I purchased a large and warm coat for a midwestern winter. I have only worn it a few times but it is very warm and seems waterproof. I love how the buttons are magnetized. This will be a perfect coat for a mom on the go and an elementary school teacher at recess! I typically wear a medium but I decided to get the large.
Date published: 2020-11-11
Rated

3

out of

5
by
Alisah
from
Great except for one fatal flaw
I like almost everything about this coat - It fits well and looks good and it's the perfect length. Did not wear it outside so can't comment on warmth. No zipper problems. BUT the magnets are completely useless. I specifically get coats with snaps so I don't have to zip up if I'm just running out to the car - but these magnets are so feeble they open if I even move my arm. Disappointed. Sending it back.
Date published: 2018-12-03
Rated

5

out of

5
by
Kelly Minnesota
from
Love it!!!
This is my favorite coat ever! And I'm very picky with coats and shoes. I've been wearing it in -20 degree weather this winter. Keeps me warm! Zips from top and bottom.. makes it easier to drive with it on.
Date published: 2019-02-15
Rated

5

out of

5
by
KB05
from
Warm but not too heavy
Perfect weight for Wisconsin winters. I love the arm cuffs that are soft. The jacket is so warm yet isn't super heavy so its easy to be mobile. The fur is good quality and the hood stays on
Date published: 2018-11-29
Rated

1

out of

5
by
Haeley
from
Poorly functioning zipper
Absolutely love the look and feel of this coat, but the zipper is terrible. The minute I took the coat out of the box and tried to zipper it I had a hard time. There are times when I would try to zipper the coat up and it would take me minutes. Just recently the zipper ripped off and also took off a ton of the teeth of the zipper so it no longer functions even if I were to get it fixed. I would not recommend this coat
Date published: 2021-06-09
Rated

5

out of

5
by
Katimj
from
Awesome investment!
This coat is so warm, comfortable and the stitching is flattering to my figure. Fun additions include fleece cuffs, magnetic placket closure, and deep pockets. Buy a size larger than you think you need, especially if you're curvy and wear sweaters. I'm 5' 7", 36C and wear a size 8. Size medium was too tight on me but the large is perfect! The dark blue color is gorgeous and a nice departure from the usual black.
Date published: 2021-01-06
Rated

5

out of

5
by
JackieO
from
Great service
I bought this coat and it came with a defective zipper. They repaired it immediately and expedited it back. Great coat!!!!
Date published: 2020-01-20
Rated

3

out of

5
by
Jean1258
from
Zipper issues
Poor design on zipper. I love every other aspect of this coat, but the zipper sometimes sticks (maybe 20% of the time)
Date published: 2021-01-07
Rated

4

out of

5
by
Emily C
from
Great coat but zipper doesn't work
Really enjoy the jacket, but the zipper is very finicky. If the two zips are not lined up exactly, it will not zip.
Date published: 2021-01-05
Rated

5

out of

5
by
Kataylor
from
I absolutely love this jacket!
I bought this jacket a few weeks back and its my absolute go to piece! Its warm enough, without being too bulky!
Date published: 2018-11-19
Rated

5

out of

5
by
Jessica R
from
Love it!
I live in an area where temperatures are often below zero. This jacket has been a life saver!
Date published: 2021-02-08
Rated

5

out of

5
by
buzymomof2
from
The perfect winter coat
I can't say enough nice things about this coat. I fell in love with it the moment I tried it on in the store. The length is perfect for keeping you warm from the knees on up, I'm 5'3" and it's not too long on me. The fit is very flattering, I did go up one size so I could easily wear my puffy vests and shackets under it. Even when I'm not wearing those types of clothes under it, it's not too big or bulky. I love the magnetic snap over the zipper also, it makes it easier to get on and off without having to do each individual snap. The insulation in this coat is very warm without being bulky. We live in Nebraska so we have some really cold days at times and strong cold winds. I don't even feel the wind through this coat. I would highly recommend!
Date published: 2021-12-20
Rated

3

out of

5
by
Shelly1214
from
Great for Petites, but the "black" is NOT black.
This is hands down the most flattering winter coat I've ever tried on. I'm 5'2, 112 pounds, ordered the XS and it fits like it was made just for me! It is not at all bulky, very lightweight and streamlined. The magnetic snaps and zipper make it feel luxurious. The hood is great, but the faux fur leaves a lot to be desired...kind of just looks like a dead animal tail fell and landed on my head. The biggest disappointment is the color. I ordered black, but this jacket is NOT black, more of a very deep blue. My toddler's favorite color is blue and she told me she loved my blue jacket. A few other friends told me they loved the color of the jacket. It was nice to be complemented, but the "color" is supposed to be black! I live in Minnesota and while I was nice and toasty in 20-30 degree weather, I'm not sure I would have been comfortable if it got colder than that. I'm sad to have to say goodbye to it, but it's headed back.
Date published: 2018-12-22
bvseo_sdk, dw_cartridge, 18.2.0, p_sdk_3.2.0
CLOUD, getReviews, 0ms
reviews, product
product-detail-view
oos-pdp