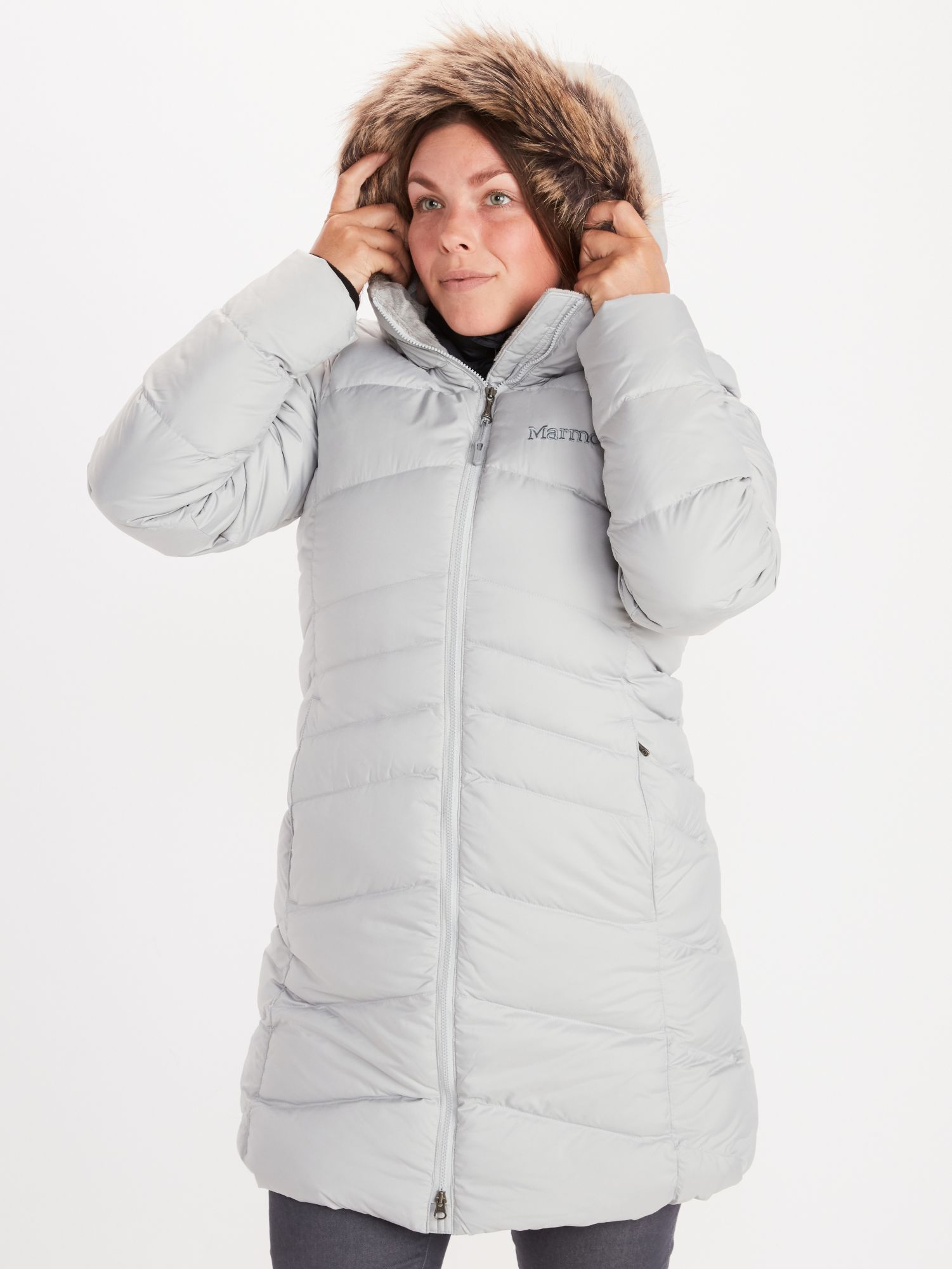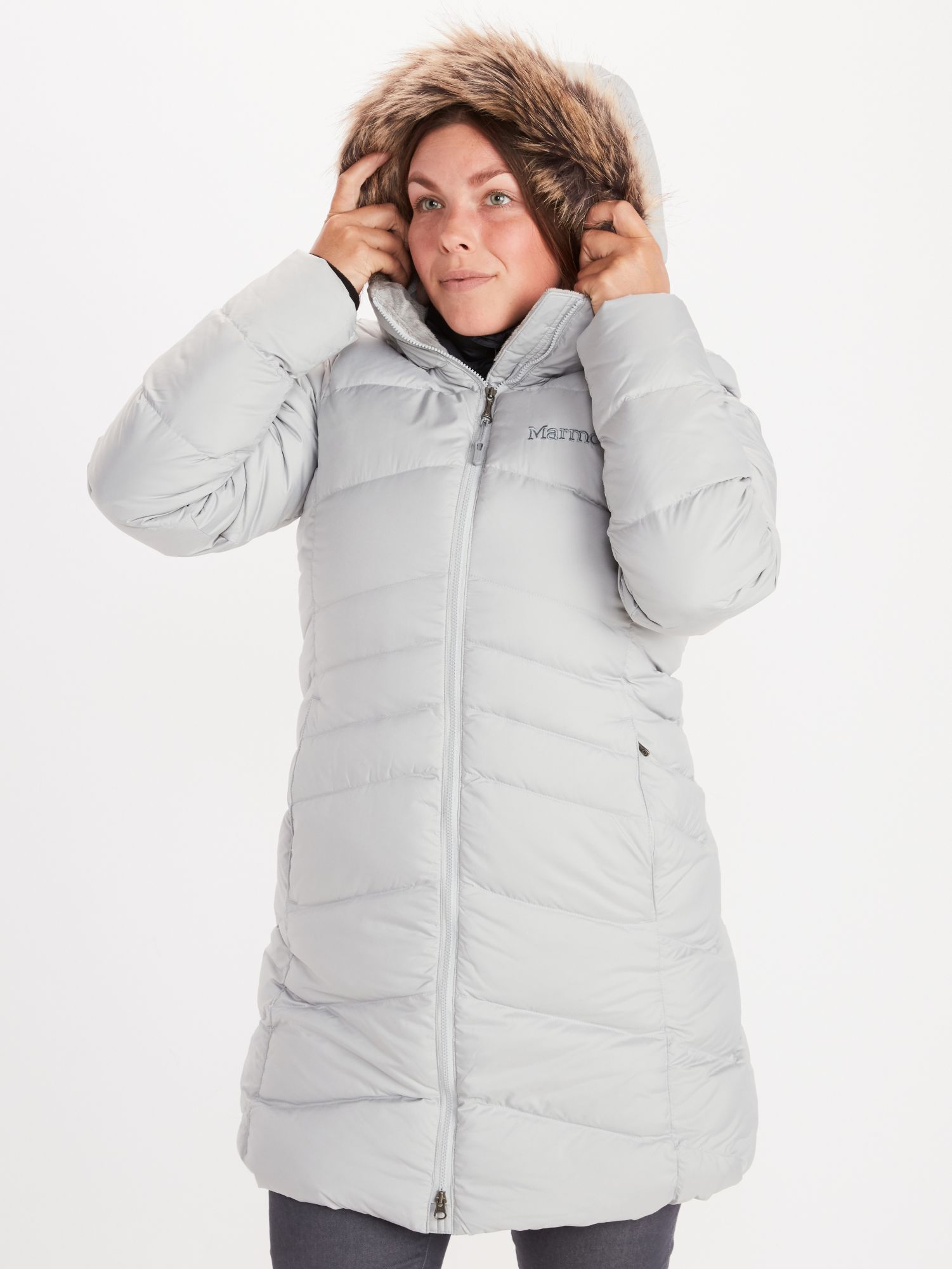 Final Sale: may not be returned or exchanged
Final Sale
This item cannot be exchanged or returned. Valid while supplies last. All sales final.
Selection will refresh the page with new results.
Final Sale: may not be returned or exchanged
Final Sale
This item cannot be exchanged or returned. Valid while supplies last. All sales final.
Product Details
Features
Zip-off Hood with Removable Synthetic Fur Ruff
700 Fill Power Down with Down Defender
Micro Fleece Lined Zip Handwarmer Pocket
Inside Zip Pocket
Interior Drop Pocket
Plush Fleece Lined Torso
Micro Fleece Internal Cuffs
Two-Way Zipper Prevents Bunching
Description
Cut an ultra-cool profile against your northern cityscape and stay warm and dry while you do it. The Montreal Coat provides ample protection with its tough, water-resistant fabric and new high-quality, water-resistant 700-fill power down insulation; but what you'll love most is the numerous cushy linings, handy pockets, and the vibe that's just right for your busy, modern life.
Specifications
Product Weight:

2lbs 2.2oz (969.6g)

Main Fabric:

100% Polyester DWR 1.8 oz/yd | 69% Acrylic, 31% Polyester Fur 22.7 oz/yd

Secondary Fabric:

69% Acrylic, 31% Polyester Fur 22.7 oz/yd

Insulation Type:

700 Fill Down with Down Defender, 200g

Insulation Fill Power:

700
Rated

5

out of

5
by
retswerb
from
Warm, Comfy, Cute
I just recently moved from an island to the mountains so I have been searching high and low for a warm coat to compensate for my complete lack of cold tolerance. Thankfully, this one fits the bill perfectly! I am 5"8 and 115lbs and I ordered the S in black. There is plenty of room for a sweater underneath and the cut of the coat does not compromise mobility in any area. I am so excited that the hood/fur are both removable because this feature allows for more versatility to wear it in a variety of settings. Thank you so much for making such a cute and functional coat Marmot!
Date published: 2016-01-20
Rated

5

out of

5
by
Rafaella
from
Extremely warm, light and attractive coat
I purchased this coat 2 weeks ago as we rolled into a Canadian winter - am I glad I did! We have already had some snow and icy winds, and this coat has proven warm as well as offering a surprisingly good degree of wind resistance. As a person who really feels the cold, i feel I have made a good decision with this coat. As well, it looks attractive and not too bulky. I am 5' 5'' and 120lbs; initially I purchased a size S but found it fit a little small across the chest, and returned it for a size M, which is perfect!f
Date published: 2013-12-05
Rated

3

out of

5
by
Skyl07
from
Nice coat customer service not so great
I love this coat ! I have another marmot I purchased last year and loved it do much I bought this , longer version It runs small across the chest so I bought a large , I'm usually a medium I have an impossible time getting anyone to talk to about the return by phone It seems as if they just Don't answer the phones ever . They did send me a return label . But it was a guessing game as to when the credit would occur . With this lack of connection I decided to reorder this cost through a retailer in the smaller size as I just wasn't feeling confident with the lack of communication from marmot . I got the coat quickly and I love it
Date published: 2020-01-09
Rated

4

out of

5
by
ElizabethG
from
Great coat but too short
I ordered this coat online, and I absolutely loved everything about the design EXCEPT the length (my fault; I did not look at the specs closely enough). The cuffs are great, the collar is perfect; love the feel of the fleece-lined bodice. The coat is lightweight but seems like it would be really warm. However, I really want something that is long enough to keep my thighs covered. If you are interested in a longish jacket, this would be great. But not if you want a full-length coat. Also, I think the fit runs a bit small. I am a medium in almost everything I buy. While this coat fit with just one layer, it would be a bit tight with a sweater or suit jacket underneath.
Date published: 2016-11-13
Rated

5

out of

5
by
Judy T
from
Extremely warm
I got this coat after doing a lot of research and trying on many jackets in several brands. My main concern was an attractive 3/4 length jacket for the cold Boston winter. So far I am extremely happy with this choice. This does run small. I am 5'6", 130 lbs. and I like things loose, so I got the XL size. I had tried on the L and it felt a bit snug. I love the crocodile color and the soft micro fleece lining. The style is not as flattering as the Strollbridge jacket, which I was seriously considering, but I think the the Montreal feels warmer (the most important feature to me).
Date published: 2019-12-01
Rated

5

out of

5
by
theresaguti
from
Very warm coat! Worth every penny
I bought this jacket a month ago to get ready for this winter. Every single penny I paid for it is really worth it! This is by far the warmest jacket I've purchased. I work in a school and we take the kids out for recess every day.. It doesnt matter if its freezing, the kids need to go out and this coat kept me very warm. Even though I am only wearing one layer of clothing this coat will do! I am 5'2" 128 lbs and I bought the Medium. I usually wear Small but this coat runs a bit small. Medium was perfect for me. I have enough room if i want to wear layers. Highly recommend this coat!!
Date published: 2016-12-07
Rated

5

out of

5
by
Geri
from
Perfect fit and warmth!
I ordered the women's Montreal coat because I wanted a very warm coat that would go below my waist for added protection against the elements. My coat arrived in a very timely manner and the XS size was a perfect fit The faux fur framed hood adds a very attractive touch and fits snugly around my head for exceptional warmth. I absolutely love this coat and appreciate that Marmot offers the XS size for petite women like me, and also that their XS is true to its size. Thank you for continuing to carry the XS size and for not bowing down to vanity sizing in a culture that is becoming increasingly...large.
Date published: 2018-02-07
Rated

5

out of

5
by
Silver
from
I adore this coat
This coat is absolutely amazing and I'm so glad I choose it over other brands. I relocated to Astana (2nd coldest capital city in the world!! Brrr - I must be mad!) where the winter lasts for 5-6 months and temperatures range from -10 to -45 everyday during these months (!) This coat has not once let me down. So warm, stylish and light. I love it and I am wondering if I can convince the hubby to let me buy one in another colour for next winter! Worth ever penny.
Date published: 2014-03-09
Rated

5

out of

5
by
Jackie38
from
Perfect
I have been looking for a stylish down coat that wasn't too long and had a detachable fur hood. Found this on sale and it is just what I wanted!!! It is super warm, stylish and great quality. I am 5'6" and 135 and I usually wear small, but found the med was perfect with some room for a sweater which is what you'll be wearing if you need to wear a coat like this. It has more down fill than the competitor brand but costs less. Thanks Marmot! Keep up the great work!
Date published: 2014-10-29
Rated

4

out of

5
by
TheBigM
from
Warm and Functional
I bought this coat in preparation for an intense winter, and so far it hasn't let me down! The sleeves are comfortable and the pockets are in a convenient and secure place on the coat. The hood detaches, which is convenient for when I use it on days that aren't as bad, but then when the weather deteriorates the hood is warm and comfortable without getting in the way. One thing I did notice is that while everything else is perfectly sized, the middle area is a bit tighter, which may create problems when I try to layer a lot - although this coat is warm enough I may never have to do that! The price is high, but so far it's definitely worth it! (I'll try to update this review after I use it in extended blizzard periods.)
Date published: 2019-10-30
Rated

5

out of

5
by
kira527
from
The perfect winter coat does exist!
I love this coat. It's sleek, beautiful, and there are so many thoughtful design features. One of my favorites is how the hood stays out of your way but is so easy to flip up when you need it. It's puffy but not TOO puffy. The length is great. It is also very warm and does an excellent job of blocking the wind! It is definitely a fitted coat and there isn't a ton of extra room in it for bulky winter sweaters, etc. - so if you are iffy on which size to order, go with the larger size to allow room for whatever layers you might have on underneath. I'm a size 6-8 and went with the M, which has been fine, but if you want it a little looser definitely size up.
Date published: 2019-12-12
Rated

3

out of

5
by
meowzoemeow
from
Very soft and warm but weird fit
Im 5'9 150 lbs and 32D/34C. Bought this in both M and L. Very very warm and soft but not right for me. Medium fit pretty well but was tight in the chest and narrow in the shoulders and the arms were super big and puffy around the bicep and made me (and my boyfriend) look like the michelin man. large was too large and the arms were even bigger. Really wanted this to work because it was soooooooo comfortable, but for the high price, I need it to be flattering too. Will be returning both.
Date published: 2020-12-10
Rated

3

out of

5
by
KKee
from
Weird fit
It's a really nice jacket. I spent a few weeks researching between Patagonia, North Face, and Marmot. I finally decided on the Montreal, and was super excited to give it to my wife for Christmas. Unfortunately, it was too long in the arms, and she said she felt like she looked fat in it. So, I was pretty bummed, because now I have to return it and just give her the money so she can find what she wants. It really is a beautiful jacket though. One thing I noticed when I took it out of the box, was that it smelled musty, which could have been from shopping, but either way, that was a turn off when you spend the money, it should smell brand new.
Date published: 2021-12-25
Rated

5

out of

5
by
Jessica428
from
Super cute and warm
Bought this coat for myself because I'm always freezing when we go to visit family in Wisconsin! I did lots of research and debating between several brands and coats. I'm extremely happy with my decision. The length is perfect on me, I'm on the short side (5'1") and it's not too long like most coats are on me. This hits above my knee. The went with the green color and it's a great switch from all the black puffer coats. Beautiful, unique color. The coat is also very warm. I agree with others with sizing - definitely need to size up! I'm typically a small or even and extra-small and ended up getting a medium. The small fit, but was snug if I wanted to put a heavier layer under it like a sweatshirt.
Date published: 2020-01-26
Rated

5

out of

5
by
wausau girl
from
best cold-weather apparel purchase in years
I bought this last year and highly recommend it if you live in a cold, windy or damp climate or if you get cold easily. The length is just perfect for adding warmth to your core without being too cumbersome. I live in central WI and last year's winter was brutal. This year not as bad but I was sure glad to have coat for the below zero temps we did have. Oddly enough - you don't overheat though. Hands' down - best thing I've bought in past couple of years. The faux fur around the hood really helps keep the cold air out too - I never would have believed it.
Date published: 2016-02-16
Rated

5

out of

5
by
Mary the hiker
from
Fun, warm winter coat.
Needed a replacement for my old down coat, and just purchased this for the upcoming winter season. Looks like it will do the job. Very comfy, nice (shorter) length, and the fleece lining should be great. I also suggest sizing up, like a lot of the other reviewers. I am normally a size Small (5'4", 120 lbs., size 4 or 6), and I found that both the Small and the Medium coats could work. I ended up choosing the Medium, just so I could comfortably wear a sweater underneath. I really like the snug fit of this coat--I think that it will increase its warmth.
Date published: 2019-08-23
Rated

5

out of

5
by
NotColdInWI
from
8 Years Later and Still In Love
I got this coat as a gift 8 years ago from my very frustrated partner who couldn't understand how I didn't have one coat acceptable for a Wisconsin winter. Since then, I've survived at least one polar vortex, several blizzards, waiting at the bus stop at 6 AM, walking miles in January, etc., all while staying toasty warm! Never have I met a temperature where this coat didn't do its job. I got a size larger than I normally would because that size was on sale, but I'm so glad I did. Even though I don't need extra layers underneath, it certainly can handle them. The bulkiness is not sexy in any way, but being able to leave my house and not instantly freeze is well worth it. The hood is great and cinches down to let no air in. The coat has only lost a handful of feathers over the years and still looks great. Very highly recommended!!
Date published: 2020-10-28
Rated

5

out of

5
by
MissAlyssa
from
Warmest coat in the world!
I bought this cold for the freezing New England winters and it has been keeping me warm since it arrived a few weeks ago. It keeps me toasty and cozy beyond what I expected. It's a very flattering shape and hugs nicely around the hip area. It provides just the right length to keep my lower body covered without looking like I am wearing a shapeless sleeping bag. A huge plus is the hood, most hoods tend to slip off and fall down, not this one. It withstood the 35mph Boston winds and stayed secure to my head. Love this coat, it's a MUST buy if you want to feel stylish and warm.
Date published: 2017-01-09
Rated

5

out of

5
by
vjaiswal
from
Warm and Toasty!
TL:DR It's amazing, get it! I am extremely cold natured and live in NYC. Every year I end up layering so much that it takes about 15 minutes to get ready to go outside and 15 minutes to take all the layers off when I get to my destination. This year, I decided to buy a jacket where I won't have to layer at all, and still be able to deal with the coldest days in the city. I am an extreme researcher, I did research for 3-4 weeks, checked every online resource, looked at the bestsellers list for all retailers for outerwear, and went to multiple stores to physically try on different jackets, and had a spreadsheet to compare price, comfort, weight, warmth, looks, additional features, etc. My price range was anywhere from $150 - $700 (I really wanted the best possible without spending $1k). I made the purchase online, when I received the jacket, I was surprised at how extremely lightweight it was. It felt like I was in a cozy cloud blanket. My second reaction was how bulky it was throughout, especially my arms and my waist. The pockets are also located right on the hips and made me look really big in that area. At this point, I really considered returning the jacket, because as important as warmth is, it's also important to look nice and wear something in which I feel like I look good. I went to my plan B option (which was also extremely well reviewed but cost around $350 and was waterproof - Marmot is only water resistant which is a downside for me) and tried it on at a local store and compared the two. The Marmot was much much much lighter and comfortable (I did jumping jacks in all the jackets to make sure they were truly comfortable). I also walked around outside (that day it was around 34F) in both. With option B, I got pretty chilly and zipped up my jacket all the way to the top, and put on my hood. I even readjusted my scarf a couple of times. Then I wore my Marmot and walked around in the same area, got toasty pretty quickly and had to remove my scarf and gloves as I was getting really warm. Since warmth was the most important thing for me, after comparing the two jackets, I decided that the bulk was worth it, and it didn't make me look as fat and poofy in comparison as I thought. I bought the Marmot and returned the alternative. The true test came when I visited Quebec City, Canada for New Years Eve outdoor festival. It was expected to be between 15F - 28F, with snow all day. I was really nervous about the water resistant feature being a match for the full day of snow. I have worn other jackets in New York that often let water through and my clothes get wet despite wearing a water resistant jacket. I spent about 8 hours in the snowy cold day-night, and suprisingly, was very warm and comfortable all day. I also stayed dry! I'm sure we'd be having a different conversation if it was rain/snow combo, but for snow, it was perfectly fine. So warmth - perfect Water resistant - perfect Looks - bulky, but not that bad in comparison to similar warmth jackets. I added some pictures so you can see the bulk I'm referring to.
Date published: 2020-01-06
Rated

5

out of

5
by
carolelaine
from
Great quality WARM coat
I just purchased this coat last night and have already put it to the test here in Denver -- we are currently having a cold snap with temps in the single digits with negative degree wind chills. This coat stands up really well to the cold, wind, and snow. I am 5'5" and 120 lbs - slightly pear-shaped - and I purchased a medium. It fits great and I can easily fit a sweater underneath. The hem hits mid-thigh. While they don't claim that it is waterproof (and it probably isn't) it also doesn't seem to absorb the moisture and it is easy to brush snow off. The zippers are very sturdy and the lining inside is very nice with some good pockets. I got the cabernet color which is a really nice color, slightly muted (not bright maroon). The fur can zip off the hood without having to remove the whole hood. I usually purchase Patagonia products but for the money this coat was a whole lot thicker than what Patagonia offered at the same price point. I also tried North Face, Columbia, and Mountain Hardware coats and found that this seemed to have the best fill and overall quality for the price.
Date published: 2014-11-12
Rated

5

out of

5
by
eyeletlace
from
Happy with my choice!
It's not cold enough yet to really put this coat to the test, but wearing it is one of the coziest experiences I've ever had in a coat! It's lightweight and attractive, but feels very warm and the fleece lining in the torso is an added bonus! The hood is fabulous - it is just the right amount of snug. I love the faux fur - but one note, if you remove the fur the hood provides much less coverage (I don't mind because the fur is cute and I plan to leave it on!). I did buy a size small first (I'm 5'5" and 130 lbs and usually wear small) but the coat was a little tight in the shoulder and chest area and the sleeves were a too short. I exchanged for a medium and it is perfect (but a bit less fitted around the waist than I would like). The coat goes down a little less than halfway down my thighs, which provides great leg mobility. I can't completely recommend this coat before it stands up to a Wisconsin winter, but so far I am very pleased and would recommend it if you're looking for an attractive parka from a company with a good reputation!
Date published: 2014-10-17
Rated

5

out of

5
by
Sml0303
from
Great coat
Such a great coat! Sure soft and cozy inside. I haven't worn it in the cold yet, so I can't say how warm it is but it seems like it will be very warm. I originally purchased the size small (I am 120lbs and 5'4") but I had to exchange for a size medium mainly because I have broad shoulders. I would recommend sizing up one size in this coat.
Date published: 2020-08-01
Rated

5

out of

5
by
Omahagirl
from
Marmot winter coat
Best purchase I have ever made. I have a really hard time finding a winter coat that fits as I am only 5 feet tall. I purchased the same coat for my daughter because she kept borrowing mine. The fur on the hood adds not only warmth but makes he coat look dressier. You can wear this coat for any occasion. Great when you are wearing longer tops or sweaters. He collar is very soft and warm around your neck. Great purchase and highly recommend this coat!
Date published: 2019-10-30
Rated

4

out of

5
by
Lmoz
from
Nice jacket, fit is too slim
Very nice coat but as other reviewers have said, it is too snug around the chest. I am 5'7 and 140 lbs and the medium was a little too tight with just a thin sweater on. My daughter is just a bit smaller than me and fits her okay, still can't fit more than a thin sweater underneath. Looks beautiful and very warm. She likes it because it is light-weight yet keeps her warm without sweating. ONLy downside is they need to make the chest bigger and true to size.
Date published: 2020-12-18
Rated

5

out of

5
by
Cristina616
from
The coat I was searching for!
I. Love. This. Coat! I tried on so many different puffers from Patagonia, REI, Columbia, Pajar, and more. If you're looking for a puffer that feels like a hug when you put it on, then get this coat. The exterior is soft and supple with the interior and pockets lined with fleece. I feel that it does run a little small in comparison to other puffer jackets. I typically wear an XS and ended up purchasing a Small. The color Nori is a classic green that doesn't scream army and goes with just about everything. Fit is flattering with more definition than typically found in puffer coats. Love love love it! So happy with my purchase.
Date published: 2020-12-15
Rated

5

out of

5
by
LizLovesMarmot
from
Love this jacket!
This jacket is so cute, I love the style of it. That is the main reason I got it. Secondly, I got it for the quality and warmth of it. I now walk to work from the light rail station, and sometimes the mornings get into the negative temperatures. This coat keeps me so warm! And the size Large is roomy enough for me to wear layers underneath if necessary. I also wore it to my company Christmas party with only a cocktail dress underneath, and I was still very warm, and very stylish! I love this jacket. On a side note, Marmot's customer service is excellent, I ordered a Medium and a Large because I wasn't sure which size to get, and their customer support was excellent. They sent me a prepaid shipping label to return the size that didn't fit. Thank you Marmot!
Date published: 2015-12-28
Rated

5

out of

5
by
CSH girl
from
Warm and Beautiful
I bought this coat and enjoy wearing it. I live in Northern Westchester County, NY, where we are having a very cold winter, and the coat has kept me comfortable and cozy. The one thing that I would caution people about is that this coat runs small through the chest. I would urge the company to add an inch to this area. Usually, I take a large; I bought the extra large size and am glad I did, for even thought the coat is very attractive and warm, I would still love even a half inch more in the chest. That said, I love it!
Date published: 2018-02-02
Rated

5

out of

5
by
Jen Mc
from
Quality product
So pleased with this purchase. It will be for those frigid Minnesota winters and trips to Tahoe. It's stylish and functional. I love the fleece lining around the bodice and pockets. Plenty warm in -20 weather! I purchased an XL and it fit true to size.
Date published: 2019-02-18
Rated

5

out of

5
by
Anonymous
from
So soft and pretty colors
I bought this in a green color and then bought it again in red because I loved it so much and also wanted a slightly bigger size to layer. I love this coat! It's so warm and the inside is soft and fuzzy. I love both of the colors I have too. The fit is feminine and the fur on the hood detaches.
Date published: 2020-11-13
Rated

5

out of

5
by
Mountain Chica
from
Love It
This jacket is super warm and lightweight. The fleece on the inside is soft next-to-skin, and the cuffs help keep warmth in. The fit is pretty flattering, considering it is a big down coat; I don't feel like the Michelin man. I ordered "midnight navy" which turns out is a slightly pearlescent, deep blue-almost purple. It's gorgeous; I can dress it up and wear it on a nice(r) evening out. Other reviews mentioned a tight fit across the chest and shoulders; at 5'7", 125 lbs, and flat chested, I've been happy with a small. I'm able to raise my arms up comfortably, squat, and fit a sweater underneath. I prefer the Montreal to the Montreaux coat (which is essentially the same but 6 inches longer); thought it looked a bit like wearing a sleeping bag... Two small interior pockets work well for storing a phone, credit cards, Chapstick, etc. In short, I'm super happy with this purchase; looking forward to being warm in it for winters to come :)
Date published: 2016-05-01
bvseo_sdk, dw_cartridge, 18.2.0, p_sdk_3.2.0
CLOUD, getReviews, 0ms
reviews, product
product-detail-view
oos-pdp