Women's Featherless Hoody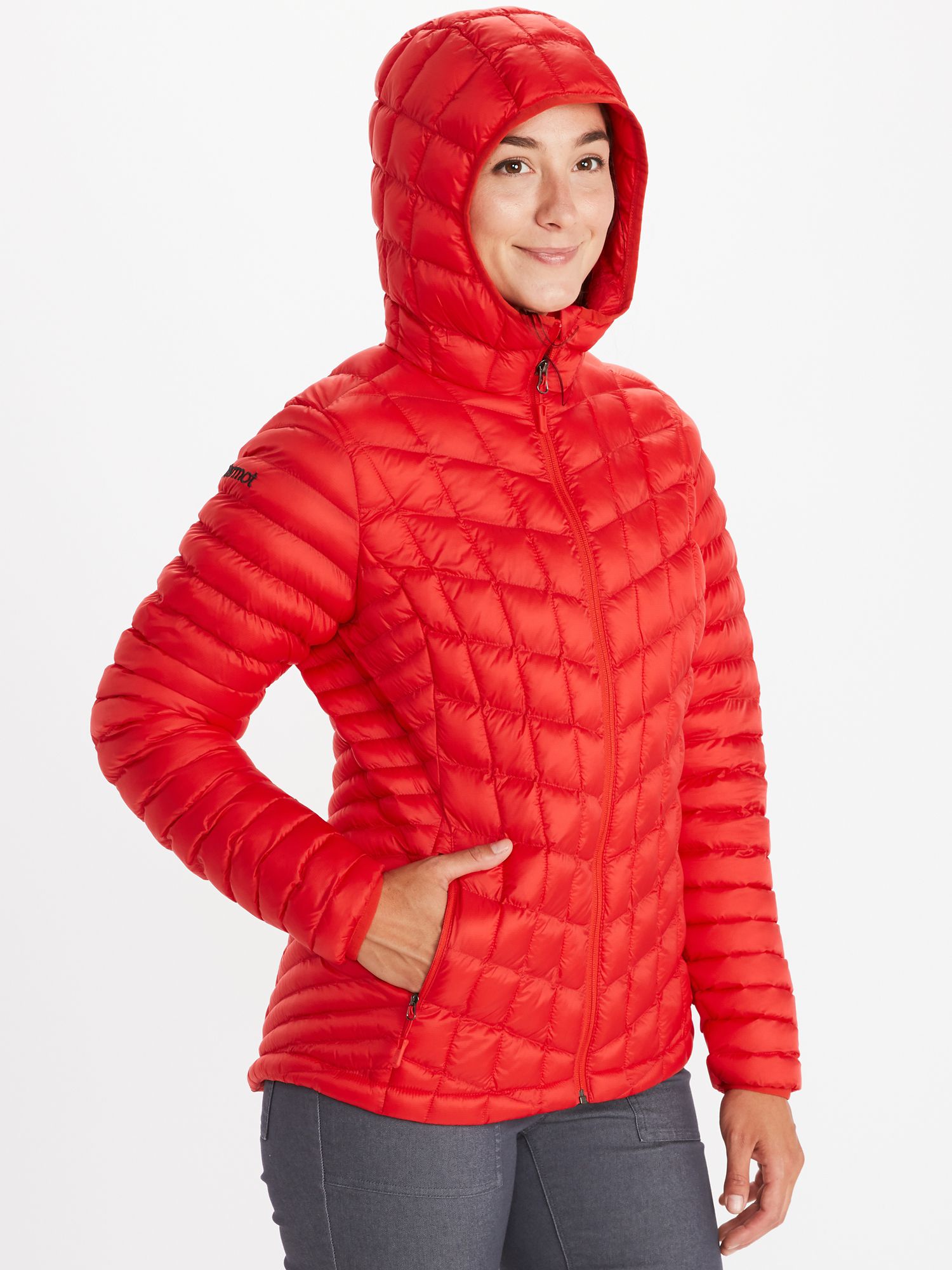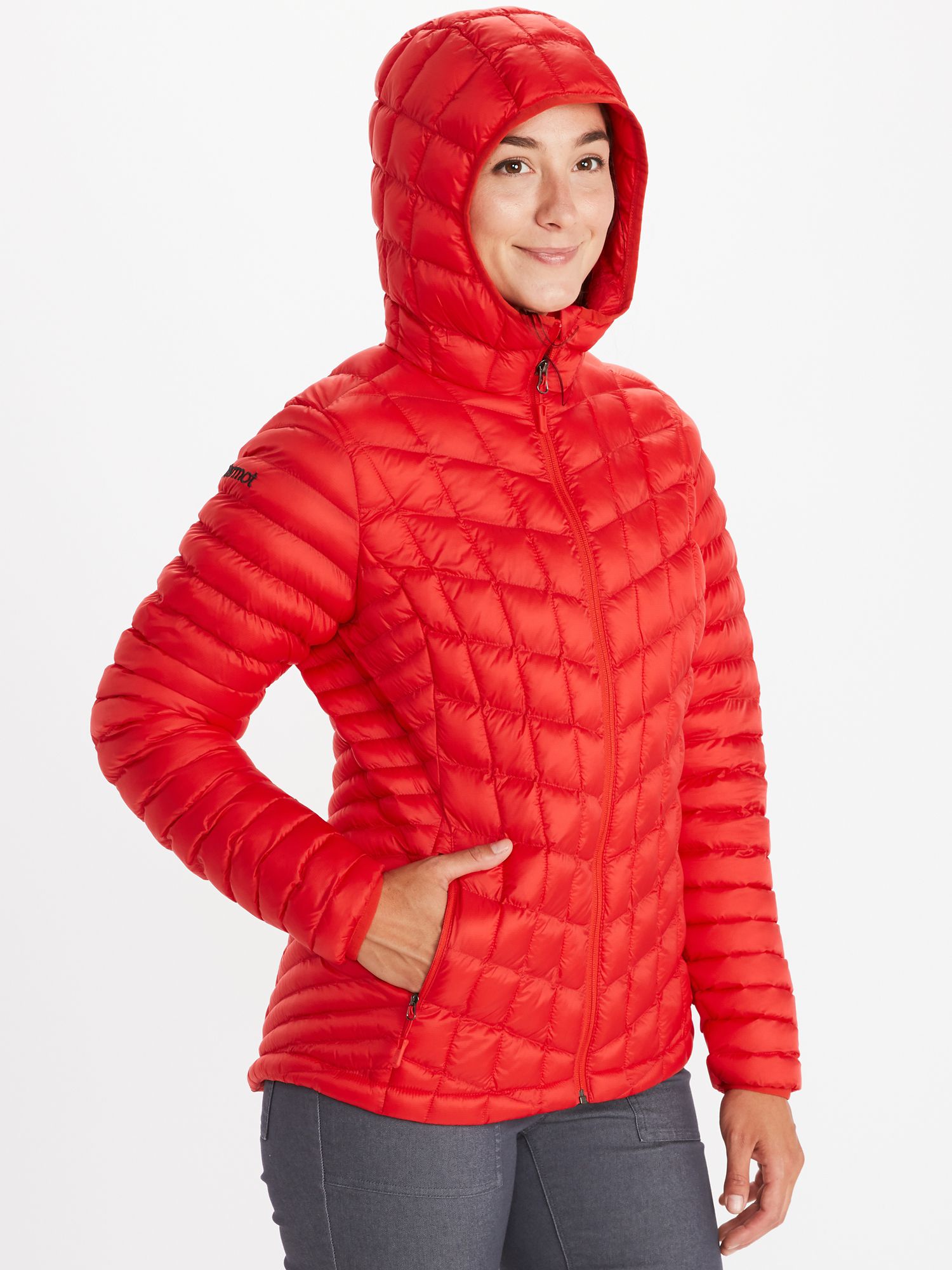 Women's Featherless Hoody
Final Sale: may not be returned or exchanged
Final Sale
This item cannot be exchanged or returned. Valid while supplies last. All sales final.
Selection will refresh the page with new results.
Final Sale: may not be returned or exchanged
Final Sale
This item cannot be exchanged or returned. Valid while supplies last. All sales final.
Product Details
Features
3M™ Thinsulate™ Featherless Insulation
Attached Hood with Elastic Binding
Zippered Hand Pockets
Elastic Bound Cuffs
Stuffs Into Wearer's Left Hand Pocket
Elastic Drawcord Hem
Angel-Wing Movement™
Description
The lightweight Women's Featherless Hoody features 3M™ Thinsulate™ Recycled Featherless Insulation that is made with 75% recycled loose-fill fibers that feel just as warm as 700 fill power down, but still perform in wet conditions. Angel-Wing Movement™ keeps arm movements comfortable even when this insulated jacket is worn over a base layer. This space-saving jacket packs into its own pocket.
Specifications
Product Weight:

0lbs 15.52oz (440g)

Main Fabric:

100% Recycled Nylon Rip Stop 1.1 oz/yd

Insulation Type:

3M Recycled Thinsulate Featherless, 180.7g

Center Back Length:

26.5in
Rated

5

out of

5
by
Daisychain
from
Cruelty-Free Warmth!
I had been looking for Vegan-Friendly winter gear and came across this jacket. I wanted to look up Marmot being that i had purchased a Green Featherless jacket before made by Marmot and i wear this almost every day. I gave this new featherless hoody a try and was not disappointed! I LOVE IT! It is perfect for Northern California weather year round, but especially during the winter. Keeps wind out and heat in and if it gets a bit wet, it dries quickly. It is also great for Minnesota winters for layering underneath another jacket. I love this SO MUCH! Thank you for making Cruelty-Free winter gear that is warm! Also, I deal with Chemical sensitivities and finding winter gear that i'm not sensitive/Allergic to can be a bit tricky. I always try to go with Marmot for my outer wear. Made with high quality fabrics and i can actually wear them without getting sick! THank you SO MUCH on so many levels!
Date published: 2020-05-10
Rated

5

out of

5
by
UrbanDweller
from
Amazing Jacket in a Range of Temps
I love this jacket! I got it in San Fran when I was caught off guard by how chilly it was there. I have now worn this jacket in everything from 65 degrees to cut the wind ( I chill easily) to -4 when hiking in the snow and skiing. I obviously had different layers for each of those activities but I was comfortable in -4 with a down vest and have skied in this jacket by tossing a rain jacket over it to help really keep the wind out. I have also gone rock climbing in it and their is plenty of range of motion, so I wasn't inhibited. I LOVE that it stays warm when wet. I wish it had a matching shell. I am 5'11 and got the medium, it hits just above my hips and the arms are long enough.
Date published: 2019-01-24
Rated

5

out of

5
by
Jodie
from
So much warmer than it looks
This jacket is very flattering and low profile. Despite its lack of bulk, it keeps me warm while walking the dogs. It laughs at the wind— we have had some very gusty days and with the hood up and a good pair of gloves I am good to go. I also like how the back dips down to cover my rear when I am travelling back from the gym in workout leggings. I am 5'9" and 153 lbs. I got it in medium. Sleeves are long enough for me. Fits slim Comfortable with a fleece underneath. Since sleeves are set in i could not go up a size, but that is fine.
Date published: 2018-12-22
Rated

5

out of

5
by
Toasty Warm Gal
from
She Loved It
I bought the Marmot Featherless Hoody for my Wife for Valentines Day and she loves it. We were a bit concerned on the sizing, as she normally wears a small, but reviews were stating that smalls were being purchased by women who were larger than her, so we ordered an extra small (she's 65 yrs old, 97#'s and 5'-2" - hope this helps) . It fits perfectly and she can even wear a thin vest under the coat (which she needs if the weather is below 30 degrees, as the coat is a bit light for those temps). It's a great "around-town" jacket or one to be used for an active sport, but it is not a cold weather parka by itself. Build quality is great and this should prove to be a great coat for it's intended use. We are always impressed with our Marmot purchases.
Date published: 2019-03-08
Rated

5

out of

5
by
jo62
from
warm and stylish
Recently I wore this jacket to Iceland. Although it is summer there, the temperature is high in the 50's and low in the 40's and it is windy all the time. The jacket kept me warm even in the strong wind. The hood also hold up very good on my head in the strong wind. The cutting of the jacket also very flattering. I bought a red one and the bright color make my pictures look very sharp and attractive! I am 5'1'', 132 lb, the Medium fit me perfectly. The sleeves are a little long but I just tug them in so it is not an issue. The length of the body fit me even i am a petite.
Date published: 2019-08-14
Rated

5

out of

5
by
AdventureAnna
from
Love wearing eco-friendly jacket
The featherless, 75% recycled material jacket is amazing. It's very light weight, packable, and warm. I nearly wear it to bed since it's very comfortable. The medium is a little big on me but has a nice curvy shape, it still looks great! Marmot is my go-to jacket, thank you!
Date published: 2018-10-30
Rated

5

out of

5
by
Patthecat7
from
Very nice jacket
I bought this about 6 weeks ago & it is my "go to" jacket now. Perfect weight & warmth for the blustery PNW winter (30-40 degrees). Layers nicely. Nice design/ styling and use the inside pocket for my cellphone. Length is perfect to keep your bottom warm.
Date published: 2020-01-01
Rated

5

out of

5
by
AngT
from
Lightweight but warm!
I first bought one for my daughter-in-law and tried it on and loved it! Lightweight, warm, and comfortable! I have other warm coats but they are so bulky and uncomfortable. Also, this one doesn't cause a lot of static like some other similar coats do.
Date published: 2020-01-21
Rated

4

out of

5
by
sams
from
Warm, cozy, snuggy enough to fit a sweater under
Jacket was warm even on snowy days/at high altitude (30-50F) Jacket color is more vermilion/bright orange-ish red - wish it was a deeper red Got XS (I am 5'2" and ~115lb) and it fit perfectly. There's enough room to layer underneath.
Date published: 2019-03-29
Rated

5

out of

5
by
Amberdmg
from
Meets my Need
So far, so good! I bought a Marmot 7 years ago and absolutely love it, so I was ready for another. I have a longer torso and this jacket it a bit shorter than my last. I also feel it runs a bit larger. My old was a medium and had enough room if I wanted to wear a sweater under. With this jacket, I ordered a small and can still wear something thicker underneath. I appreciate the hood and the warmth, especially on windy and cold desert days!!!
Date published: 2020-01-05
Rated

5

out of

5
by
KateS
from
Lightweight Warm
My new favorite jacket. Love the fit. I'm 5'2 160lb. The large fit perfect. Lines have a slimming effect. Super warm, and cozy without being too hot, or bulky.
Date published: 2019-10-26
Rated

4

out of

5
by
Katiee
from
Nice fit, warmth
I bought this a few weeks ago (great Black Friday deal!), and I really like it! I was debating between this, North Face, Patagonia, LL Bean, etc. I liked the fit and the warmth of this one the best. It has a flattering cut/fit, and has been warm on 30ish degree days/nights. I wanted something that would be warm enough to wear walking around the city in 25-45 degree temps without having to wear multiple layers. It's decent when only wearing one layer or a sweater, but definitely wouldn't be warm enough alone in colder temps/windy, cold weather, etc. Fine with a sweatshirt or more layers though. It is a tad bulkier looking than other thin down jackets, but I'm hoping that adds to the warmth! Only thing is that the zipper quality isn't as good as I was hoping. They seem a bit flimsier than others, like they might break more easily. I feel like I need to be more careful/zip and unzip more slowly than with other jackets. Also good sizing - I got a small and am 5'5", 130, slender.
Date published: 2018-12-17
Rated

5

out of

5
by
Sharknado
from
Love this coat!
I live in New England and needed a warmer coat. I won't wear down, and the last few coats I've tried just aren't warm enough. This one is! Finally my dog gets cold before me when we walk. I love the look as well. I got the blue which is a great color, true as shown. The fit seems right. I have short arms relatively, so the arms are a bit long for me, which I'm used to. These arms have a slim elastic around the wrists, which not only keeps cold air out but also makes this fit better for me.
Date published: 2018-12-06
Rated

5

out of

5
by
AnnieMamaDuck
from
Warmmmm
This jacket has become my everday jacket as we transition to fall/winter season. It doesnt feel heavy when you wear it, but it definitely keeps you warm without over heating!
Date published: 2019-10-15
Rated

5

out of

5
by
Lory13
from
Great fit!!
I purchased this for a climb and have been using it for training. I am curvy and it is a flattering and comfortable fit. It is light and warm.
Date published: 2020-04-20
Rated

3

out of

5
by
Kapeech
from
Like the jacket but insulation is coming off
Really like to jacket since it is not down and packable.. cut the wind up to 15 mph I am cold nature so this jacket with tee shirt will keep me warm from 30 degrees on up... i dnn' Have but a bout a month the insulation is started to come out of the jacket.. I am afraid that it will not last me as long as I would love it to be... come on marmot you can do better than this! The size is running a tad bit larger but it's designed to be mid layer so the room is good for layers..
Date published: 2019-02-24
Rated

5

out of

5
by
Georox445
from
Happy camper!
Quite happy with this purchase so far. Wore it in cold weather and it kept me as warm as expected. Good quality. Would recommend.
Date published: 2020-06-22
Rated

5

out of

5
by
MariaElena
from
Warm and cruelty free
This featherless hooded jacket is warm, stylish and most importantly it is not made out of the needlessly suffering of birds
Date published: 2020-01-11
Rated

5

out of

5
by
Sue54
from
Featherless Hoody
Love this jacket! Not bulky yet warm. Great for Chicago winters. Love the longer back!
Date published: 2019-12-14
Rated

5

out of

5
by
facundo
from
highly recommended
Nice warmth and quality high end jacket highly recommended
Date published: 2018-12-26
Rated

5

out of

5
by
Sharita
from
Love it
Love this jacket it shapes on my body very feminine
Date published: 2019-12-25
Rated

5

out of

5
by
Mctinez
from
Forget Patagonia! This jacket is amazing!
Awesome jacket. Warm and breathable. Perfect for the milder winter temps we get in Seattle. The slightly longer length in the back is awesome and I love that Marmot has a fit that allows for curves. I would constantly be pulling my previous Patagonia nano puff down. I'm 5'1, weight 135 with 27" waist and 37" hips. Size small fit me very well.
Date published: 2021-05-30
Rated

5

out of

5
by
Okim
from
Love this jacket!
I love this jacket!! I have genuinely been impressed with how warm it has kept me; despite being so thin! And I should state that I'm always cold- so it's impressive! I ordered this jacket for winter hiking, and it has served its purpose (although i wear it all the time now). The arms are a bit long on the xl, but I don't mind that at all.
Date published: 2020-12-31
Rated

5

out of

5
by
TQHinHDH
from
Warm and Great Fit!
Brrrr in Northern Nevada. Bought this jacket last month and have worn it in wind, low temperatures, and snow. It is super warm for being so lightweight, the hood is fitted (doesn't let the wind in), and I love the feminine fit...I didn't want boxy...and this jacket did not disappoint.
Date published: 2019-02-20
Rated

5

out of

5
by
NewMarmotFan19
from
Super Warm and Lightweight
While the color was a bit brighter than the "scarlet" name suggests, I found that I absolutely love this coat. Very lightweight- it kind of reminds you of a windbreaker. I went out in cold weather (18 degrees- windshield was 6 degrees) and had to unzip it on a dog walk.
Date published: 2019-03-22
Rated

5

out of

5
by
TruckeeGigi
from
Light and cozy
I'm 5'4" and 108 lbs. Fits great and I have enough room for a light- medium layer underneath. It's a more fitted jacket. Sleeves are nice and long. (I have long arms) Wore this in the low 40's with a tank top under a long sleeve shirt and it was great.
Date published: 2019-04-11
Rated

4

out of

5
by
DeedeV
from
Great cut
Perfect fit for my curvy figure and it stays put when I raise my arms. I have 2 down jackets (without hoods) but this fills the 'what to wear when it's chilly and there's a chance of drizzle' niche (important here in the NW!).
Date published: 2019-03-15
Rated

5

out of

5
by
Murrcat
from
Comfortable and warm
As a curvy size 8, i appreciate being able to wear outdoor clothing that fits. Most outdoor clothing is cut for a different body type. This jacket fits well and is warm for the mild shoulder seasons we have in Seattle.
Date published: 2019-05-15
Rated

5

out of

5
by
hippo
from
Beautifully fitted jacket
I bought the XS orange color one which fits me perfectly with room to wear thin layers inside. I am a petite 5' 2" 102lb. The jacket is light and warm and fitted very well. A must have for outdoor and travel.
Date published: 2019-03-13
Rated

1

out of

5
by
Anonymous
from
Women's Featherless Hoody
I had to return the coat. I liked the fit everywhere except that the botton flipped out in the back like a tail. Maybe it would fit someone with wider hips to fill it out. (I am 5'5, 115 lb,bought a small.)
Date published: 2020-10-14
bvseo_sdk, dw_cartridge, 18.2.0, p_sdk_3.2.0
CLOUD, getReviews, 0ms
reviews, product
product-detail-view
oos-pdp