Women's Celeste EVODry Jacket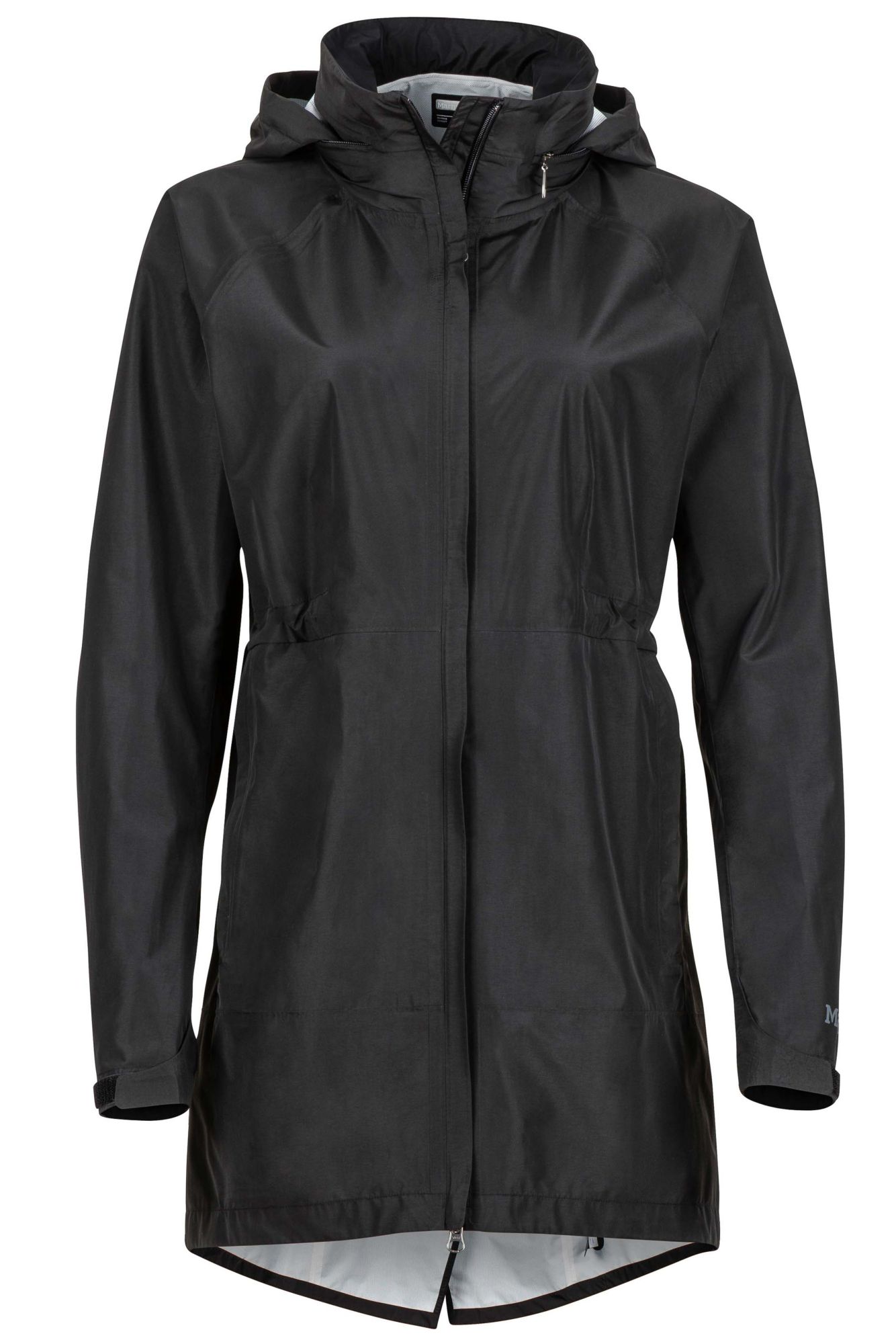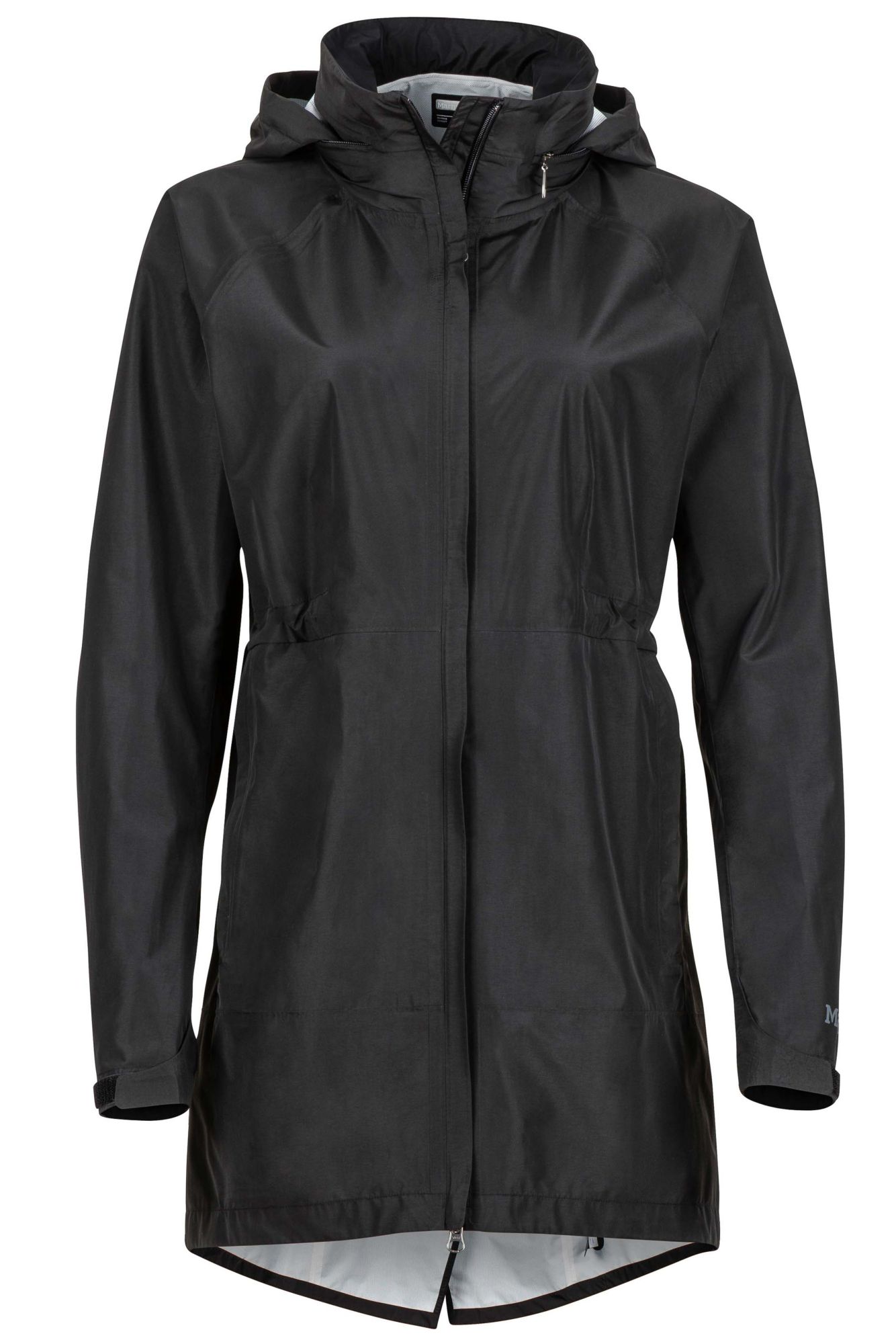 Women's Celeste EVODry Jacket
Sale Price
$73.99
Strikethrough List Price

$185.00
Final Sale: may not be returned or exchanged
Final Sale
This item cannot be exchanged or returned. Valid while supplies last. All sales final.
This item is currently not available
Sale Price
$73.99
Strikethrough List Price

$185.00
Final Sale: may not be returned or exchanged
Final Sale
This item cannot be exchanged or returned. Valid while supplies last. All sales final.
This item is currently not available
Product Details
Features
Marmot MemBrain® Eco Waterproof/Breathable Fabric
100% Seam Taped
Attached Stowable Hood
Zippered Hand Pockets
Elastic Waist with Draw Cord
Adjustable Velcro® Cuffs
Interior Zippered Pocket
Two-Way Zipper Prevents Bunching
Description
A sleek jacket silhouette disguises the functionality of this jacket. The Women's Celeste utilizes Marmot's new MemBrain® EVODry, a waterproof and breathable fabric that uses processes aimed to reduce environmental impact without compromising fabric functionality. Fully seam sealed, the Celeste has an attached tuck-away hood when weather turns south, adjustable Velcro cuffs, and a two-way zipper prevents the jacket from bunching up while seated. Store essentials in the inner zippered pocket.
Specifications
Product Weight:

0lbs 15.87oz (449.9g)

Main Fabric:

Membrain® Eco 2.5 Lamination 100% Recycled Nylon Solution Dyed Plainweave 3.4 oz/ yd
Rated

4

out of

5
by
Judy15
from
Nice jacket
First I ordered an XS but it was too tight through the armholes so I exchanged for a small and it's a much better fit. I am 5'4", 110 lbs., usually an XS petite in coats, so I think this one runs a little small. The first one was the denim blue, the second was purple and both were beautiful colors. It's thin but provides some warmth. I haven't gotten rained on hard enough to evaluate the water-proofing yet. It works great as a long wind-breaker. I ended up with the purple color because it was discounted even more than the blue. A great jacket for $90!
Date published: 2019-11-28
Rated

4

out of

5
by
Newjacket
from
Cute for around town wear
Fits true to size. The material has a plasticky feel and might feel warm on a hot day. I like the cinched waist feature, makes it a little more fitted and feminine. The split in the back is cute, my only concern is it pulls apart with my hands in the pockets, leaving the back of my legs exposed to rain.
Date published: 2019-06-19
Rated

4

out of

5
by
Chris2376
from
Pretty jacket
The denim color is really pretty, it's a subdued color that goes with everything. The jacket fits great, sleeves are a great length. Jacket is very flattering on, I just wish the hood had more of a brim to keep the rain out of my face. And the interior zip pocket barely fits my IPhone XR so I would prefer that to be bigger. But the jacket feels great on. It's not too heavy.
Date published: 2019-08-29
Rated

5

out of

5
by
e_dub
from
Functional and stylish!
I love this jacket! I had been looking for a longer rain coat for a while. You can cinch in the waist to give the jacket more of a flattering shape. The back is very unique and cute. I am usually a medium in Marmot products and bought a medium in this jacket. For reference, I am 5 ft 7 in about 145 lbs.
Date published: 2018-11-03
Rated

5

out of

5
by
CCanoe
from
Exceeded expectations
Wonderful jacket. Arms are a little long, but Velcro fastenings make it work. Love the inside pocket, hood size and most of all, the split in the back. Only jacket I tried that was comfy to sit in without undoing the zipper.
Date published: 2018-03-25
Rated

3

out of

5
by
Celeste owner
from
Very cold jacket
The jacket looks nice and I love the colour. The problem for me is that there's no lining on the inside and that makes the jacket awfully cold even the earliest fall days. Also, as the size runs really small (I'm usually medium but decided to go for large because I was planning to wear the jacket for the whole fall adding layers underneath - so, even though I got a whole size bigger jacket than my actual size is, I can hardly fit anything under it), so dressing in layers don't work. The hood is way too small and if I'm wearing my hair on an ponytail, my face will get wet since the hood won't cover it anymore... And I have a small head! So, nice looking jacket that works on warm summer rains. 185 dollars for that is way too much, though.
Date published: 2018-09-21
Rated

5

out of

5
by
tofuluva
from
Longer length perfect for staying dry!
The length & weight of this jacket is what sold me. So many waterproofs coats are hot, even if unlined, & on the short side -- so your legs get wet in heavier rains. This well-constructed coat is very lightweight, so it's wonderful in warmer weather. In colder weather, it's roomy enough (adjustable inner drawstring) to fit another layer. While I mainly use this for dog walking, it's perfect for any physical activity because of the split back seam. Love it!
Date published: 2019-05-15
Rated

5

out of

5
by
Quiet1
from
Great material
I was interested in trying out the evodry material, because most "breathable" waterproof fabrics don't breathe very well. But I've been pleasantly surprised about how well this material works. I've been able to do some fairly active work outside in the rain and have stayed dry from both rain and sweat. Kudos to marmot for pushing the boundaries on the technical fabrics—bringing these types of innovations to customers is what brings me to your products!
Date published: 2020-01-15
Rated

5

out of

5
by
KatG
from
Held up hiking; M sizing
Exactly what I was looking for! I'm a pretty sporty person, but I wanted a rain jacket that could pass with professional clothes as I have to wear them for school. This is perfect! The length is nice and over the butt with a slit in the back and double zipper that make it comfortable to walk in. Very light weight and can easily roll up in a backpack, nice breathability (I wore it hiking and didn't sweat very much from it), great water resistance as I've remained dry every time I wear it. I love the lifetime warranty for the quality of the product. Excited to have this for a long time. Sizing: I'm normally a small as I'm a 2-4 in clothing sizes, but I bought a medium so I could layer (I love big sweaters in the winter). There's definitely a lot of room and if I wanted a normal fit small would have been perfect, but I love my extra room.
Date published: 2020-05-27
Rated

5

out of

5
by
LouiseArtichoke
from
Love this jacket!
Bought beautiful teal color and love it! Its above-knee length gives extra protection. I bought XL (I'm usually a size 12 in other clothing) and it's large enough to fit a light down puffer under it if extra warmth is needed, but if I don't need that extra warmth, it still drapes nicely without appearing too large and stiff.
Date published: 2019-10-03
Rated

5

out of

5
by
eliz46
from
Sharp and functional
I've had this jacket for about a year and it has really held up. It is beautiful and functional. I live in a city and walk in the rain often and this has kept me dry and feeling put together. I'm 5'5 and ~ 125 lbs and got the XS. It fits perfectly but would've been happy with a S too for bulky sweaters. Highly recommend!
Date published: 2020-11-10
Rated

4

out of

5
by
Anonymous
from
Flexibility in sizing this jacket
I have not tried this jacket in the rain yet, but I wanted to let people know about sizing, since I read so many different accounts on sizing from other reviews. I am 5 ft 4 and around 110 lbs, and I got a size medium to allow for wearing a jacket underneath this so I can wear it during relatively colder weather as well. Normally in clothes like this I would be getting a small or even extra small. The drawstring at the waist helps a lot to bring this down to size and make it not look too big on me. Also, the velcro closures on the ends of the sleeves allow me to adjust the sleeves so they stay above my hands and don't look terribly long. Overall, I'm glad I made this sizing decision and will keep this jacket. It looks elegant and give a lot of good coverage for wet weather.
Date published: 2020-10-28
Rated

5

out of

5
by
jojorich
from
Great fit!
I bought this jacket a couple of months ago and I love the fit. You are able to adjust the waistline and cuffs and you can tuck away the hood. There is also an interior pocket to make sure things stay dry.
Date published: 2020-11-23
Rated

4

out of

5
by
AleshaD
from
Very flattering
Love the length and waist cinch, would have been a perfect jacket if it had the under arm "pit zips" like my old precip had.
Date published: 2021-01-10
Rated

5

out of

5
by
Raincoat Girl
from
perfect raincoat
Just what I needed. Waterproof, light weight and stylish. Easy to pack.
Date published: 2019-11-17
Rated

5

out of

5
by
Marie55
from
Fantastic!
I bought this jacket to bring to Iceland where the weather is very changeable. It is one of the best purchase I have made. Lightweight and waterproof, I can wear it alone and also over a down jacket. It was comfortable, well made, and attractive. I never expected to receive so many compliments for a 'rain jacket'.
Date published: 2018-10-18
Rated

5

out of

5
by
Yoko
from
Great jacket
Love it! Very waterproof but breathable and ample room for layering. I can fit my chunky wool sweater, or a thin down jacket under it as it gets colder. I spent a long time thinking about buying this jacket and I'm glad I did!
Date published: 2020-11-06
Rated

5

out of

5
by
Ozarkian
from
I love this jacket.
This is waterproof, lightweight, and roomy enough to wear a sweatshirt underneath. ( I bought XL for that option. I have problems with fit because I'm busty but small otherwise). I bought white and it's a very nice white.
Date published: 2019-10-02
Rated

3

out of

5
by
Bridget
from
A little stiff and block ish.
Will keep me dry, but the hood is not comfortable, the fit is boxy, even with the a inch waist, and material is stiff. For this price, and the Marmot name, I expected more.
Date published: 2018-12-28
Rated

5

out of

5
by
Teri Thai
from
Great light rain coat
I bought this jacket about a month ago. Love it! It's light, packable, have inside pockets for wallet/cell. It's also waterproof! I bought the color purple XL. I'm 5'2, 150 lbs it fits me pretty good. Have plenty of room.
Date published: 2019-09-15
Rated

3

out of

5
by
quinn18
from
nice jacket
beautiful jacket, quality as anticipated, however, the back design is not very good with regard to waterproofing as flap is angled and does not cover body. will be returning, but love the color and other features
Date published: 2019-03-28
Rated

5

out of

5
by
Appleadb
from
Great travel and hiking jacket
I bought this jacket for a 3 week trip to to Bhutan and just got back.Stashed It in my daypack for the famous hike to Tigers Nest Temple, as well as back roads travel to remote villages and homestays to visit weavers. Temps varied from 30 to 75 degrees due to altitude, so always had it handy. It worked well for the trip. I liked the longer length and open slit back bottom hem for mobility. Glad to have it with me.
Date published: 2018-11-25
Rated

5

out of

5
by
danease
from
I like the ability to sincht the mid section.
I bought this to go hiking and though it had pit zips. It did not. If I were looking for an all-around raincoat it would be great.
Date published: 2018-12-23
Rated

5

out of

5
by
Sailing 22
from
Loved the jacket but...
This jacket wasn't as long as I though it was going to be so I returned it Everything else about it was perfect though
Date published: 2019-05-09
Rated

5

out of

5
by
RAS08
from
Awesome jacket!
Love this jacket! Alone or layers, keeps me warm and dry. Very flattering too!
Date published: 2020-11-15
Rated

5

out of

5
by
QueenofGreen
from
Marmot scores with Celeste Jacket
I love the blue/green, almost dark teal color so much and ordered a medium, it zips up great & covers my butt which is nice and warm but it's best to do your true size since, while not baggy, it is not as form fitting as ordering your true size is more form fitting. It's also completely waterproof & in Bay area rain, the hood cant be beat! Nice Price too.
Date published: 2019-03-29
Rated

5

out of

5
by
BeckyS
from
Nice color - was great for rainy Ireland!
Water proof great and color more like dark teal than "Denim" - nice! Helps with wind but would need a layer of warmth underneath for cooler weather. Nice features with pockets and hood with draw strong. Found a great sale online directly with Marmot once I had researched the product.
Date published: 2019-10-07
Rated

5

out of

5
by
JulsB
from
Just what I wanted
I bought this rain coat to walk the dogs in the rain but it would be good for travel in warmer temps. It's not lined so you'll have to wear another layer if it colder than 60 degrees. Well made and I love the blue color.
Date published: 2018-11-24
Rated

5

out of

5
by
Afterglow
from
Wonderful!
I absolutely LOVE this jacket. The color weight and water resistant fabric is outstanding. I bought the teal color and it looks great. I highly recommend it! Marmot quality and I got it on sale which was even sweeter.
Date published: 2019-04-26
Rated

5

out of

5
by
Tam Tam
from
Awesome Jacket
I am so glad I made the decision to purchase this jacket. I wear an xl and it fits perfectly. It's made well and the color teal is very flattering. I can't wait til it rains so I can show off my new coat :-)
Date published: 2019-04-12
bvseo_sdk, dw_cartridge, 18.2.0, p_sdk_3.2.0
CLOUD, getReviews, 0ms
reviews, product
product-detail-view
oos-pdp