Men's Toro Component 3-in-1 Jacket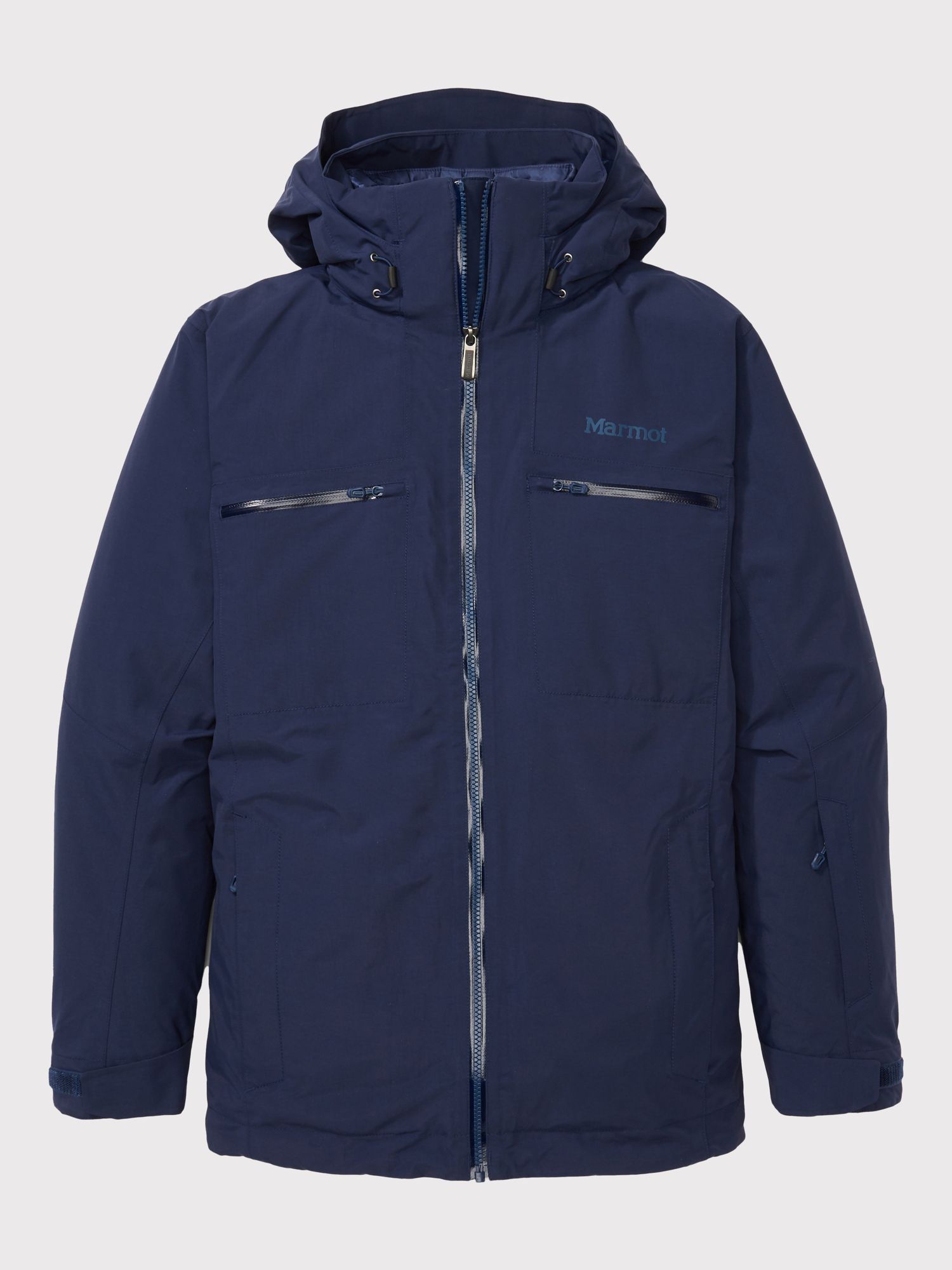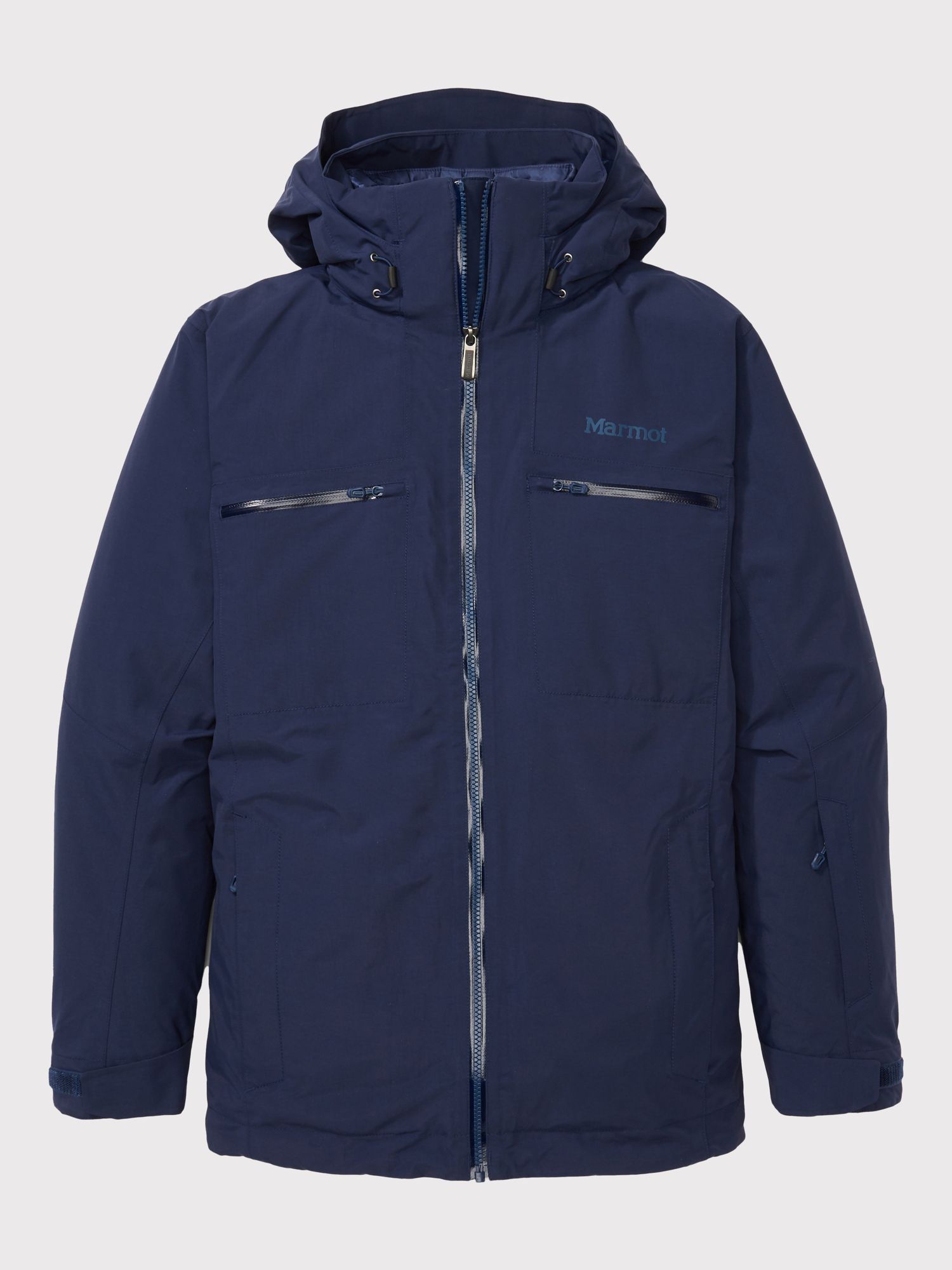 Men's Toro Component 3-in-1 Jacket
Sale Price
$212.99
Strikethrough List Price

$425.00
Final Sale: may not be returned or exchanged
Final Sale
This item cannot be exchanged or returned. Valid while supplies last. All sales final.
This item is currently not available
Sale Price
$212.99
Strikethrough List Price

$425.00
Final Sale: may not be returned or exchanged
Final Sale
This item cannot be exchanged or returned. Valid while supplies last. All sales final.
This item is currently not available
Product Details
Features
Marmot MemBrain® 2-layer waterproof/breathable fabric repels water and reduces internal condensation; 100% seam taped to keep water out
Environmentally sustainable PFC-free DWR (Durable Water-Repellent) finish repels water from the fabric's surface
Removable Thermal R®-insulated liner for added warmth when needed
Zip-off storm hood with brim for extra coverage; powder skirt prevents snow from creeping in
Core vents provide airflow
Waterproof zippered chest pockets; zippered sleeve pass and hand pockets
Interior media pocket keeps your phone dry and secure
Elastic drawcord hem; adjustable VELCRO® cuffs
Description
Be prepared for unpredictable weather on the mountain and beyond with the Men's Toro Component 3-in-1 Jacket. Featuring 2-layer Marmot MemBrain® fabric, a PFC-free DWR finish, and 100% taped seams, its outer shell will keep you dry and prevent leaks as you get after it. This winter jacket features a removable Thermal R®-insulated liner and airflow-enhancing core vents that adjust to rising temps. The removable storm hood with a protective brim comes off easily when not in use, while the powder skirt prevents snow from making its way to inner layers. Zippered chest, hand, and sleeve pockets keep essentials accessible.
Specifications
Product Weight:

1lbs 12oz (793.8g)

Main Fabric:

MemBrain® 2L 100% Nylon Oxford 5.2 oz/ yd | 100% Recycled Nylon Rip Stop 1.1 oz/yd
Rated

2

out of

5
by
Rory4pres
from
Not very impressed
I found the outer shell to be decent but the inside insulated jacket was EXTREMELY thin. In fact I'm not even sure there was any insulation in the inner jacket, nor outer jacket. I returned. I expected better from Marmot. This jacket isn't sold anywhere else but Marmot.com and now I know why.
Date published: 2021-03-18
Rated

4

out of

5
by
torturedBikeMechanicBryan
from
Good general-purpose winter coat
I wear this jacket for winter hikes when the temps are near or below freezing. It's plenty warm when worn without a baselayer- I actually overheat a bit when doing more strenuous hikes. It's a bit long on me, which reduced some flexibility, but otherwise the coat is very comfortable. It's just as snug as I would want without being too puffy (I am 5'9" and about 180lbs for reference). This jacket is replacing my old setup; a packable-down jacket with a rain jacket over that. The inner insulating layer snags on my gloves at the ends of the arms where they have a sort of softer fabric- that's my only gripe. I wouldn't wear it for winter cycling as it's a bit too long for that, but I would wear it for any winter activity in Ohio or the Northeastern United States. This coat is the best thing that happened to me in 2020.
Date published: 2021-01-18
Rated

4

out of

5
by
Russell Skier
from
Couldn't resist Marmot quality at this price
I have a collection of ski jackets from decades of skiing. I'm only admitting to this to point out that, in comparison, this component jacket could replace them all. It's really three different jackets in one. It's features check all the boxes of a $425 ski jacket except for a few: no goggle pocket, no attached goggle wipe cloth, and no D-ring to attach a lift ticket to. That's why the 4 stars instead of 5. I also prefer vertical chest pockets but at the sale price this is a steal. I'm picky about zippers not snagging and so far no problems with that. I'm 5'5" 150 lbs and wear the medium. It's roomy in the right way for a winter jacket; it's easy to add an extra base layer. I leave the liner unzipped from the shell so it's easy to switch out to any of the 3 different ways to use the components, and for spring skiing throughout the day this works great.
Date published: 2021-04-05
Rated

5

out of

5
by
Rick_H
from
More than capable for Michigan Winters!
The material and zippers on this coat are robust and sturdy. The hood is actually large enough to keep wind and weather off of your face and out of your eyes. Also has LOTS of pockets. Insulation has been comfortable in Michigan January temps (sub-zero windchills), and has blocked wind well. I ordered one size up from Marmot's recomendation which tends to fit my 6' frame well. I found this coat from Marmot for 70 % off, which makes it an incredible value. Definately my ski / snowshoe / play in the snow coat!
Date published: 2022-01-14
Rated

5

out of

5
by
Faizan
from
Great for New England outdoors.
Great jacket for hiking and skiing. Wore this jacket in temperature ranging from mid teens with single digit windchills on a 4000footer of NH to mid 20s while skiing. It keeps me warm and does a pretty good job protecting from the elements like its supposed to do. I would recommend wearing a with a fleece jacket or a lightweight mid layer for additional warmth. The liner inside isnt very warm but perfect for hiking since its light weight and slightly insulated. The are two thing I necessarily didn't enjoy about this jacket: 1. Not as light weight as I was hoping for a $400 jacket to be. 2. Although the jacket says Goretex, it doesn't have a light weight nylon/tarping shell layer that would expect to feel for a Goretex. Overall great purchase.
Date published: 2022-01-09
Rated

1

out of

5
by
JPL12
from
Sending it back
Weird fit. It feels tight at the bottom and doesn't seem like good quality. Disappointed because Marmot stuff is usually way better than this... Can't believe it's a $400 coat.
Date published: 2021-02-01
Rated

5

out of

5
by
Murraychr
from
Awesome coat at a great price! Roomy fit.
Love the design. Perfect combo 3 in 1. High pockets for phone. Liner is gray and is sharp by itself (appears white online). Fit is roomy. Have tried other 3-1s in the past in same size that were too small.
Date published: 2021-04-13
Rated

5

out of

5
by
Snow carver
from
Happy customer
Very solid jacket, and can't beat the price. I got this for colder days on the slopes and as a go to run around winter coat. Had it on the slopes twice and no complaints. I appreciate the fast shipping.
Date published: 2021-01-15
Rated

5

out of

5
by
Anonymous
from
Marmot Toro 3-1 jacket.
This jacket is a perfect fit for my teenage son. Spacious pockets for everything he likes to carry while snowboarding. I love the durability of this jacket for a very rough and tumble teenager.
Date published: 2021-11-10
Rated

5

out of

5
by
Dingodawg
from
Marmot does it again!
Jackets are good for big guys! It has room and is very comfortable as to the fit and wear. I like the pit zips, the chest Pockets and the overall water proof qualities.
Date published: 2021-03-16
Rated

3

out of

5
by
Sheld
from
Wish it was more slim fitted.
I liked the color, but the size was slightly too big. I wear a medium and I think a small would be too small. If it was more slim fitted, I would have liked it better.
Date published: 2021-01-16
Rated

5

out of

5
by
Rich123
from
Winter Coat Done Well
Fit is great, and it keeps me warm in the midst of a Chicago winter. You can tell the coat is of high quality, and I like the fact there is no velcro anywhere.
Date published: 2021-03-27
Rated

1

out of

5
by
Rick Crockett
from
Mediocre jacket for the price
Internal liner is great but the outer shell is not impressive. A jacket in this price range should have wrist gaiters and smoother zipper function.
Date published: 2021-03-26
Rated

5

out of

5
by
Anonymous
from
Great value coat with plenty of warmth
The zip out liner is great. Two coats in one. All the deep pockets fit my phone and accessories in them comfortable.
Date published: 2021-01-25
Rated

5

out of

5
by
Jeff Stern
from
Amazing buy!
Great product. Keeps me very warm!! I like that it's basically 3 coats in 1
Date published: 2021-01-25
Rated

5

out of

5
by
DavidH
from
Keeps me toasty
Never had a 3 in 1 coat before but I love this. I've worn the stand-alone inner jacket (compete w/pockets and zipper) on cool fall nights and I've worn the parka w/o inner jacket when it was raining but not too cold. Now that Oregon winter has arrived, I've been bundling up with the whole coat--inner jacket AND outer parka. I like the extra pockets, the liner in the pockets, the detachable hood, and so much more. Keeps me toasty on cold, rainy days.
Date published: 2021-12-18
Rated

5

out of

5
by
fredlaub
from
A Great, Versatile Jacket for the Wilds of Ohio
This is a great jacket. Workmanship is very good. You can tell that it is build very solid when you put it on. I have worn it in temps down to the teens and was warm. It hasn't been any colder yet to test lower temps. I suspect it will do fine down to zero degrees. Likely even colder if I am active and generating heat. I am 6ft 250 lbs. and the XXL fits perfectly. The sleeves are even long enough for my gorilla arms. Highly recommend.
Date published: 2021-01-13
Rated

4

out of

5
by
Alex Nanai
from
Toro 3-in-1 Awesome Jcket and value too
Nice jacket and worth the money. Overall, I really like this jacket. It is replacing another Marmot (I wore for twenty-six years until it finally gave up.) The hood is too big to wear without a helmet But I do like that it can be zipped off. I don't like the zipper (but it does keep rain water and cold out.) You will stay dry, warm, and the fabric is much quieter than than other "waterproof" constructions.
Date published: 2021-03-25
Rated

5

out of

5
by
sundog
from
Solid Midwest winter coat
This jacket is a great all-around winter coat, especially for the price. Perfect for limited outdoor activities and as a work/car coat. Nice touch that it has some added features that make it a backup ski jacket like a sleeve ticket pocket, but could also work for some one that rarely skis and doesn't want to buy a jacket that is only good for skiing and doesn't look good or work well throughout winter.
Date published: 2021-10-06
Rated

5

out of

5
by
Hdham
from
Hunter approved! Great fit and so warm!
My avid hunter, who always brags about how warm his bulky hunting gear is, is so very impressed with his new Toro jacket. He "test drove" it this week in 10 degree temps/ -7 degree windchill and was so impressed at how lightweight and warm it is. Great fit, Size Large- 190 lbs. Won't be hunting in it, but he is ready to get out on the slopes with it!
Date published: 2022-01-09
Rated

5

out of

5
by
Edgardo
from
Fantastic Jacket
Fantastic Jacket so far. Purchased it at the end of the season, so not super cold, which makes it difficult to discuss how warm it is. But for normal, everyday northeast winters it's a great and stylish jacket. If you can purchase at a discount it makes it even better. It's a little steep on regular price. But a great jacket with a great, true to size fit.
Date published: 2021-04-05
Rated

5

out of

5
by
Frank 3
from
Excellent 3.75 Season Jacket / Rainshell
Good jacket for not so freezing weather - Nice breathable waterproof shell with light zip-out insulated liner and hood. Looks good and comfortable to wear, Not sure I can see wearing the liner as a separate but I am very happy with the purchase which will cover everything but the coldest winter weather. Buying a stuff bag for the liner so I can pack it.
Date published: 2021-04-23
Rated

5

out of

5
by
Curt D
from
Great versatility
I had a credit through the warranty program and was able to get this jacket on sale (side note: ordering through the warranty services was seamless. I even had to return it and get a different size and it was so easy.) Once I got the correct size, the fit was great. I like having two jackets in one, so that I can use it most of the year.
Date published: 2021-10-07
Rated

4

out of

5
by
PastorTrav
from
Solid jacket.
I needed a replacement for my Arc'teryx Rush ski jacket, and wanted something that would keep me a bit warmer on cold days in the Rockies. Early returns suggest that this is a solid, warm, functional jacket. It looks great and, at least according to cold Friday football games in late-autumn bleachers, is sufficiently warm.
Date published: 2021-10-16
Rated

5

out of

5
by
81and still moving
from
10 on a functional scale.
This jacket is extremely functional. I love the two outside chest pockets. It is warm and comfortable though I must admit I don't ski much in vegas. The sleeves are about 35" which is a little long for me, but the cuffs are velcro so they work ok. The shell is light and fine for warmer weather. Hard to beat.
Date published: 2021-01-23
Rated

5

out of

5
by
G squared
from
Perfect for variable Maine winter weather
The jacket is perfect for the cold climate of Maine winters. I also used it for a cold rainy day and it shed the water beautifully while keeping me warm. The liner comes out easily and I have used the components separately several times. The coat repels water and rejects wind penetration. A real thumbs up!
Date published: 2021-03-27
Rated

5

out of

5
by
Beefcake
from
Well made jacket!
Very well made jacket. I did not notice any bad stitching or pulled thread and the material on the tag listed Gore-Tex surprisingly! Very warm in 20 degree weather and the removable liner lets me wear it during the spring. I got this Toro jacket on sale and fell it would be a good buy at the retail price.
Date published: 2021-06-02
Rated

5

out of

5
by
Robert from Illinois
from
Fit and comfortable
I'm a 250 pound man and it Fits as it should. I also have north face and Patagonia & Columbia and this is one of the nicest and warmest of them all . I will definitely purchase marmot again . I Would highly recommend to anyone looking for a winter coat that fits comfortably and looks good
Date published: 2021-04-06
Rated

4

out of

5
by
Airsimple
from
Mens Toro Review
Men's Toro Component 3-in-1 Jacket Select a rating below ★★★★★ ★★★★☆ ★★★☆☆ ★★☆☆☆ ★☆☆☆☆ Nice coat, Functions well and is plenty warm. The water repelency is poor. The coat generally functions well and looks good.
Date published: 2022-01-13
Rated

4

out of

5
by
oNo Stuff
from
Nice Jacket
Seemed like a very nice jacket for skiing. I bought a large size (which is my usual for most brands, like Mountain Hardware), but this one seemed too big for me, especially the inner removable layer. Unfortunately I could not get a medium size to replace it with, so I decided to return it.
Date published: 2021-01-18
bvseo_sdk, dw_cartridge, 18.2.0, p_sdk_3.2.0
CLOUD, getReviews, 0ms
reviews, product
product-detail-view
oos-pdp