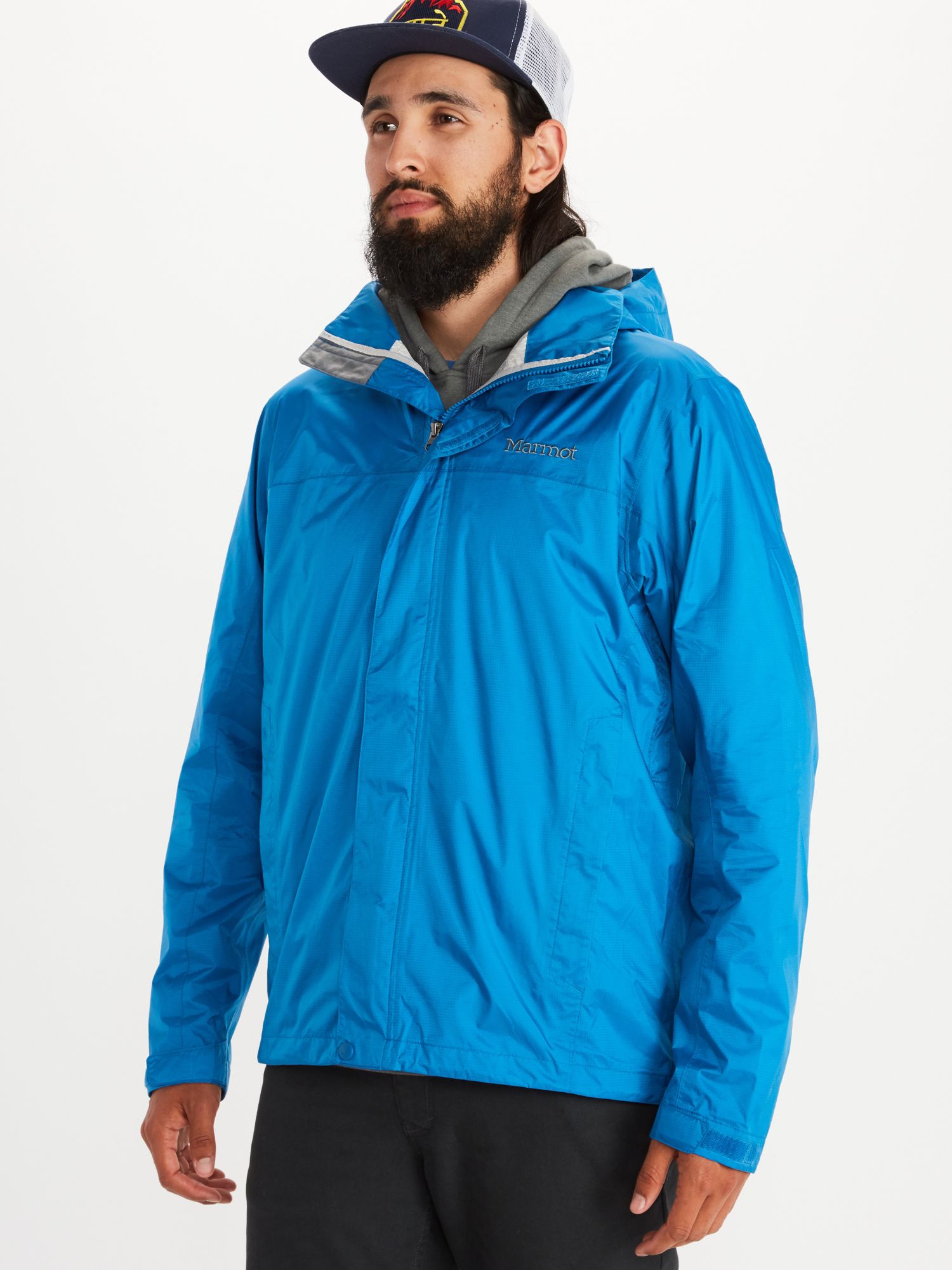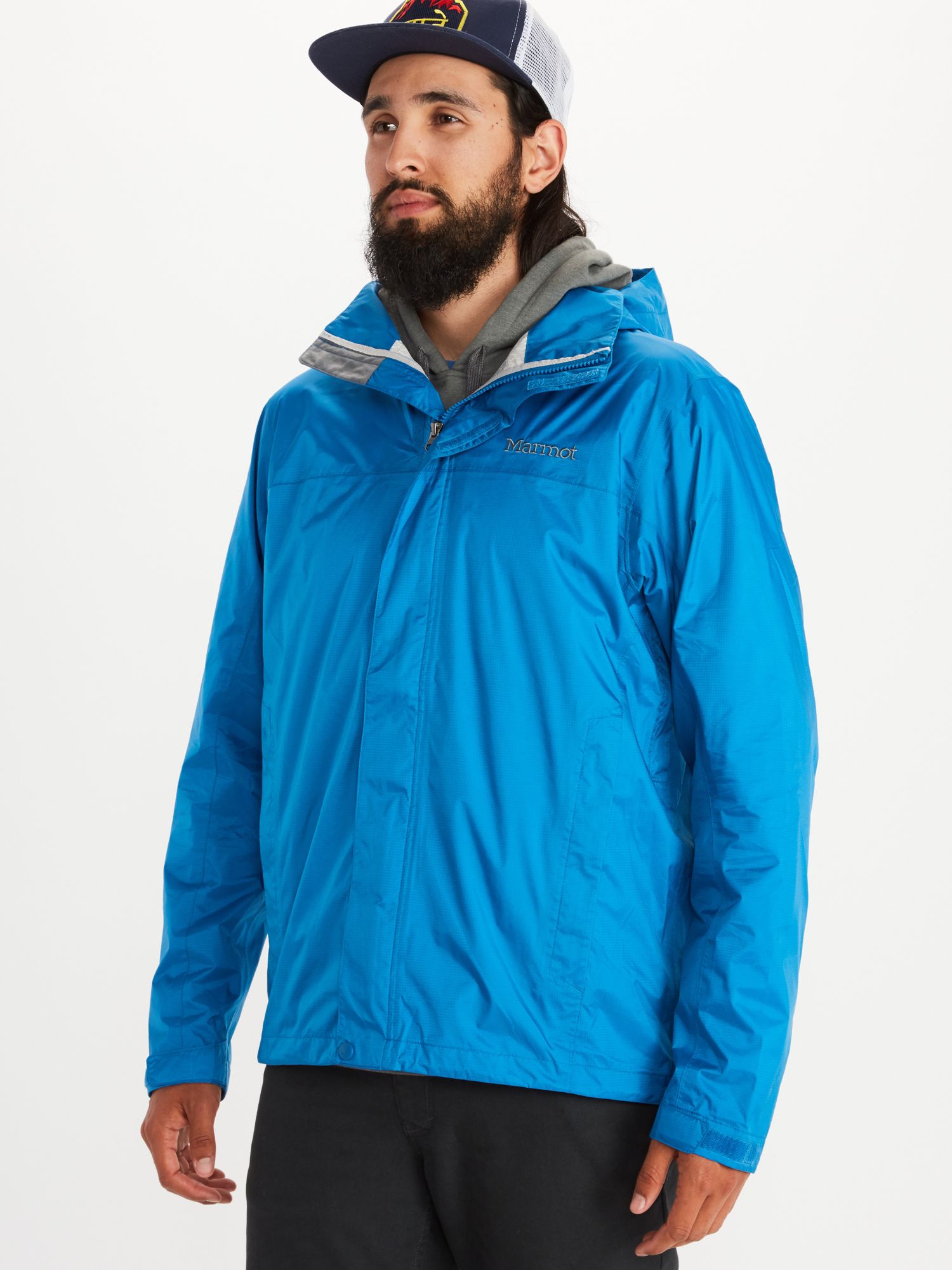 Final Sale: may not be returned or exchanged
Final Sale
This item cannot be exchanged or returned. Valid while supplies last. All sales final.
Selection will refresh the page with new results.
Selection will refresh the page with new results.
Final Sale: may not be returned or exchanged
Final Sale
This item cannot be exchanged or returned. Valid while supplies last. All sales final.
Product Details
Features
Marmot® NanoPro™ Eco Waterproof/Breathable Fabric
100% Seam Taped
Attached Adjustable Hood that Rolls Into Collar
DriClime® Lined Chin Guard
PitZips
Pack Pockets
Stuffs Into Own Pocket
Adjustable Velcro® Cuffs
Elastic Drawcord Hem
Angel-Wing Movement™
Description
On the 20th anniversary of our best-selling PreCip Rain Jacket, meet the environmentally conscious and high-performing next generation: the lightweight PreCip Eco Rain Jacket. The waterproof/breathable, PFC-free Marmot NanoPro™ recycled nylon face fabric lasts longer than ever, thanks to the advanced technology of our microporous coating. Sturdier, more durable than ever, and with a patented dry-touch finish, this packable water-repelling jacket that stuffs into its own pocket will become an everyday piece that you can feel good in and about. It's topped off with an updated fit and the same fully functional features you love, like a stowable hood, adjustable hem, and heat-releasing PitZips. The DriClime™-lined chin guard wicks away moisture to help prevent chafing.
Specifications
Product Weight:

0lbs 10.58oz (293.1g)

Main Fabric:

NanoPro™ Eco 100% Recycled Nylon Ripstop 2.4 oz/yd
Rated

5

out of

5
by
Chase907
from
Has Never Soaked Through!
After being issued one of these at work I went ahead and bought one for myself. I love how light and flexible it is. It also has never let water through in my experience and does a good job breaking the wind. It's also very light and easy to roll up small so it can fit in a backpack. My one complaint is it's slightly baggy, unless you're planning on layering underneath I feel you could go down one size from normal. All-in-all though this is my favorite new rain jacket.
Date published: 2020-11-11
Rated

2

out of

5
by
Anonymous
from
Disappointing
Fits nicely, breathes ok, works while it lasts, which isn't long enough. After just a couple seasons of infrequent, really VERY little use, the interior waterproofing began to wear away and flake off, leaving it less effective and leaving my other clothing with white flecks on it. If I had to calculate the value based on the number of uses before it started to fail, compared to the price paid, it probably cost somewhere between $5 and $10 per use. That is, at $100, I figure I used it somewhere between 10 and 20 times before I noticed it failing. That's a pretty poor value if you ask me.
Date published: 2021-11-24
Rated

5

out of

5
by
John Alden
from
Seeing Marmots with My Marmot
This is the second Marmot jacket I have owned; I bought this new one because the first one wore out over a period of more than five years and was no longer viable after those years of good usage. The new jacket has been waterproof and warm, and it protected me during a recent long-distance backpacking trip to the Wind River Range in Wyoming, where I got dumped on during a storm in Titcomb Basin. My Marmot met the marmots on that trip.
Date published: 2020-08-14
Rated

5

out of

5
by
Steve58
from
Good quality rain jacket
I recently bought this as a rain jacket/wind breaker to take the dog on walks and wear around the city. I imagine I will wear it hiking as soon as I get the chance. I got the size small. I'm usually either small or medium, pretty slender build. My chest is about a 36. I was worried that it might be too small but the jacket fits very well. It's about an inch shorter than a Columbia jacket I have (also size small) but is still long enough. I was worried about sleeves but they are a good length too (I usually wear a 34 in dress shirts). The zipper looks like it will be obstructed by the velcro but it's designed well so it zips smoothly. Very pleased with my purchase.
Date published: 2020-05-28
Rated

4

out of

5
by
kuwi
from
Great for most uses
I just came home from hiking in the mountains in Sweden. While the jacket was great in light rain (and superb while biking to and from work), it failed me slightly in heavy rain when it let through rain around the shoulder straps. My own fault - I should have done my homework and chosen a 20.000mm waterproof jacket. And, btw, the underarm zips are great to let off steam, but it got clammy anyway.
Date published: 2019-09-01
Rated

4

out of

5
by
Neal
from
Great except missing inside pockets
This is almost a perfect lightweight rain/wind jacket. The only problem is that the mesh hand pockets should be sealed on the bottom of the shell to become inner-jacket pockets. It doesn't seem like that much more work to seal them down adding 2 extra pockets rather than leave them open. Just my two cents.
Date published: 2019-05-19
Rated

5

out of

5
by
Anonymous
from
Great jacket at the price point. Highly recommend.
Great rain jacket. I finally got a lightweight rain jacket that doesn't wet out in the first 5 minutes of rain. Previously I bought a Frogg Toggs jacket and was very disappointed. I love the pit zips and taped seams. Very breatheable.
Date published: 2021-07-12
Rated

5

out of

5
by
Hiking outdoors everyday
from
Waterproof
Very warm waterproof thin jacket easy to layer under In Patagonia love this jacket
Date published: 2019-11-19
Rated

4

out of

5
by
Scout hiker
from
Great jacket! Great service!
Very happy with my precip jacket. I have not had it in any extreme downpours yet. But if it performs as mist Marmot gear, I'm sure it will be great. Did have on during a cold misty, occasional rain day for about six hours. Performed flawlessly. Ordered my directly through the company because my retailer said they couldn't get it any more due to this color ( crocodile) being discontinued. I called the company and didnt have any problems. Although I missed a 30% off sale because of the delay through the retailer . Better communication from company to retailer would warrant 5 stars. Very happy with the product.
Date published: 2020-01-09
Rated

4

out of

5
by
TimD
from
Great fit
I haven't had a chance to wear my jacket in the rain yet because it hasn't rained here in two months so I can't speak to its performance. I have however put it on to judge the fit and styling. The fit is great. I like that the models wearing your products on your website had their physical proportions included in the product descriptions. If not for that I would have ordered an XL which would have been way to large. The jacket looks nice too. I can't wait for this drought to break so that I can actually wear it for its intended purpose. Hopefully, I'll be as pleased with performance as much as fit and style.
Date published: 2019-10-13
Rated

1

out of

5
by
Precip Eco
from
Poor construction
I bought this jacket after so many good reviews but alas when i got it on my first try the Velcro came off on the the right hand. I sent an email to customer care by notifying this and no one ever reached back to me.
Date published: 2019-06-18
Rated

5

out of

5
by
Crozzy
from
Fantastic Upgrade!
My last rain jacket (non-Marmot) had a good run and it was time to upgrade to something lighter and newer. If I recall, some other reviews note that this is not meant for torrential rainfall. Since I don't live in a rain forest, this jacket is just fantastic. Finally a jacket that combines great water shedding, quick drying, and above all else - lightweight and breathable. This is my go-to jacket and am sure it will live up to the Marmot name. The fit appears to be spot on (I purchased a large and am 5'11" and ~200 lbs) and all of the zippers and clasps are solid and should last for years to come.
Date published: 2019-05-28
Rated

1

out of

5
by
jswjsw
from
rain jacket
Want to know the definition of a consumerist society? It's when you wear articles of clothing decorated with company logos, and it's so ubiquitous and has been going on for so long that you no longer even see it. This is a highly functional rain jacket (replacing a similar jacket, worn out after approximately fifteen years) which is ruined by the word MARMOT stitched prominently into the front breast. Normally I would carefully pick out such stitching; doing so here would affect the jacket's performance. If you don't object to being a walking billboard advertisement, this is the jacket for you.
Date published: 2021-02-28
Rated

4

out of

5
by
Brandon308
from
Kept me dry
I put it to the test this weekend watching the Marine Corp Marathon and wondering all around the route. It rained all morning, at times so hard the storm drains weren't able to keep up. It was breathable and even though it was a somewhat warm day, I didn't get hot. It dried out quick and packed away nicely when the rain was done. The only complaint I had was the zippers on the pockets, they seem to snag the internal fabric flap when the material got wet, not a huge deal but kind of a pain having to zip/unzip to get the pocket closed. The pocket zipper is the only reason I didn't give it 5 stars
Date published: 2019-10-29
Rated

5

out of

5
by
Anonymous
from
Perfect jacket for backpacking!
This jacket has been nothing short of amazing! I took it for a backpacking journey in Alaska and not one single tear and kept me dry the whole rainy way. It is very light and has ventilated armpits that keep you from sweating. The color is very nice as well and pops in a lot of my photos. I was able to attract a wild marmot up in the glaciers as well
Date published: 2020-08-31
Rated

5

out of

5
by
Kneel126
from
Works in the rice paddies of Vietnam!
Purchased this jacket expressly for a walking/trekking trip to Vietnam and Cambodia. Jacket performed excellently. Lightweight but absolutely positively water proof. Very pleased.
Date published: 2019-11-02
Rated

4

out of

5
by
NoPro
from
Could use more details about features on web site
This is a great rain jacket. I gave it 4 stars because there were several details about features that I could not figure out from information on the web site. For example I could not tell if the hood had a zippered closure, it does not just a Velcro tab. Did it have a vertical zip chest pocket, it did not. There are so many combinations of features for these rain jackets it would be helpful to have a comprehensive table of all the models for easier comparison. My last Marmot rain jacket lasted 20 years so I expect this one will too.
Date published: 2020-06-08
Rated

5

out of

5
by
Cricova
from
Light, vented, stylish
6ft tall, 195lb. Super light, Medium fits perfect. Simple but very functional.
Date published: 2020-10-13
Rated

5

out of

5
by
Jeff4569
from
If its raining, this is the one jacket you need!
I was looking for a light weight jacket that was water resistant and easy to pack on a hike trip to Hawaii, and the Precip Eco jacket absolutely came through. I mean I could see the water bead off the jacket and was total dry in a steady rain. The jacket fit well and with the velcro bands on the cuff and the hood being able to roll up and tuck away into the collar, this is by far the most convenient jacket I have every had.
Date published: 2020-11-11
Rated

5

out of

5
by
JYergz
from
Reliable and full featured rain jacket
Had to buy a black rain jacket for work. Searched through all brands all options and settled on the Marmot PreCip Eco for the high neck collar, adjustable/stowable hood, packability (into its own pocket), etc. Then realized it's the same jacket I purchased in gray several years ago! (Sits in my closet for months at a time as we don't use rain jackets a lot in the arid Southwest...but the armpit zips come in very handy here.) Anyway haven't tried out the new one, but I've always loved the old one. Lightweight, packable and reliably waterproof. What else do you need from a rain jacket?
Date published: 2020-04-20
Rated

5

out of

5
by
Jayoo214
from
Best Rain Jacket
I bought a couple of cheap rain jackets and it is true what they say, you get what you paid for. Even though this Marmot jacket is not the highest tiered jacket on the market, it does its job very well. Unless you're in torrential downpour for a few hours, this jacket will hold up to just about anything. The fit is perfect and nowadays, i pray for rain so that I can have an excuse to wear this jacket. Highly recommend!
Date published: 2020-11-10
Rated

5

out of

5
by
Rapunzel
from
Breathable and dry
This jacket has performed to my expectations. I live in Texas and experience some of the biggest thunderstorms I've ever seen. In this jacket I stay dry yet the fabric wicks nicely in the high temperatures. Being a large woman I ordered a man's jacket . I love the fit and longer length . The hood is also very functional for keeping my face dry and yet I have good visibility . This is the perfect jacket for me.
Date published: 2019-05-08
Rated

1

out of

5
by
Ran42
from
Sleeves leak
I purchased this a year and a half ago, but living in CA, had not had an opportunity to try it out in the rain until a recent trip to Florida. My torso stayed mostly dry, but my arms were soaked. The water soaks right through the sleeves on this jacket
Date published: 2021-03-06
Rated

5

out of

5
by
Arctic Adventurer
from
Great rain jacket, three-season Alaska jacket
I own the Gore-Tex Minimalist jacket, which is great for winter up here in Alaska. It does get saturated rather quickly in a downpour, leaking around the shoulders and sleeves. I bought the PreCip as a summer jacket, and it does perform better than the Minimalist jacket. It is cooling down quickly here in Alaska, and the PreCip performs quite well so far when paired with a fleece jacket. Highly recommended.
Date published: 2020-10-04
Rated

5

out of

5
by
Midwest Marmot
from
Long lasting performance
I bought my PreCip Jacket 5 or 6 years ago and it still holds up to the same performance. Mostly city use for any rain shower but also good wind resistance for gusty days. Also, have taken on canoe/portage backpack in Quetico and skiing down Keystone Mt. I've made sure to maintain the DWR applications and washing regime. Also, really like Marmot's sizing for Large 34" sleeves versus competitors 35" keeps some extra material out of the jacket and fits my frame a lot better (athletic build 5'8" 195 lb). Overall, this jacket has great versatility and I highly recommend this jacket!
Date published: 2020-04-30
Rated

5

out of

5
by
RainyDC
from
Perfect and Lightweight!
I bought the PreCip Eco in Medium a little over a month ago and I am so glad that I did. I was tired of getting caught in the rain without a jacket. I would get soaked even with an umbrella, especially when the rain decides to go sideways! This is a perfect lightweight coat to throw on on even the most humid days. The PitZips keep me cool and the hood rolls up into the collar. Very pleased!
Date published: 2019-06-19
Rated

5

out of

5
by
Marcus SWFL
from
Excellent lightweight rain jacket
Excellent lightweight rain jacket, highly recommend. I take this thing with me everywhere I go. Also good in cooler/ colder weather when used as a shell over a fleece or other type of base layer.
Date published: 2020-07-19
Rated

5

out of

5
by
BobbyD
from
Best value for the price
I love the PreCip so much that this is my second one. I bought one a few years ago and it is my everyday jacket. When I find a product that I really love, I usually by an extra in case the manufacturer discontinues it. I love the ventilation from the pitzips and the mesh pockets. The jacket is also nice and roomy, so that I can wear it over a fleece when I need to block the wind or the rain. I have a Gortex jacket from another company that was much more expensive, but it doesn't have the ventilation that this jacket has so it feels like it holds more moisture, and no one wants to feel moist on a hike. I do prefer the 2-color styles that they used to have, the one color styles are a bit boring.
Date published: 2020-05-01
Rated

2

out of

5
by
Disappointed88
from
Strong Chemical Smell
I bought this a few weeks ago. The jacket looks nice and fits well. However, I haven't been able to wear it because it has a strong chemical smell. I've washed it twice according to the instructions, and that hasn't helped. I put it in my car for off gassing in the summer heat. If that doesn't help, I may have to return it.
Date published: 2019-06-08
Rated

3

out of

5
by
ambroutside
from
Almost everything I wanted
I bought this several months ago, and have fun worn it from weather ranging from light drizzles to heavy downpours. During the drizzles it works perfectly fine, especially with the pit zips. During the downpours I still get pretty wet, but it does maintain my core temperature which is nice. Overall pretty decent for it's value.
Date published: 2019-09-25
bvseo_sdk, dw_cartridge, 18.2.0, p_sdk_3.2.0
CLOUD, getReviews, 0ms
reviews, product
product-detail-view
oos-pdp