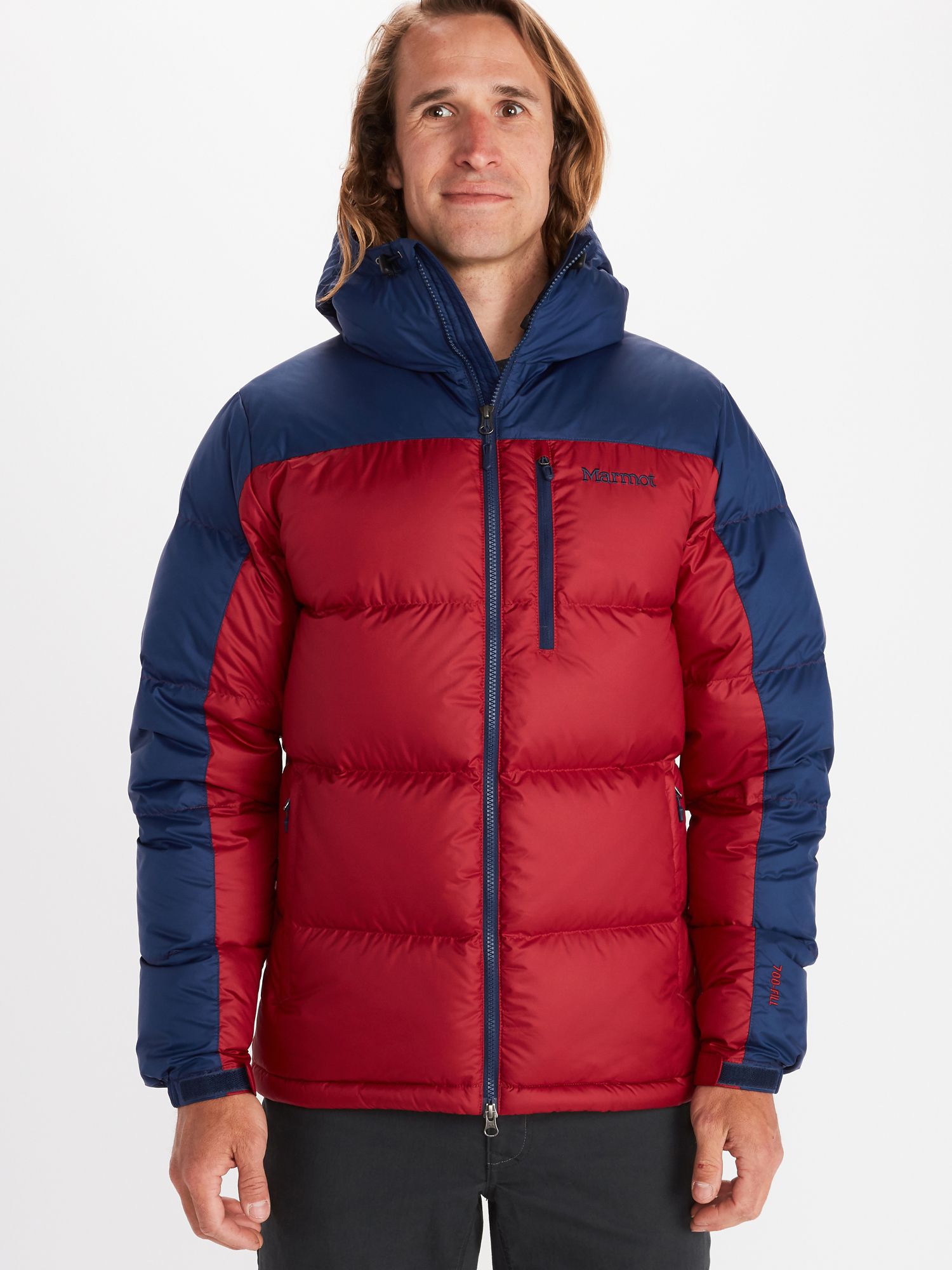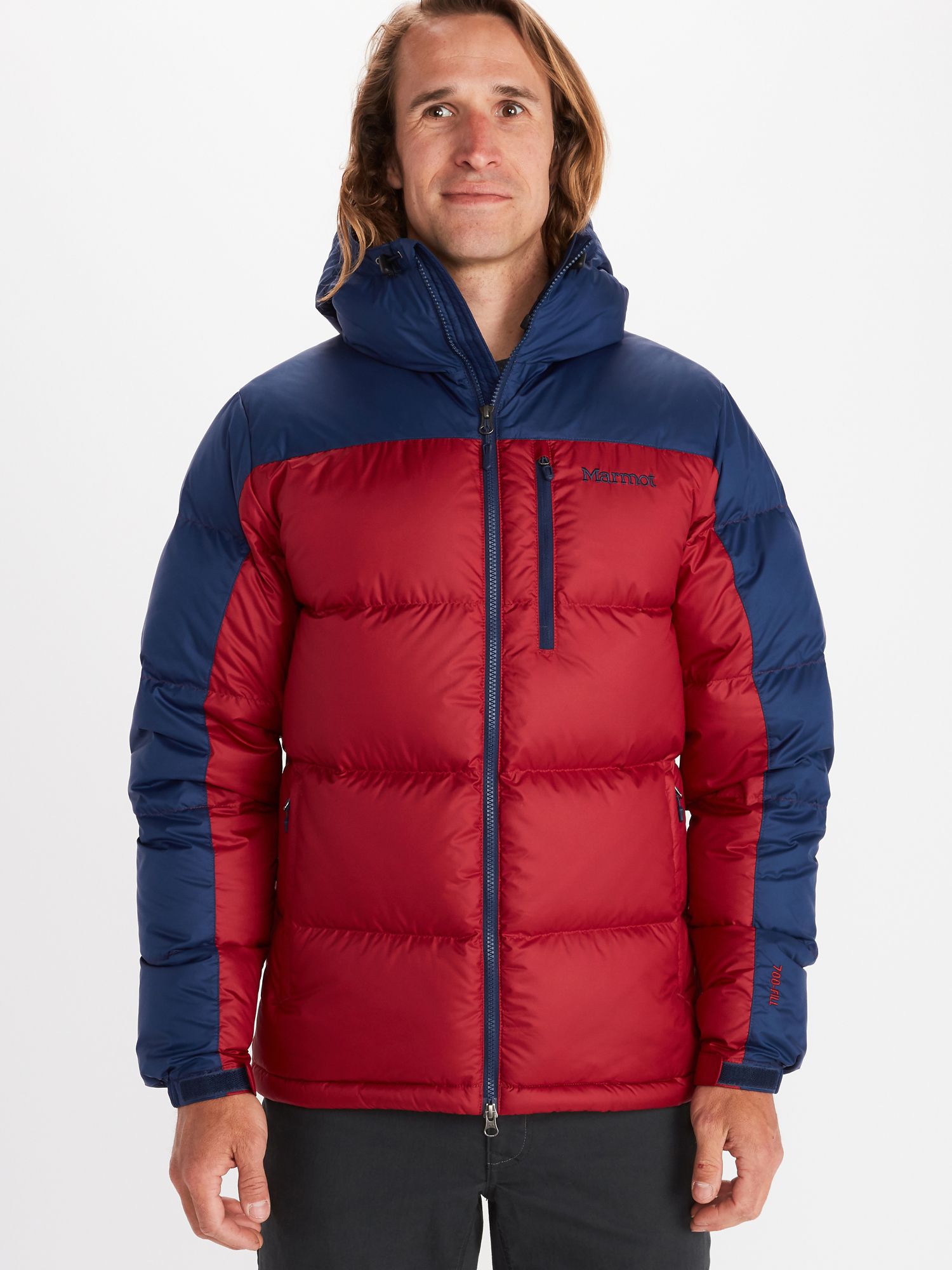 Final Sale: may not be returned or exchanged
Final Sale
This item cannot be exchanged or returned. Valid while supplies last. All sales final.
Selection will refresh the page with new results.
Final Sale: may not be returned or exchanged
Final Sale
This item cannot be exchanged or returned. Valid while supplies last. All sales final.
Product Details
Features
Attached Down-Filled Hood
700 Fill Power Down with Down Defender
Zippered Handwarmer Pockets
Zippered Chest Pocket
Interior Zippered Pocket
Wind Flap Behind Front Zipper
Adjustable Velcro® Cuff
Elastic Drawcord Hem
Angel-Wing Movement™
Two-Way Zipper Prevents Bunching
Description
Whether it's a multi-day adventure friends or a weekend around town with the family, the lightweight Guides Down Hoody will keep you comfortable even when the temperature drops. 700-fill-power down ensures you stay warm while water-resistant Down Defender will keep you dry even if a little rain comes your way. VELCRO® cuffs and elasticized drawcord hem ensure a secure fit and help block the elements. The two-way zipper means you'll be comfortable whether standing or seated. Hand, chest, and interior pockets help keep items accessible and secure.
Specifications
Product Weight:

1lb 7.2oz (658g)

Main Fabric:

100% Polyester Mini Ripstop DWR 1.6 oz/yd

Lining Fabric:

100% Polyester Embossed WR 1.8 oz/yd

Insulation Type:

700 Fill Down with Down Defender, 195g

Center Back Length:

28.5in
Rated

2

out of

5
by
DJFormby
from
Disappointing - not suitable for serious use
I bought this a few days ago and, while it's quite well-made, I'm disappointed that it contains so little down. I read several reviews which suggested that it would be a warm mountain jacket suitable for winter walking. It isn't. It has about half the "loft" (down fill volume) of the old Mountain Equipment Nuptse jacket I intended that it would replace. So although the down is 700-rated the jacket contains too little down for use in low temperatures. Marmot are not being honest in their marketing since they don't make it clear that this is a warm fashion item not a piece of technical equipment. A serious Guide might wear it to the bar but not on a mountain.
Date published: 2019-12-18
Rated

5

out of

5
by
shutterdotexe
from
Very warm and comfortable.
I see a lot of bad reviews for this jacket and it's not fair. I had this jacket for 4 years, wore it every winter.. even at work at the gas station. It was my first Marmot product and wore it in NYC blizzards and I was really surprised how warm and comfortable it was. If you are a sloppy person, you're gonna destroy it because this wasn't made to resist sloppiness.
Date published: 2022-01-26
Rated

5

out of

5
by
GARII
from
All around great garment
There are lots of down hoodies out there. And they are at various price points. This one is near the middle of the ones I checked out. I have a few Marmot products which have all been well made and highly serviceable. Even though I was mildly spooked by some reviewers' opinions that The Guide wasn't warm enough for them, I made the plunge. A month later I have no regrets. It's plenty warm for me (a week in Big Sky, MT was a good test). Okay, this is probably not your all out expedition parka. But short of that it does the job. Lots of nice features: cozy pocket liners, 2 way zipper, generous hood, and excellent sewing. And if it were any warmer, when would I wear it?
Date published: 2020-01-20
Rated

5

out of

5
by
Thora
from
Still as good
Had first one for years and years, didn't think it would last or fabric hold up as well as it did. Would still use but lost in a move. New one looks just as nice. These are so light, yet so warm. I wear over my gravity ss when casually walking dog or low output outdoor activity. If you start moving around it gets warm fast, as it should. Its long, has long arms and hood seals up well. I am 6'2", 205 and wear a 48L. The XXL fits easily over my softshell and baselayer. Could fit a fleece too if needed, but It would need to be -10 or more for me. Great jacket. As obvious, stationary, low energy, unless very cold.
Date published: 2017-09-26
Rated

4

out of

5
by
Douglas_climber
from
Does the trick
Purchased this last year as an outer layer for cold weather sport climbing, i was looking for a jacket to keep me warm between burns while belaying or standing around waiting to climb. As in insulated outer layer it does a good job, and I found I used it for all my winter activites after the climbing season ended; including marching around in the back country with my kids in temps under 15 degrees with a lot of wind. So I like the versatility of the jacket. Also, the hood adds a lot of warmth, and the length, cut, and fit of the jacket are just what I wanted. I look forward to a great season with it this year.
Date published: 2017-09-13
Rated

5

out of

5
by
George in PA
from
After a long search, this was the ONE!
I researched many extra-warm down puffer jackets. I was looking for quality, below-the-waist coverage, a hood for protection from bitter winds, and warmth. I looked at quite a few jackets of many brands, but didn't find one that really had all the qualities I wanted. Then I saw the Marmot Men's Guides Down Hoody in a store, tried it on, and knew this was what I was looking for. The quality is top-notch and it kept me toasty watching a football game on a cold blustery day, which was the first time I wore it. I am completely satisfied and it will now be my "go to" jacket when the winter weather gets nasty cold and windy.
Date published: 2019-12-15
Rated

5

out of

5
by
Bob131
from
Best Jacket Ever!!
I bought this jacket right before the holidays and I'm glad I did. We had an arctic outbreak where temps have not reached out beyond the teens and many of those days were single digit or below zero. This jacket kept me warm throughout with either just a shirt underneath or on the coldest days a fleece jacket. I'm 6 ft. 180 lbs ususally wearing a large but the extra large fit best giving me a little extra room. If you like jackets perfectly fitted then it would be true to size. The hood is generous allowing you like to wear a hat under it. Overall I would say this is an excellent value and worth trying.
Date published: 2018-01-08
Rated

5

out of

5
by
pjm78
from
Awesome down belay coat
I bought this coat a year ago and used it for a long Chicago winter. It is light with four nice deep pockets and draw-cords at the hood and waist. This coat will keep me warm on the Chicago lake-front in the dead of winter with just a long-sleeve t-shirt underneath. When temperatures are below ten Fahrenheit I use a Marmot Wrangell Polartec fleece underneath. with this combo of a base layer, fleece, and Marmot Guides Hoody I can withstand temperatures down to twenty below. To top it off, the Guides Hoody is super affordable. Can't recommend it enough!
Date published: 2020-11-16
Rated

5

out of

5
by
Johns4
from
Mt. Kilimanjaro couldn't stop this jacket
I recently took this jacket to the summit of Mt. Kilimanjaro. While enduring the cold weather and winds at the summit, this jacket kept me warm even with minimal layers underneath. Besides keeping me warm, it fit very well and moved with me as I traversed up the mount. I was pleasantly surprised with the jacket as I have never owned any other marmot product. I would definitely recommend this jacket any time.
Date published: 2018-08-18
Rated

5

out of

5
by
Pivatuv7
from
Very well made!
This jacket occupies a tidy niche between the lower priced synthetic insulated jackets and the higher priced, more heavily insulated ski parkas. Seamless on the inside, nothing to catch or tear. Nice lined pockets, including a big one on the inside for what have you. The external fabric does shed light moisture pretty well, but wouldn't rely on it during a heavy downpour. The hood does a very good job of keeping out cold wind, especially if you use the provided drawstrings to cinch it tight. This is clearly a jacket that was designed for staying outside, in a variety of weather conditions. Very lightweight, for the amount of insulating power. <p> But how warm does it keep you? Well, it's very good as is until about 20 degrees or so. Below that, it feels a bit thin-you'll want something underneath it. I went ahead and bought the matching Zeus parka (in fluorescent green, natch!) to use inside this coat, as a liner. NOW you're talking! That combo is formidable! I've been toasty warm down to 0 degrees with this; I'll let you know how well it does much below 0. I have a feeling I'll have no complaints! Sure, I've spent a total of $350.00 for the two, but now I have something that matches the pricier parkas for about the same amount of scratch, but with added versatility, since both the vest and parkas can be used by themselves. This is worth looking into!
Date published: 2013-12-13
Rated

5

out of

5
by
Cheyennegully
from
Money
Perfect weight for cold days at Jackson Hole. Works well under a shell or alone. I'm 5'10", weight 162 with fairly long arms - the large fits great.
Date published: 2013-12-26
Rated

5

out of

5
by
BigV
from
Never a cold moment
After hearing from a friend about the warmth this jacket provided, I went out and purchased one. Living here in beautiful Sedona, Az, the winters are short and the really chilly days are not that frequent, but when it's cold here, it's pretty cold. Add to that frequent trips up to Flagstaff (7,000 ft.) to shop, ski and visit friends and family, this jacket has proved to be durable, practical, warm all while being stylish. On more than one occasion, I've heard. "Nice jacket"! . . . "Can I try that on"? The hood provides an extra shield against the wind and the interior zip pocket gives me ample room for my wallet and phone. If you're in the market for a down jacket and are looking for quality and style, check this one out; heading into my 3rd winter and I'm almost looking forward to being cold!
Date published: 2020-11-21
Rated

5

out of

5
by
BTTEL2
from
I'm eating crow
I wrote a previous review saying that this jacket isn't what it used to be. I'm wrong. I had it in my mind that what I had was 800fill and was replaced with 700fill. However, Marmot sent me my warranty issue jacket back and it was indeed exactly the same. I suppose it just didn't feel the same out of the package from being stuffed. As it opened up it is fine. This is my favorite cold weather piece EVER! I can easily wear it in very cold temps with just a t-shirt and not get cold. Go out and get one if you wan to be warm!
Date published: 2019-05-17
Rated

5

out of

5
by
ChiMAN32
from
Best Valued Jacket on the Market
I have had this jacket for 3 years and it is my go to jacket for everything cold. It is lightweight so it doesn't feel like you have a heavy parka on. It stuffs into its own pocket which makes it awesome to throw into your backpack for climbing and ski trips. If you are sitting belaying, throw it over yourself and you are nice and toasty, it also has an additional zipper so you can belay at ease and have the fabric out of the way. On top of all of that, you can use it as a pillow on the airplane, bus, car to your next adventure, or as a camp pillow when your in your tent! Living in the city of Chicago you get harsh winds and bitter coldness, this jacket stops it all. You feel completely comfortable waiting at a bus stop or L stop.If temps really drop, add a shell over it and you are unstoppable.I can rave enough about this jacket and would recommend it to anbody.
Date published: 2020-05-12
Rated

5

out of

5
by
Chaitanya
from
Very comfortable, warm and perfect fit
I ordered this jacekt directly from Marmot during the Memorial day weekend when they had it on sale. My order was shipped in time but it didnt' arrive. I submitted a query to Marmot and they figured that Fedex had lost it. They immediately sent replacement which arrived on time. They also offered me 20% discount coupon for future purchase. It is summer time where I live and can't wear the jacket. Although I love the summer very much, I am eagerly waiting for the cold winter to arrive so that I could wear this jacket day in and out :). This is one of the best jackets I have. Quality is great and very light weight. I highly recommend this jacket to anyone for the cold winter.
Date published: 2021-06-23
Rated

3

out of

5
by
Rando
from
Disappointing jacket
My wife bought a Guide Jacket several years ago and was very happy with it, so when we saw the Guide Hoody jackets on sale we each bought one. The down is lofty, but not dense enough, in fact, the sleeve of my jacket is so thin in places there is only nylon on nylon with no down for insulation. I would have returned it but lost the hang tags, thinking it was the equal of my wife's older jacket.
Date published: 2018-01-08
Rated

5

out of

5
by
California
from
Men's Guide Down Hoody
I spent a lot of time comparing many down jackets from the large major manufacturers. Marmot's design team has wisely included all the essential features that the other name brands lack in one form or another in this jacket. The included features of the outside plus inside zipper chest pockets, adjustable hood, hem, cuffs, plus the 700 down fill defines this jacket as one of the best jackets that Marmot has created and one can't find in other companies' jackets. Great and warm jacket to own. Thank you Marmot for all the excellent features one can ask for in a down jacket!
Date published: 2020-03-21
Rated

4

out of

5
by
Onelbil
from
Happy but wish it was more
This is an expensive jacket, and it seems light on insulation. 700 Fill and if it was 800 fill I would be happier. Nothing bad, but marmot seems to be listening to accountants instead of designing the gear they used to. I've been a customer since the 70s and the last few years, quality and practicality have waned. This jacket should have been less expensive for what I ended up getting. Vulture capital might be making the company money, but your losing your name.
Date published: 2019-12-05
Rated

5

out of

5
by
range officer
from
great jacket
my job requires me to stand outside in the cold (10 to 30 degrees) for hours at a time. this jacket is the warmest jacket i have found for low activity in cold weather. one of the features i like is the jacket has not only wrist closures (velcro) but elastic in the wrist so you don't open the velcro closures to take the jacket on and off. prior to buying this jacket i ordered three other jackets from some of the top brands and they all went back as they were not warm enough. this jacket will keep you warm no matter what the temp.
Date published: 2019-02-06
Rated

5

out of

5
by
Juampi
from
Excellent low temperature jacket
I bought this jacket 6 months ago and I wear it thtgouh NY winter. 1) Warm: The jacket was great for low temperature days, -5C or less. I actually wear it on -15C and underneath I had a T-shirt and a hoody and it was perffect. 2) Water repellence: It does well in moderate (light rain). I did not try it in a pooring rain day. 3) Wheight: The jacket is light for the warm commfort you get. 4) Fit: The only problem I had is my size is somewhere in between S-M, not much Marmot can do about it. If it help, I am 1.75 m (5'10"?) tall, and 72kg (159 pounds)
Date published: 2020-04-30
Rated

4

out of

5
by
Brandon M
from
Nice overall
The construction of the jacket is solid. The fabric appears to be more durable than I first thought, but time will tell. The fit is slimmer than my 2010ish guides down sweater, which is a pro and a con. On one hand it will fit underneath a rain or ski shell with ease. On the other hand only minimal layers will fit comfortably underneath the jacket. A lightweight thermal with a 100 weight microfleece that are both fitted might be the limit for my body size and a large guides down hoody. For reference I am 6' 205lbs. Lastly, and the main reason for removing a star, is that the jacket arrived with highly clumped down in the sleeves that left almost half of each arm with only 2 layers of nylon/polyester. I corrected this by manually redistributing the down which took about 5 five minutes to correct. Some have mentioned that the sleeves contained cold spots. This may have been the culprit. About 25 minutes and mine was fixed.
Date published: 2019-02-27
Rated

4

out of

5
by
hockeyforlife
from
Perfect for NYC Winter weather
Today was 20° (Fahrenheit) with a windshield which was rated at -2° and this coat worked perfectly for me today. I was also wearing it indoors before I went outside. 1. The coat doesn't overheat you indoors (probably bc it vents out the heat, which it a good thing). 2. When I walked outside, my center mass didn't feel any different outdoors than indoors! Thats amazing! And it doesn't feel too warm when all zipped up when i am outside. I wouldn't suggest this coat for people that live in sub-zero temperatures everyday in the winter, but it can handle up to zero degrees. The pockets are really warm. I am a broad 5'7, a skinny 140 pounds, and athletic built. I got a size small, it fits my perfectly. its snug but not constricting. If you are any larger than me, than don't get a small. I have the black colored version and I like the look. This coat has a double zipper so you can have the coat zippered but have the bottom open if you like, this feature is ideal for sitting in a car or driving.
Date published: 2015-01-08
Rated

5

out of

5
by
Cowboy Hiker
from
Warm!
I was looking for a jacket to keep me warm when getting to camp and this jacket fits the bill! I usually don't have a problem staying warm while I am getting to my destination whether it be hiking, backpacking or backcountry skiing, but didn't have a good warm jacket when I got there. There is always a trade off of price vs weight vs warmth and this is a good balance of all of those. Plus living in the PNW having the Down Defender is a must. I have been very happy with this jacket!
Date published: 2020-11-16
Rated

1

out of

5
by
jorelup325
from
Thin/Delicate Fabric
I'd like to start this review off by saying that this is a very warm coat. However, the overall quality is less than to be desired. I have owned this coat for only two seasons and worn it around 75-100 times at the most. It is already starting to show "wear and tear" from just wearing it on my walk to school a few months out of the year, including open holes that down is now falling out of (see attached photographs). I'm pretty bummed because I did a lot of research before buying this coat and everything led me to believe it would be a quality item I could enjoy for years. The outside fabric is extremely thin, and unfortunately very delicate. I have not the slightest inclination of when these holes would have been created, but they keep appearing. If you are thinking about purchasing this coat, I would be very cautious with it, as it has trouble holding up to everyday use.
Date published: 2019-02-07
Rated

5

out of

5
by
Max C
from
Love this jacket/sweater
This is my second color. I have used my first (no hood) for 6 Minnesota winters now and wanted to add another (though it has yet to be retired). It works great with a base layer or sweater underneath well into arctic-like temps. Extremely lightweight, packable and surprisingly durable, it is worth buying.
Date published: 2016-07-17
Rated

4

out of

5
by
bseiter98
from
Just received...
I've heard about Marmot jackets for several years so I decided to get one to replace a 650 fill jacket I currently have. When I unpacked it, I thought I received the wrong jacket as it was not nearly as filled (puffy) as the pictures on the website. Perhaps I did! It almost feels like a windbreaker with a few feathers inside. If this actually keeps me warm, I will be totally impressed. Since air is the best insulator, I just expected the jacket to have much more fill than it dies. I will provide an update in a week or so!
Date published: 2017-12-05
Rated

5

out of

5
by
ColdCarl
from
Warm. Toasty warm.
I'm older and colder than I was before. I have worn a heated vest ( batteries) and don't bother with this coat. It's been a cold winter here in wisconsin and this coat is fine. Light and warm. If I could make any change it's the hood. I've seen some with an elastic cord to pull the front up off your eyes but i wear a ball cap most always any how but if you dont that good is a pain.
Date published: 2021-02-01
Rated

5

out of

5
by
Noble
from
Outstanding jacket!
I received this jacket almost 2 weeks ago and couldn't be happier with my purchase. Fit is perfect and the warmth it provides is amazing, got down to -10F here in Vermont a couple of nights ago and all I had on was this jacket and a tshirt........warm as a bunnie. Furthermore, while inside at 65F I'm not super hot like you would think. Down is an amazing Insulator
Date published: 2017-01-11
Rated

5

out of

5
by
sb729
from
Like you're wearing a pillow
I haven't pushed this coat's limits yet, but I've had many puffys and I can already tell just from blustery fall weather this will be a warm coat. Fairly bulky (as far as puffy's go) but if your goal is warmth I think this will do the trick. I'm tall and lanky, and sleeves are always too short, but not an issue here. Fleece lined pockets are an awesome bonus!
Date published: 2020-11-16
Rated

4

out of

5
by
Jeff W
from
General comments
Great jacket...Runs a little smaller than TNF around the waste. I wish the hood had an adjustment on the back to pull the visor back a little higher on your forehead. I like the weight. Not too bulky. No pit zips. I would recommend for city use.
Date published: 2020-05-14
bvseo_sdk, dw_cartridge, 18.2.0, p_sdk_3.2.0
CLOUD, getReviews, 0ms
reviews, product
product-detail-view
oos-pdp