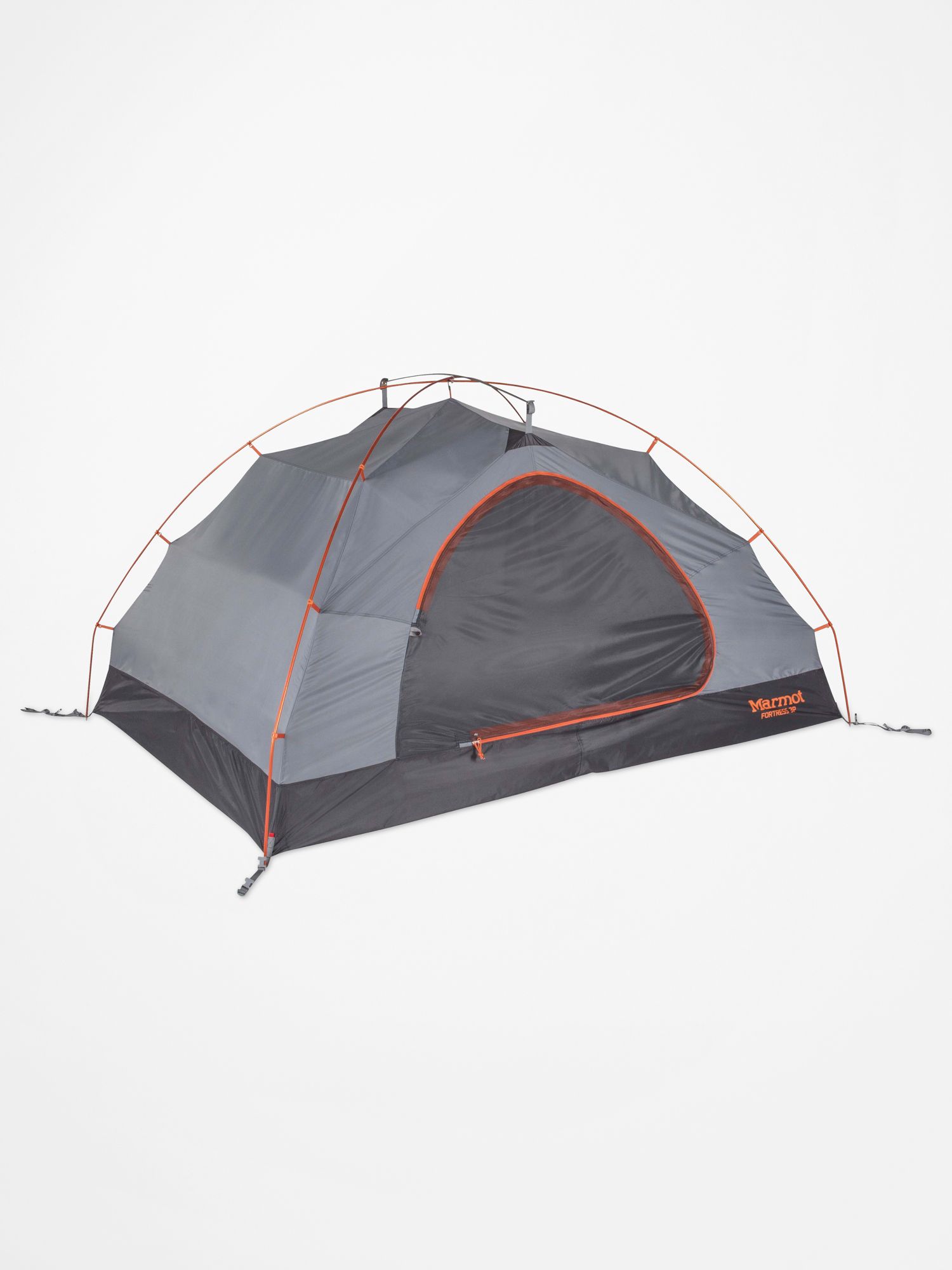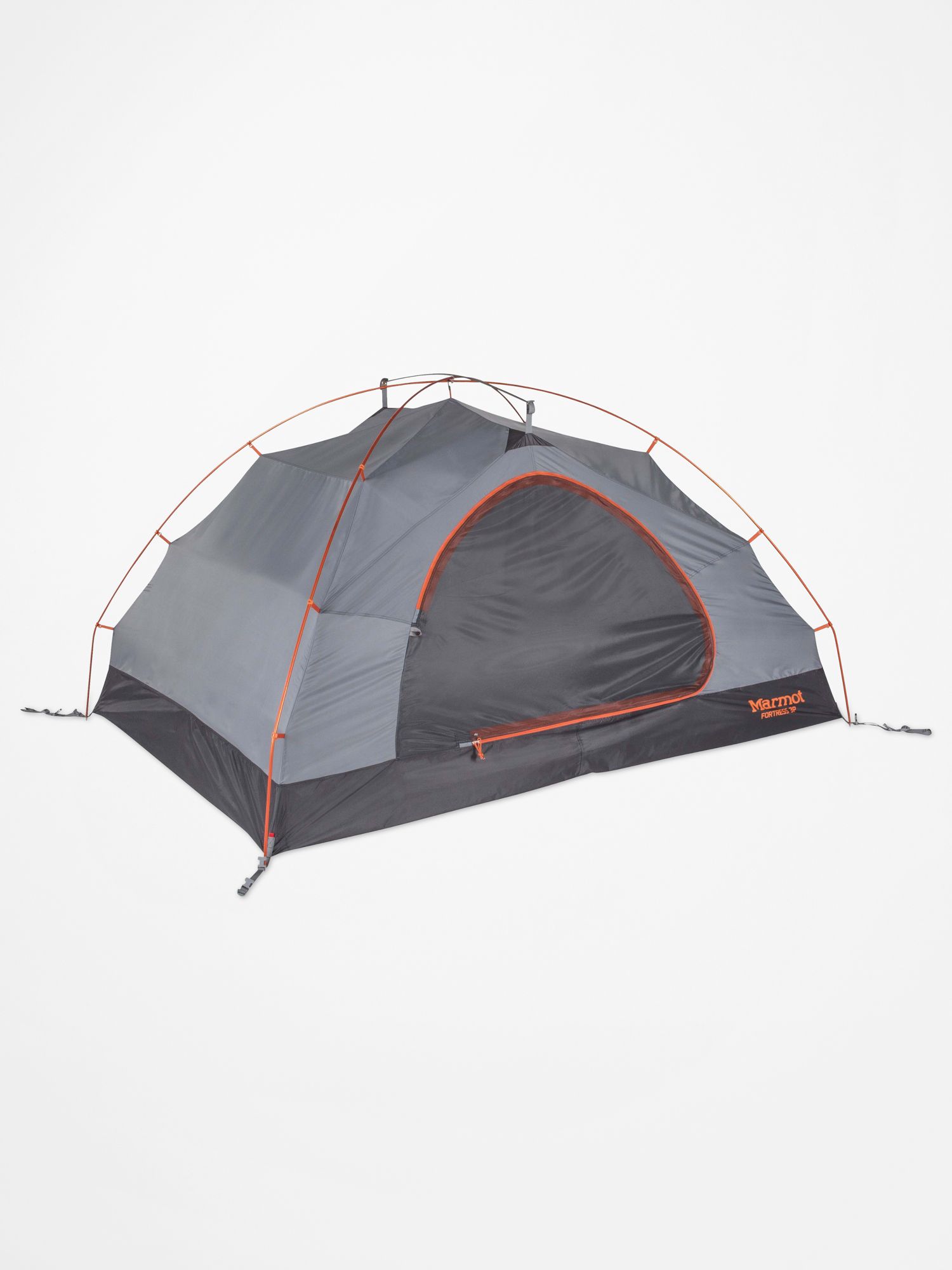 Final Sale: may not be returned or exchanged
Final Sale
This item cannot be exchanged or returned. Valid while supplies last. All sales final.
Selection will refresh the page with new results.
Item currently not available.
Alert
Please select a Size.
Final Sale: may not be returned or exchanged
Final Sale
This item cannot be exchanged or returned. Valid while supplies last. All sales final.
Product Details
Features
Full Fabric Canopy with Top Vent and Two Half Mesh Zippered D Doors to Lock Out the Cold and Elements
Seam Taped Full Coverage Fly with Top Vent and Additional Guy Outs for Windy Conditions
Zone Pre-Bend Construction Creates Vertical Walls, More Roomy Sleeping Area and Greater Head Room
Lamp Shade Pocket Securely Holds Your Headlamp to Provide Ambient Light
Strategic Clip Placement Provides Larger Interior Volume
Seam Taped Full Coverage Fly with Vents
Seam Taped Catenary Cut Floor
Color Coded "Easy Pitch" Clips, Poles and Fly
Interior Pockets for Small Gear Organization
Jingle-Free Nylon Zipper Pulls
Description
Roomy, lightweight, and with all the measures to ensure Mother Nature doesn't get the best of your overnight adventure, the Fortress 3-Person Tent is true to its name. The vented full fabric canopy and two half-mesh zippered D doors lock out plunging temps, while additional guy outs secure your campsite when wind gusts pick up. Keep rain from sneaking in with its seam-taped, catenary-cut floor and full-coverage vented fly. Zone pre-bend construction creates vertical walls for plenty of sleeping space and headroom for stretching out. After a long day of backpacking, color-coded "easy pitch" clips and poles make for an easy set up, and the lampshade pocket stows your headlamp for ambient light at night.
Specifications
Packed Weight:

6lbs 7oz (2920g)

Minimum Weight:

6lbs 7oz (2920g)

Packed Size:

22.5 x 8in | 56 x 20.3cm

Floor Area:

41.3 sq ft, 3.8 sq m

Vestibule Area:

11 sq ft, 1 sq m | 8.5 sq ft, 0.8 sq m

Main Canopy Fabric:

40d 100% Polyester No-See-Um Mesh F/R | 68d 100% Polyester Taffeta F/R

Floor Fabric:

68d Polyester Taffeta 190T 2000mm F/R

Fly Fabric:

68d 100% Polyester Taffeta 1500mm F/R
Rated

5

out of

5
by
Weekend Warrior
from
Great tent
I bought this tent to car camp my way to Glacier in Montana this summer. I have used this tent about 6 times now with no issues at all. Sets up easy even in windy conditions. The last 2 times I've used it was in downpours all weekend at some local S.P.'s and came home dry. Take down is easy, I had to take down in the rain once and just used the cram method, took about 5 mins and just hung once I got home. Very nice constructed tent with lots of storage pockets. Would definitely recommend this tent to someone looking for a sturdy, dependable, durable tent.
Date published: 2019-03-31
Rated

5

out of

5
by
Robert In GA
from
Stands Up To Storms
I purchased my Marmot 3-person in March 2020 and 48-hours later headed on a 3-week camp in the Cherokee National Forest, Tennessee. Bottom lines are 1) the tent is easy to setup, 2) workmanship and materials are too level and 3) the tent was tough as all get out. I wild camped up a two-track and setup in a small 2 acre bald at the top of a 4000 ft mountain. The hardwood forest was pretty messy with fallen limbs and trees and I wasn't comfortable locating in the trees in storm conditions. That proved a good decision. Rain and wind were common and there were 3 storms described below The longest stretch I was hunkered in the tent was about 16 hours. The large front vestibule worked well with a Sterno stove to heat up a meal while hunkered. The first storm began as rain, often heavy, that started in early afternoon and lasted until after daylight the next day. A severe thunderstorm hit after midnight. Sustained wind was in the 30-40mph range and peaked at about 60mph sustained with torrential rain. One thing about the Fortress is the frame moves a lot. I mean a lot! I left the fly vent open intentionally to get a feel for water blow by to the tent body. The vent was not facing into the wind and only a few drops drops made it through the vent onto the tent body, trivial. The second storm was rain and gusty winds with lots of tent movement but really no big deal. The surprise was when I was opening the vestibule up the next morning and the zipper was jammed. A few wiggles and the zipper was free and it turned out that the zipper was frozen with ice. It was a cold night but I had no idea that the rain had turned into freezing rain and the fly was encased with a quarter inch of ice. The fly vent was open and the door screens were cracked open for air circulation. Zero condensation in the tent. The third storm was the big one although the hours of rain the shortest. At midnight the storm intensified enough to wake me up and at 2am a very strong cell blew through. I've only experienced that strong a storm once before in a tent. Winds were 60 plus and I have no idea how big the plus was. It was a big plus though. The tent poles were bending to a S-shape. The ridge pole was bending and flexing up and down. The small vestibule was facing directly into the wind and my sleeping bag was along the adjacent wall. The tent wall was pushed in so much that at times, the fabric was laying across my sleeping bag. Well, the storm passed and the tent springed back to its normal tight set. In the morning, I walked the tent to see how it fared. The small vestibule had tent peg failures, all 3 tent pegs worked loose so the vestibule was not guyed out. One peg was pulled out and the other two had worked loose enough that the peg rotated so the guy loops slipped off the peg hook. One guy line was very slack and while the peg had not pulled out, it was bent. Zero damage to the tent. I was worried about tent pole damage so inspected for this when I took the tent down a few days later. The two main poles had zero damage. The ridge pole had a very slight curve to it instead of the perfectly straight as out of the box. Since the curve is symmetrical end to end, this is probably just from the constant tension it is in - I'm not worried about it. Things that could be better..... 1) I'm going to be buying some longer tri-aluminum stakes than the ones I have now so I can use these for the vestibules and the two fly bottom guyouts. All the loops for these are several inches above the ground and I want to get these stress points more firmly fixed in place. I have enough shorter tri-aluminum stakes from my old tent to handle the tent corners and guylines. 2) As others have noted, put some screen on the tent body opening below the vent. I opened the zipper door for a short while and the scoop of cooler air was awesome and just the thing to make a sunny afternoon nap more pleasent.
Date published: 2020-04-13
Rated

4

out of

5
by
JoshB
from
Awesome warranty, great tent (so far)
Kudos to Marmot for their amazing warranty. I had a Marmot tent that I was happy to send back to see if they would do (what I thought) was some minor repair---instead, they sent me retail $$$ for its value. Amazing. Though I miss my Aeros 3, I opted to trade for the Fortress 3 (since I had since purchased a new summer 3 person tent). So far, this tent sets up easy, great peak height, easy to enter and exit (6'2", 200lbs), and made of really durable materials. I got this over summer so am waiting for winter here in MN to give it the roundabout. I normally use winter mountaineering tents, but wanted something a tad lighter, roomier, and less expensive to use on tree-line and MN excursions in the winter. The Fortress should fit that bill nicely. Rainfly seals really close to the ground, and has several venting options. I think I would like some snow-flaps on the vestibules, so I may sew some on. Other than that: nice work. Look for a winter review in the coming months. P.S. Marmot warranty is amazing.
Date published: 2018-09-11
Rated

3

out of

5
by
AmateurCamper
from
Kept Me Dry but Hard to Enter/Exit
This tent is very easy to assemble, and it kept me dry during a downpour that drenched many of my fellow campers. When the rain fly is on and staked, however, I find it pretty difficult to get in/out of the tent. You have to slide through a rather narrow vertical slit. I would also note that, as is often the case with tents, it wouldn't actually sleep the full number of people it claims to accommodate. I think two would be the max, and you wouldn't want to have a lot of gear with you.
Date published: 2018-07-02
Rated

5

out of

5
by
Santa Fe Paratrooper
from
Great Tent With Great Features
Great Tent; Super Quality Build 1. I bought this tent as a replacement for another 3 person/3-season tent which was damaged during high winds in White Sands, NM. 2. There are very few reviews of this (new model) tent anywhere to be found, however, I knew that Marmot makes super quality items. I didn't realize it but I have tons of Marmot gear that I have used while skiing, hiking, camping, and working the mountain in Steamboat Springs, CO. 3. I wanted a camping tent that could weather 3-seasons; could handle the heat of New Mexico and the American Southwest; had two doors for ventilation; was strong and not just a tent full of mesh; could handle the high winds sometimes found in the Southwest; would be luxurious for 1 person and could hold a cot plus camping gear inside (for 1 person); would be reasonably priced; one that I could, on occasion, have my wife and two large Standard Poodles stay in; and would last a long time. 4. I received the tent last week and was immediately able to put it up in my living room (minus the rainfly) in less than 5 minutes without really reading the instructions. After I did read the instructions I realized that Marmot has really gone all-out with this tent: a. The front door of the tent and tie downs are marked with RED tabs so you know it is the front door. The Rainfly also has RED tabs identifying the front door of the fly. Beautiful. No more guessing. b. The tent poles are also identified by color so you know which go where. There is also a short pole which holds up the fabric above both doors providing you with a bit more space to enter/exit. c. The tent poles are curved/"knee'd" at the bottom giving you more room for your head when sleeping. d. The top of the tent has solid material so it will be more robust in the wind. e. Lots of venting in the tent. And the two big doors really allow vast amounts of cross ventilation. There is also a cleverly designed vent in the ceiling of the rainfly that can be accessed from inside the tent via a zipper. No need to go outside to open or close it! f. Lots of guy line connections on the tent that will facilitate stability in those high winds. g. Lots of gear storage points in the tent. h. Also bought the Marmot groundcloth for the tent which attaches nicely to the tent poles. i. Also picked up some additional tent pegs for all the available guy lines on the tarp. 5. Gave it a real camping test this last weekend and it was fantastic. My wife and I (I'm 5'10") had plenty of room with large inflatable mattresses. And my two big dogs were 'happy as clams' camping/sleeping with mom and dad. I would note that I'm not sure there would be adequate/comfortable room if you had children with you. My dogs love to curl up at our feet or next to us (taking up a very small footprint) so we had plenty of room. Add a kid or two and you might be uncomfortable. 6. Bottom Line: a. Love the tent and its size. b. The quality is top notch like all the Marmot items we own. c. My wife loves the tent (You know the deal - - Happy Wife = Happy Life!!) d. I would buy this tent again, in a heartbeat. e. Highly recommend.
Date published: 2018-04-09
Rated

5

out of

5
by
Rocky Mtns
from
3- (full) Season, 2-adults
Marmot Fortress 3p is an excellent 3-season, car camping/nearby pitch, 2-3 (Three sans extra floor space) person tent. It has many convenience/comfort/technical features built into its hq construction but It's not a winter camping tent, and it's on the heavy side to carry far backpacking. *Realistic, comfortable adult-sized room is two with some gear and footwear under vestibules, clothing&personal items inside. F3P has a nice assortment of net storage and hang points within. Be aware that one fly vestibule is smaller than the other in this design although both doors are same sized. This makes ingress/egress *easier from F3P's larger side vestibule (*one flap half open). I reside in Colorado and I often car camp at high elevations, e.g., RMNP, and this location is a pretty good weather testing spot for tents. I don't winter camp, but this Marmot performs very well during shoulder seasons (and cool CO mountain summers) because of its full polyester body and very good rainfly coverage that extends close to ground. F3P's vestibule should always be secured with guy lines to a classic taut line pitch, which gives F3P very good wind, rain, and some limited ice/snow load weight protection. It will shed hard, windblown rain and mixed icy precipitation, and it shrugs off light snowfall and even some unexpected heavier powder drops. This tent inspires confidence if a storm arrives stronger than expected in the middle of the night -if it has a correct pitch. Nevertheless, it's not a dedicated, 4-season shelter. I keep tabs on weather, but if I get caught by an early autumn/late spring storm dropping heavy, wet snow, I monitor fly top-loading and make a decision whether or not to remain or bag it. Winter camping in Colorado, or any latitude location that receives snowfall in-season, always requires a solidly-built, 4-season rated tent. Many tents carry 3-season use ratings. This can be a bit of an exaggeration for many of these tents unless you only camp south CONUS or latitude equivalent (or s.hemisphere reverse) because they're usually better for summer plus the warmer days of spring and autumn. Marmot F3P is a for-real, full 3-season tent.
Date published: 2019-03-25
Rated

5

out of

5
by
MrMR
from
Kept me dry
The first time I camped in this tent it hailed and poured rain for almost two hours. By the end of the storm the tent was sitting above a little river and still was completely dry. It did good.
Date published: 2019-07-02
Rated

4

out of

5
by
Prairie denizen
from
Great 3+ season tent
Used this for 4 weeks this summer in diverse national parks in the American west, often at high altitudes where temperatures dropped into the upper 30s and 40s F, often with significant wind, we found this tent a nearly ideal shelter, Lighter (and much less expensive) than heavy, winter or alpine tents, but weightier (and warmer) than light-weight, airy summer tents, the Fortress provides cool- to cold-weather protection and a lot of conveniences. Ventilation (with one caveat--below) is well thought-out, poles provide excellent head room,and overall package is not too heavy or bulky. Floor vent and venting via double-panel doors provide generally excellent ventilation, but the ceiling vent--a great idea--needs to be provided with mosquito netting: we had lots of critters that were happy to crawl under into the tent via the vent. Having skipped its use when, one night went temps sank but humidity was high, we woke up to find heavy condensation on the inside of the fly. That wet surface was hard to avoid when exiting the tent, pointing to the need not only for a fix of the ceiling vent, but also for provision of some kind of quick hold-open arrangement (perhaps with hook-and-loop patches) that would allow one to throw the flaps open quickly and keep them aside while entering and exiting. Two other minor problems: The tent-fly flaps, when rolled open and held aside with the tie-down gizmos, were under what seemed like excessive tension, perhaps leading to failure of seams or excessive wear of fabric. Also perhaps leading to excessive tension on the fly were the additional guy-outs for windy conditions. Overall, however, a great shelter needing only minor improvements.
Date published: 2019-09-24
bvseo_sdk, dw_cartridge, 18.2.0, p_sdk_3.2.0
CLOUD, getReviews, 0ms
reviews, product
product-detail-view
oos-pdp