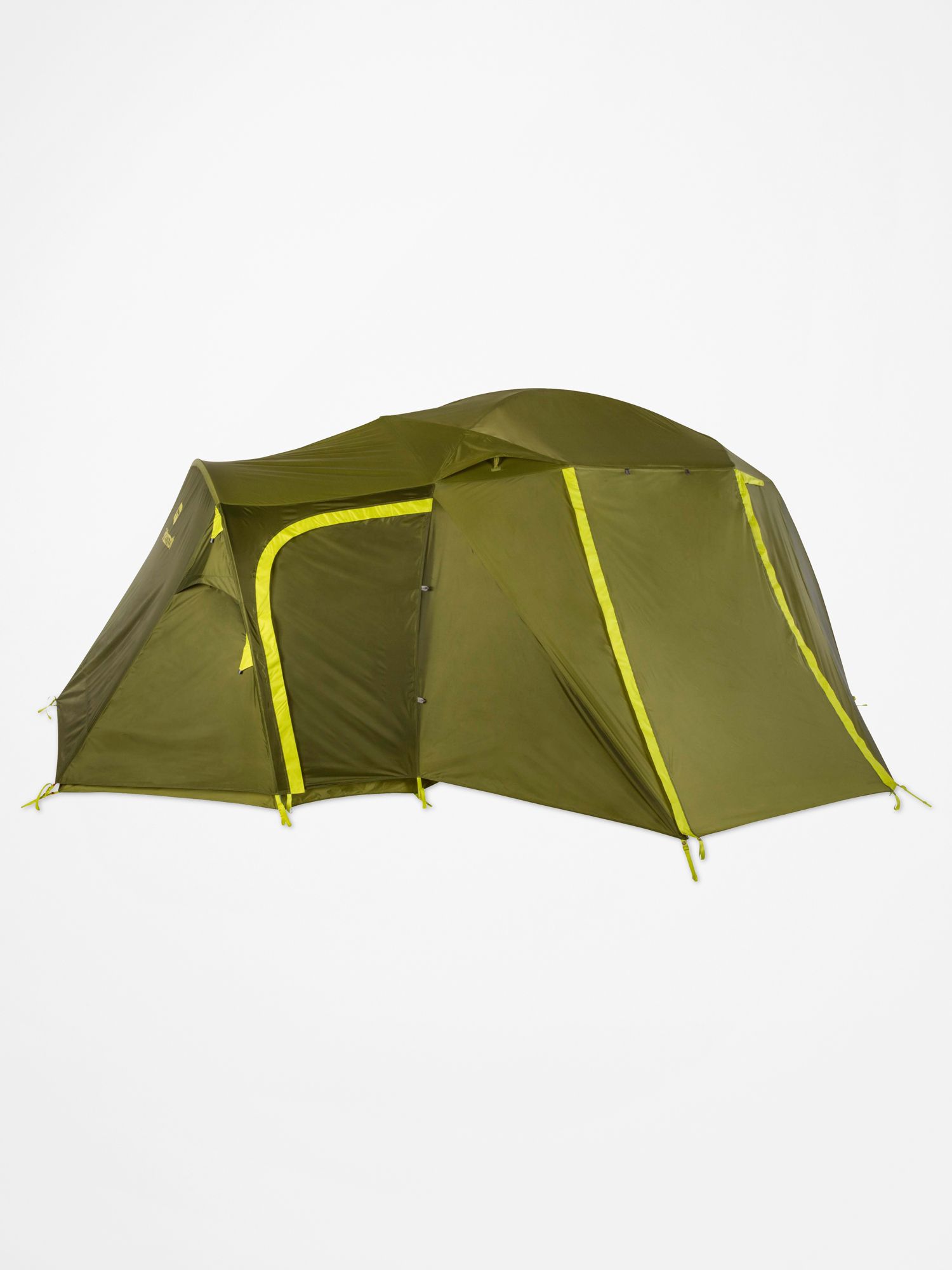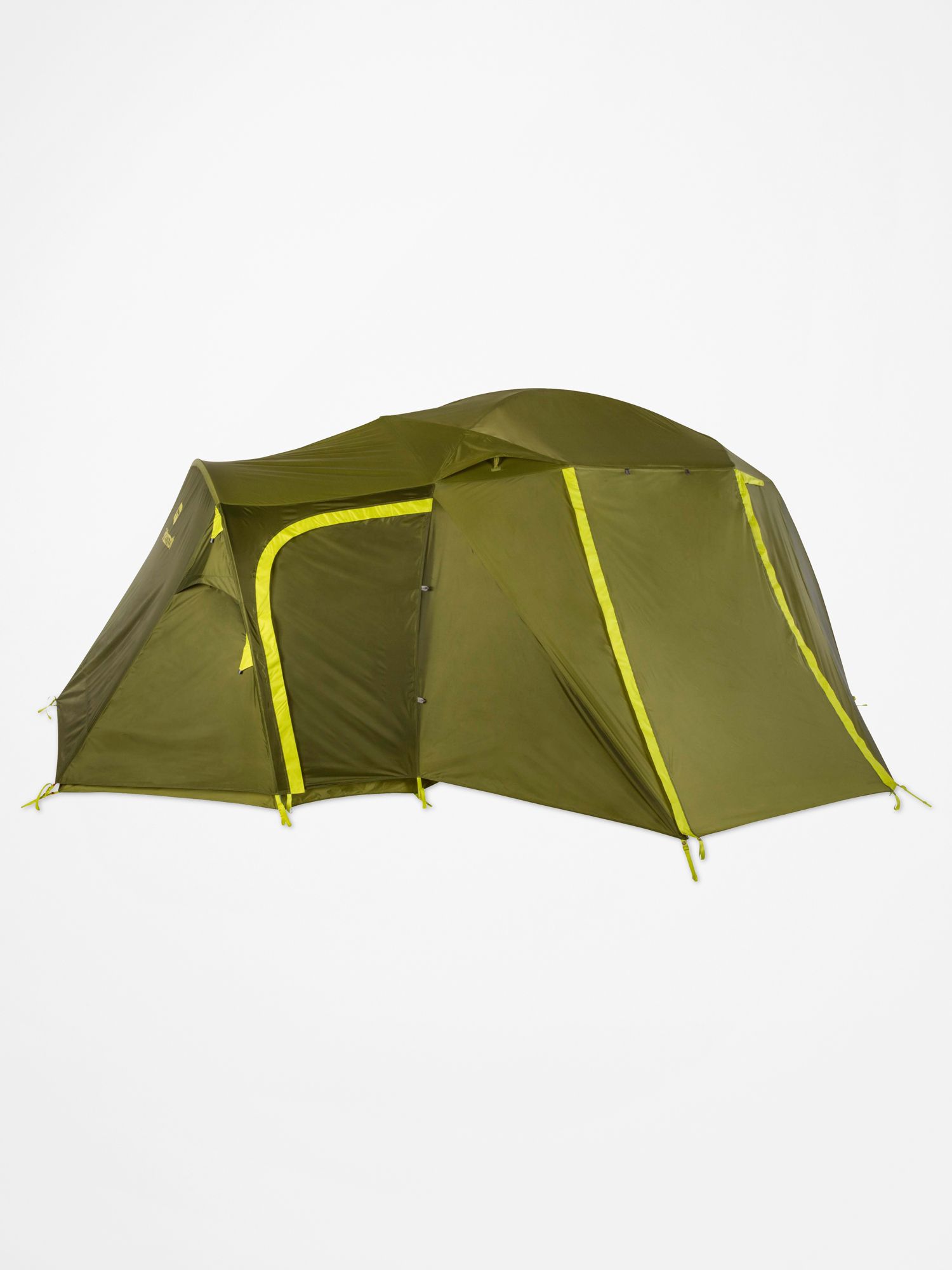 Final Sale: may not be returned or exchanged
Final Sale
This item cannot be exchanged or returned. Valid while supplies last. All sales final.
Selection will refresh the page with new results.
Item currently not available.
Alert
Please select a Size.
Final Sale: may not be returned or exchanged
Final Sale
This item cannot be exchanged or returned. Valid while supplies last. All sales final.
Product Details
Features
Zone Pre-Bend Construction Creates Vertical Walls, More Roomy Sleeping Area and Greater Head Room
One Super-Sized Double Door and One Side D Shaped Door with Large Front Vestibule for Gear Storage
Attached Sleeping or Storage Room with Separate Door and Removable Room Divider
Color Coded "Easy Pitch" Clips and Poles
Lamp Shade Pocket Securely Holds Your Headlamp to Provide Ambient Light
Seam Taped Catenary Cut Floor
Interior Pockets for Small Gear Organization
Pole Sleeve-Clip Combo
Light-Reflective Points
Jingle-Free Nylon Zipper Pulls
DAC DA17 Poles
Optional Footprint Available
Description
The Limestone 8-Person Tent is perfect for epic overnight adventures when the crew becomes family. Fitting up to eight people comfortably, this free-standing tent features zone pre-bend construction, creating vertical walls for more space and head room. The seam-taped catenary-cut floor offers extra weather protection if Mother Nature isn't cooperating. Easily set up this tent with color-coded "easy pitch" poles and clips, and opt to leave off the removable vented fly on clear and starry nights. When the sun hasn't quite risen, tuck a headlamp into the lampshade pocket for ambient light. Interior pockets stow and organize all your gear.
Specifications
Packed Weight:

21lbs 3oz (9605g)

Minimum Weight:

20lbs 5oz (9220g)

Packed Size:

33.5 x 17in | 84 x 42cm

Floor Area:

130.5 sq ft, 12.1 sq m

Vestibule Area:

25 sq ft, 2.5 sq m

Main Canopy Fabric:

40d 100% Polyester No-See-Um Mesh F/R | 68d 100% Polyester Taffeta F/R

Floor Fabric:

150d 100% Polyester Oxford 3000mm W/R, F/R

Fly Fabric:

68d 100% Polyester Taffeta 1500mm F/R
Rated

5

out of

5
by
matts32
from
GREAT BUY
perfect sized tent for myself and my family, once guided out its the perfect size for most of the sites we end up staying on, would buy again.
Date published: 2018-09-17
Rated

4

out of

5
by
NorthScott
from
Big and rock sturdy but could use improvement
The big tent was up on 2 occasions with 3 nights total use so far. The first was just me, and I gave it a thorough inspection. For a tent this gigantic, the geometry and materials in the DAC poles really impressed me. 14.5 mm poles of the quality I've come to expect from DAC. Once the rainfly was attached and guyed out, the tent was like a rock. The stitching and tape of the seams was all good. Although it did not rain, I could tell that it would keep out the moisture well enough. With only me inside it, I was overwhelmed by the size of it. The zippers on the rainfly were up to the task, but the zippers on the tent body were undersized in my estimation. They will likely fail when abused by the children. On the plus side, there are 4 sliders on the main door, so when one wears out, just use another. I camp a lot! I mean like ridiculously often. I know from experience that the zipper is the weak point of any tent. For a tent of this size, a number 10 on the fly and a number 8 on the tent body should do it. Something to shoot for? Another weak spot is the guy lines. Really chintzy and tangle prone. The tent stakes or pegs pull out too easily. I would recommend the long J stakes made by DAC. The most recent use of this tent had all the kids in it plus the moms. 7 in all. Plenty of space! I liked this tent enough to buy the smaller 4-person model for myself. I replaced the guy lines and the stakes were replaced with 12-inch galvanized spikes. For car camping, weight is not an issue.
Date published: 2020-05-23
Rated

5

out of

5
by
hxsolo
from
King size perfection
My wife and I have used a smaller Marmot tent for years and loved the durability, features, design. Our family has grown to 5 and this tent is perfect! Some of the things we love are the full fly with vestibule that can be staked out as a sunshade (poles included), the storage and lamp pockets, the dual doors and removable room separator, and the standing height in the main area. For such a large tent, the profile is still reasonable for when things get a little windy. We couldn't imagine a better tent for our family.
Date published: 2020-04-30
Rated

5

out of

5
by
VermontFamily
from
Kept our family dry!
This tent is awesome! Its hard to find a large family-sized car camping tent that has a good rain fly. But this tent has it! We used the tent during some big storms and it was perfectly dry inside. There is a ton of space and it wasnt too bad for setting up. It is giant!
Date published: 2020-07-27
Rated

4

out of

5
by
Roger07
from
Limestone 8P
We really like the Limestone 8, plenty of room and the screen porch is is a wonderful place to get out of the weather and away from the bugs. Can you tell me when the footprint will be back in stock, we would really like to get it ASAP!
Date published: 2019-10-12
Rated

5

out of

5
by
Paiditt
from
Perfect for families
I bought this for my husband for Father's Day and we got to go on our first camping trip with our two kids! There was plenty of space! It poured rain and hailed on us and the tent held up perfectly!
Date published: 2020-11-10
Rated

4

out of

5
by
Laura H
from
Amazing tent, lax customer service
This tent is incredible. So easy to set up, plenty of room for my family of 6, even with teenagers! Weathered rainstorm fantastically. The only thing preventing 5 stars is that they didn't include enough tent pegs to properly set up, and when I asked about it they refused to include more and made me purchase some. Not great service.
Date published: 2020-07-15
Rated

5

out of

5
by
Prime
from
Great features!
For a family oriented 3 season tent, the 8 person Limstone may have all of the features you need! The tub base, screened enclosed tent with waterproof rain fly will keep you dry and bug free while allowing spacious living space to not only stand in, but to store lots of gear, bags with still plenty of sleeping space. I have a family of 5 and am a mountaineer. It's difficult to find these features in a tent this size in a 4 season, as many would be considered base camp tents with removable floors snd would likely be too warm for summer use. Great brand too!!
Date published: 2021-06-24
Rated

5

out of

5
by
Anonymous
from
Perfect Family Tent!
This product far exceeds my expectations. My husband and I went campI got with our 1 and 2 year old using this product. We were able to fit the pack n play, Inflatable queen mattress and son's roll out mat with plenty of room. Highly recommend this for any camping experience where you'll need to accommodate several people comfortably. High quality and spacious!
Date published: 2021-06-02
Rated

1

out of

5
by
WTORCA
from
Missing key parts!
The tent is awesome. Perfect for a family of four and pup. However, we are giving it a 1-star review. It's a super expensive tent with not enough stakes included! Customer Service did NOT offer to send more when this was brought to their attention. It is short three stakes; the amount it comes with is not enough to appropriately stake it - buyer beware and bring three extra stakes. This is unacceptable Marmot, especially for the price point.
Date published: 2021-05-26
Rated

4

out of

5
by
thinkdriver8
from
all you need for a bigger crew
More than 14 days in the tent and we couldn't be happier. Plenty of space for the crew and all our stuff and room for those up to about 6' or so to stand comfortably. Amazingly well designed and engineered for setup: stake out the two points to the right of the door (front right and back right), green poles in first, then brow poles. Add the 3 segment pole for the left side and you're set. Ventilates decently well because the entire front and top are mesh. Front door has 4 zippers to open any amount any direction and has its own small pocket so you don't walk all over it when fully open - genius! More storage pockets inside than we need. Interior wall is removable. This is basically the Limestone 6 with a guest room added on the side. Rain fly is one piece and always a challenge to get on smoothly but the upside is that it keeps the inside protected from wind rain and bugs far better than a multi-piece fly ever could. Withstood moderate winds (when properly guyed out) and nary a drop of condensation or rain even in the humid Midwest. Stakes bend easily and you will want to replace them with harder models; they bent too easily even in the soft loam of the UP / WI / MN and never had a chance in the inter-mountain West where we live. They don't sell a footprint for the 8 anymore but were kind enough to refer me to a custom footprint maker - who doesn't make footprints that big either. We use the Limestone 6 footprint which covers the main rectangular area and don't put anything on the ground in the add-on "guest room" left of the door. This is the high quality and top notch engineering you expect from Marmot. Will comfortably sleep 6 with space, we have 4 with full-sized cots and plenty of room to move about. Highly recommended!
Date published: 2020-08-06
Rated

5

out of

5
by
CampGuy7
from
Palatial family camping tent
Needed a replacement for our camping tent and wanted one with room for 2 kids and the dog. This one fits the bill and has some great features in addition. Loved the options for vestibule door. Sets up easily with 2 people. Our first outting was an early summer foray which ended up with frost on the tent in the morning. We all slept nice and cozy. Get it if you want room to spread out and space to stand up. Unfortunately Marmot does not appear to make a footprint for it.
Date published: 2021-06-23
Rated

5

out of

5
by
family tent
from
LOVE THIS TENT
We have had this tent for several years and absolutely love the space and quality of the tent.
Date published: 2020-05-09
Rated

4

out of

5
by
JimenezFamily
from
Huge, Awesome Tent
I bought this for our family of 5 for Christmas. We just got a chance to set it up prior to our next camping trip. Man, this thing is huge and quite easy to set up for the size. We haven't used it in the wild yet, but so far so good. I'm a little worried about the airflow inside since the rain fly encompasses the entirety of the tent and walls. Luckily it doesn't get too hot where we live.
Date published: 2021-06-02
Rated

5

out of

5
by
Big Happy Camper
from
Limestone 8
This tent held up great during 3 days and nights in spring high desert wind considering the size. The noise from the wind made sleeping difficult however this is unavoidable in any tent during high winds. Plenty of room for the entire family and then some. Happy with my purchase after the first camping trip of the season. Definitely can't go wrong with this tent for car camping.
Date published: 2021-04-30
Rated

1

out of

5
by
Thor
from
Great tent idea, poor service.
I bought this at the beginning of the season haven't had a dry night in it since. You should never buy a tent you can not get a footprint for.
Date published: 2018-08-13
Rated

4

out of

5
by
SK and CPK
from
Great tent
We bought this tent to replace our Coleman 8 person and were not disappointed. We love the features of this tent. Lots of pockets for storage and easy to get in/out. I would note that the directions were not detailed...had to figure most of it out on our own. The rain fly was hard to install.
Date published: 2021-06-08
Rated

5

out of

5
by
Taram
from
Limestone 8 person tent
Very roomy tent with really good height. Plenty of room "at the feet" to walk around sleeping tent mates. Love the amount of mesh, perfect for warm nights to get a good breeze. Room for a family of three and two large dogs in the "main cabin" and all of our gear in the smaller side area.
Date published: 2020-07-15
Rated

5

out of

5
by
Ricardo Fogliaverte
from
love this tent
We have used this tent for 4 years now and we never stop being amazed at how wonderful it is. Big enough for a family with room for a dog, strong enough to withstand a Nor'easter at Montauk, easy enough for one person to set up. A really great base station and a fabulous castle for two.
Date published: 2020-05-09
Rated

5

out of

5
by
Mr Green
from
Love at first camp
We just tried it out for the first time and loved it. Incredibly roomy, and for such a big tent it's relatively easy to set up. The only thing that wasn't very intuitive was the awning on the fly, but we figured it out soon enough. We're already looking forward to our next camping trip!
Date published: 2021-06-04
Rated

4

out of

5
by
S Scott
from
It is Big
We ordered it to take our gandchildren camping next year. We set it up in our living room to see how it set up. Went up easy, even in my living room. Should have come with the footprint and poles to hold up the vestibule for the price.
Date published: 2022-01-01
Rated

5

out of

5
by
Nat1107
from
Excelente family tent
We purchased this as our first family tent, and we love it! We love how spacious and how our kids have their own space with the room divider. We are really excited for all the new adventures and family memories that are to come.
Date published: 2020-04-21
Rated

5

out of

5
by
Vav88
from
Love this tent!
I bought this tent last year and have used it a ton! It is the best family tent I have used to date. Tons of space and great head room all around. It did great even without the footprint during a week of wet, rainy camping!
Date published: 2021-06-09
Rated

5

out of

5
by
BrewCrew
from
Highly recommend!
Just purchased this tent for a family camping trip. This tent held up great to two Arizona Monsoon storms with not a drop interior. The vestibule is a good size to keep some outside stuff covered. Awesome tent!
Date published: 2021-07-29
Rated

5

out of

5
by
Rick T
from
Great for a midsize family who plans to camp a lot
Really enjoyed this tent in June in Florida! It was certainly hot weather but we brought fans and the ventilation flaps really helped, and we did NOT get wet even with rain. Thanks!!
Date published: 2021-07-12
Rated

5

out of

5
by
Grandjunctionboy
from
Expansive footprint
Although I would not want to carry this into the woods, it was fantastic for a Covid sleep over. Three boys, remain 6 feet apart, with plenty of room to spare!
Date published: 2020-10-28
Rated

5

out of

5
by
_rachel
from
Roomy
Sets up easily, fits our family of 4 comfortably (dogs in the vestibule), everything we needed. Not many other high quality tents in this size and price range.
Date published: 2019-10-20
Rated

5

out of

5
by
Lia f
from
8 person tent
Clearly well made with simple set up for such a high end tent! I'm 5'7" and have more than enough room to stand up completely with room overhead.
Date published: 2021-06-05
Rated

5

out of

5
by
killbearcrew
from
Outstanding tent worth the money
I bought the last model of the Limestone8P and this will be our 4th summer camping in it. We have been caught in a couple terrible storms and heavy, heavy rains and had to pitch in less than ideal locations. The underneath of our tent felt like a waterbed and the rain was heavy for hours for multiple days and we stayed completely dry. We had a slight bit of condensation under our mats as it was also very hot and humid but that's it. Its held tight in high winds and protected well from extreme weather. It has provided us with plenty of room for 6 comfortably with room to spare to lounge about during the rains and play games. The only complaint is the pegs bent fairly easy in hard ground. After 3.5 yrs of heavy use our main door zipper on the lower corner is showing some wear and we may have to get it repaired by the end of this season but that is likely due to children yanking away on the zipper improperly than the overall performance of Marmot's equipment. We had considered a small tent trailer but decided to stick with a tent and I would make the same decision again. Luxury camping in a spacious tent without sacrificing quality you would find in other high end smaller tents.
Date published: 2021-06-12
Rated

5

out of

5
by
Anonymous
from
Limestone 8-person Tent
Really nice Tent!!!!!!! Quality material, plenty of space. Fast delivery. I like it.
Date published: 2021-06-09
bvseo_sdk, dw_cartridge, 18.2.0, p_sdk_3.2.0
CLOUD, getReviews, 0ms
reviews, product
product-detail-view
oos-pdp