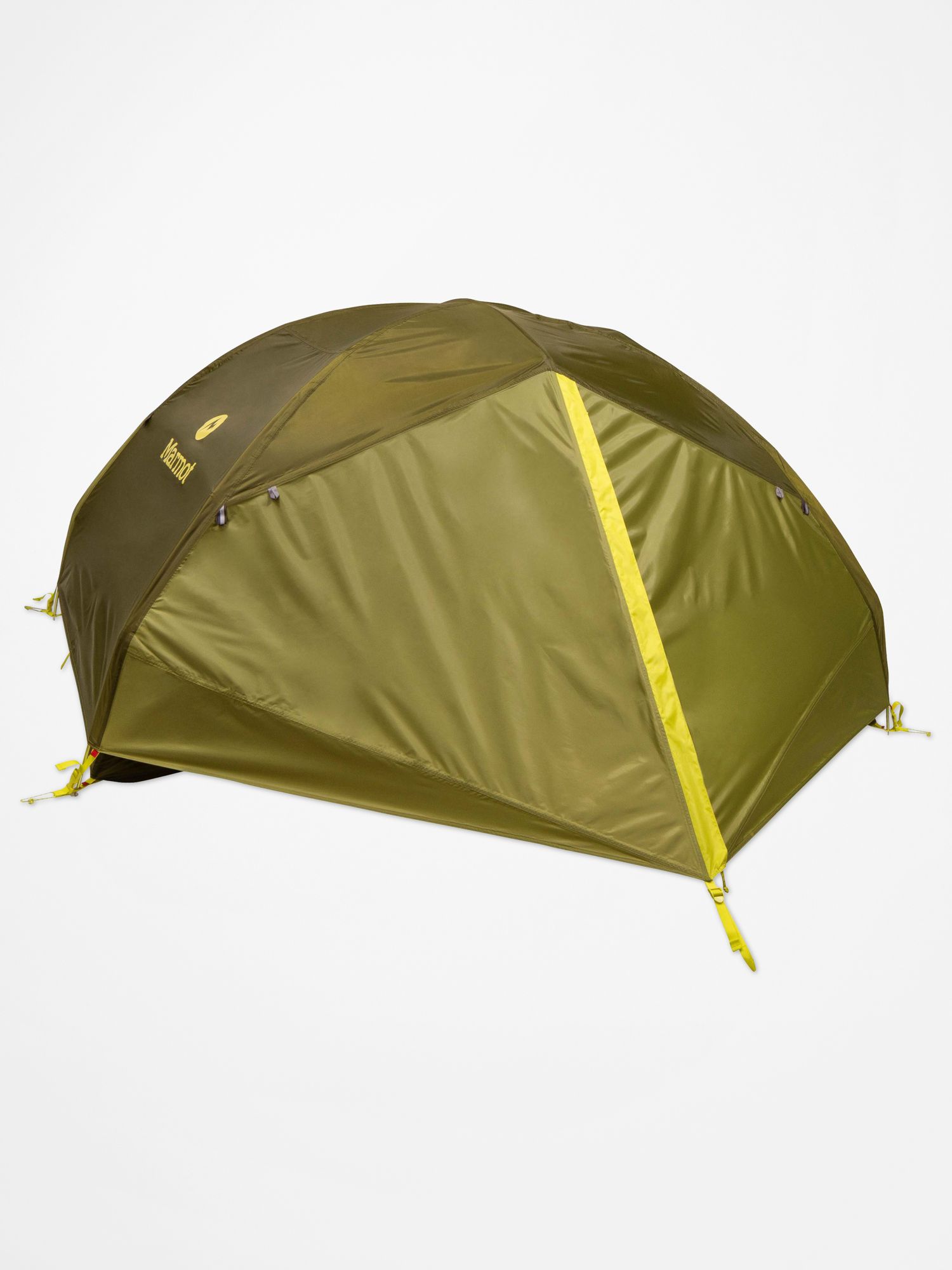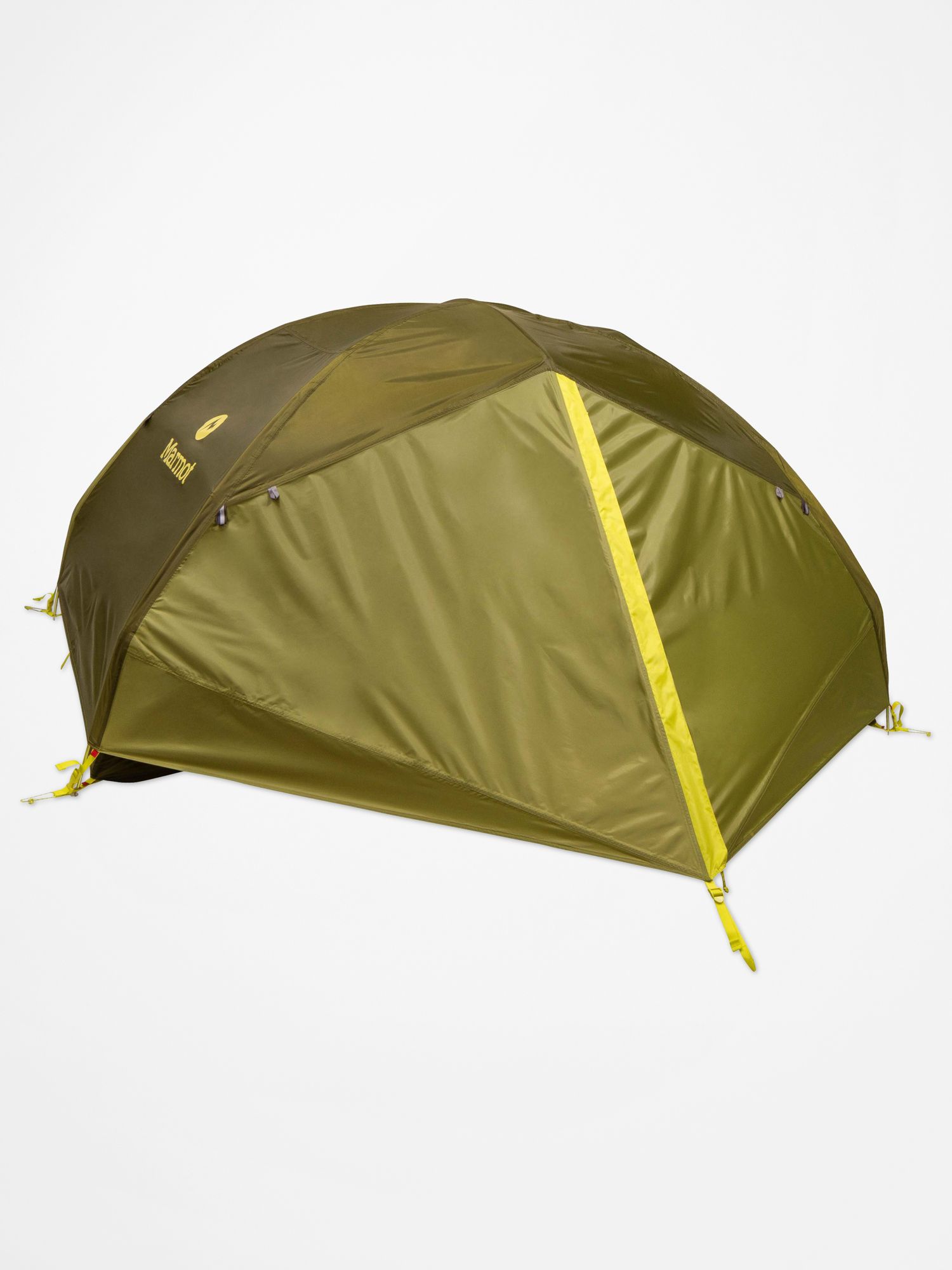 Final Sale: may not be returned or exchanged
Final Sale
This item cannot be exchanged or returned. Valid while supplies last. All sales final.
Selection will refresh the page with new results.
Item currently not available.
Alert
Please select a Size.
Final Sale: may not be returned or exchanged
Final Sale
This item cannot be exchanged or returned. Valid while supplies last. All sales final.
Product Details
Features
Zone Pre-Bend Construction Creates Vertical Walls, More Roomy Sleeping Area and Greater Head Room
Two D Shaped Doors/Two Vestibules. Free Standing Design
Lamp Shade Pocket Securely Holds Your Headlamp to Provide Ambient Light
Footprint Included
Strategic Clip Placement Provides Larger Interior Volume
Seam Taped Full Coverage Fly with Vent
Seam Taped Catenary Cut Floor
Color Coded "Easy Pitch" Clips, Poles and Fly
Interior Pockets for Small Gear Organization
Jingle-Free Nylon Zipper Pulls
HD Velocity 7000 Series Aluminum Poles
Description
Ready to adventure with you mile after mile, the freestanding Tungsten 2-Person Tent blends durability, roominess, and a livable design. Strategic clip placement offers more interior volume after a long day on the mountain. If a downpour approaches, the color-coded "easy pitch" clips and poles make for a quick set up, and the seam-taped, catenary-cut floor and full-coverage vented fly add to its weather protection. Dual doors allow easy entry and exit with vestibule storage space around both doors. The lampshade pocket stows your headlamp and the included abrasion-resistant footprint round out the details that make life on the trail easier.
Specifications
Packed Weight:

5 lbs 4 oz (2381g)

Minimum Weight:

4 lbs 13 oz (2182g)

Packed Size:

21 x 7.5 in | 53.3 x 17.8 cm

Floor Area:

30.6 sq ft, 2.8 sq m

Vestibule Area:

9.5 sq ft, 6.5 sq ft | 0.9 sq m, 0.6 sq m

Main Canopy Fabric:

68d 100% Polyester Taffeta 1800mm F/R

Secondary Canopy Fabric:

40d 100% Polyester No-See-Um Mesh F/R

Floor Fabric:

70d 100% Polyester Taffeta 2000mm F/R

Fly Fabric:

68d 100% Polyester Taffeta 1500mm F/R

Pole Material:

Velocity HD

Footprint Material:

68d 100% Polyester Taffeta 190T 2000mm F/R
Rated

4

out of

5
by
Hamr Mark
from
Great for Motorcycle Trips
I needed to upgrade my old one man tent and started searching. Price and size were important as I needed something to hold myself, and my gear when motorcycle camping. Last tent was a solo, and was severely lacking size. After exhaustive searching, I ended up with the Marmot Tungsten 2p. It was used for a trip out to Mt Washington. Price was average. Size is perfect for one person and all bike gear. Set up is easy and fast without issue, same goes for tearing it down.I would definately recommend. Not their lightest tent, but I am not hand carrying this tent, so no issue with the weight. Tent was good enough, I ended buying a 4p Marmot for car camping with the wife and dog.
Date published: 2020-05-09
Rated

4

out of

5
by
American Nomad
from
Excellent... Except..
I bought this tent for a cross country motorcycle trip. It is was great, easy to set up in the dark ( i was camping anywhere could find off highway, in woods, etc. ) so the quick setup was great. There was plenty of room inside for myself and luggage off the bike. When I made it from CT to CA my girlfriend flew out and stayed with me and there was still plenty of room with an extra body in the tent. Its lightweight, and packs down nicely to strap to the sissy bar. My ONE ISSUE is the clip at the top of the tent that aligns the two cross poles broke due to extremely high winds, and i mean a lot of wind. So for half of my trip i had to use electrical tape every night to secure the poles which was a pain. Apart from that its great. Another downside, unrelated to the tent, is the company and warranty on this. I cant get anyone to help me replace this one part. I'm willing to pay for the part and shipping but keep getting transferred and given the run around. Im leaving for a 17 day Canada in 2 months and at the point where i need to stock up again on electrical tape.. So overall the tent is great, storage pockets inside, kept me dry in torrential downpours, easy setup and breakdown. just that darn clip.
Date published: 2017-04-24
Rated

5

out of

5
by
stevenbr
from
Great, light, two person tight.
I bought this tent for upcoming backpacking trips, and have been able to test it out a couple of times. It is super light, and easy to strap to a backpack. Seems like it will be perfect for long hikes. It's roomy enough for two, and I love that it has an outside vestibule to leave shoes, and it really helps keeps bugs out of the tent when taking shoes on/off before getting in the tent. The tent has been through one good rain storm so far, and everything was completely dry! My only negative is I wish there was more overhead storage space, all there is is a hook for a lantern (tents I have had in the past have a little 'hammock' for storage). Aside from that, this tent seems like a great, long-term investment.
Date published: 2019-06-05
Rated

5

out of

5
by
starkline
from
Very Good 2 Person Tent For The Money.
I'd rate the tent at 4 stars, but for its price, it's excellent value. Reviewed after over 10 days use on trails in Colorado. Pros: Good design. Good weatherproofing. Includes a footprint. Well constructed. Adequate ventilation mitigates condensation. Cons: Does not come with adequate length guy lines, nor does it include enough stakes to fully guy the tent. Only includes two interior pockets for gear storage. I wish the tent was lighter, but for the price, I can't complain. I only had a few thunderstorms to test its water resistance, but so far so good. If you don't want to spend hundreds more for a lighter tent, this is a great option.
Date published: 2020-07-31
Rated

4

out of

5
by
Anonymous
from
Great upgrade for backpacking adventures
I was going back and forth on 5 and 4 stars. I have used this twice backpacking on the AT now. Tent held up great in the wind and the rain storm we found our self in. However, I had to borrow some stakes from some friends of mine because the set doesn't come with enough stakes for rain cover to be pulled tight. Other than that it has outstanding quality, packed nice in my ruck, and went up super fast on the mountain. I would highly recommend if you are upgrading to your first real backpacking tent, but not ready to spend the 300+ for the real nice backpacking tents. For quality, size, weight, and cost this tent is by far the best.
Date published: 2020-11-01
Rated

5

out of

5
by
TJ2222
from
My favorite 4 lbs in my pack!
I love this tent! Roomy enough for me and my gear. Kept me dry in 21° frosting we received last Sunday morning! The double wall does a great job keeping any condensation from dropping on me and my stuff as well. Can't live without the double doors and vestibule. Looking forward to beach days, I like to set the tent poles up on the ground sheet and throw the rain fly on it. Open up the doors and let the air through, it's a great shady place to nap on the beach. I also like fair weather nights when I can leave the rain cover off and get that sky veiw. Solid tent, can't wait to see what it can take!
Date published: 2019-03-29
Rated

5

out of

5
by
Lance1
from
Great Tent
I bought this tent for general camping and the occasional backpacking. It is a bit heavier than I'd prefer for backpacking, but I wanted one tent that was a sort of "Jack of all trades". It seems durable, light, and simple. Without the rain fly there is plenty of mesh for airflow. I like the rainfly vestibules for stashing your bag and shoes. I've been in a nasty wind rain/wind storm and it kept us dry and stayed in the ground (I didn't have they guy lines on it so it collapsed and bent the poles a little, but that's my fault). The interior is roomy for what it is and fits 2 people just fine. I wouldn't hesitate to buy it again.
Date published: 2020-11-20
Rated

2

out of

5
by
Seth04
from
Fly zipper broke first hike
I bought this tent and the zipper on the fly broke my first hike using it. When I looked into returning the fly to replace the zipper, I found out that Marmot wouldn't cover the cost to send it back which would run me well over $50. This experience left a bad taste in my mouth and will prob go with another tent when it's time for a new one. Other than this the tent has been good.
Date published: 2020-08-06
Rated

5

out of

5
by
Zadok
from
One of the best standard 2p tents I've seen!
I purchased this tent as a 3-season base camp tent to be used at family campgrounds pre and post hiking or backpacking trips. While this tent could serve as a great, full-featured, 2p backpacking tent (split the weight), I use a sil-nylon shelter for solo trips. Note that the sil-nylon product I use is not built any better than this tent, it's lighter, but has less features. Before you buy, you need to qualify yourself -- like what are you going to use this for? That being said, this is the best made, best engineered small tent I've see thus far. Actually, I was very impressed. Here are some things other reviewers may not tell you: It's all in the little things... - There is not one but two cute little pockets high up for a small headlamp. - There are internal loops to attach a cloths line inside the tent. - The fly can be ultra-secured using 8 internal velcro attachment tabs for poles, and the external 4 guy out points. - There are red tabs on the corners of one side of the fly and tent body. Line them up. If you forget this step, the fly still can be attached. But the doors won't line up that well. - The upper vent can be deployed from inside the tent. Amazing, since this is now on the side of the fly, not above a door. - For best ventilation in the rain, deploy the upper vent, and then on the opposite side that's all netting, stake out the center lower tab on the fly. You'll get beautiful flow-through ventilation that way. Can be deployed in the rain, quickly, with great results. This is a real problem with most little tents, but not with this one. How deploy in the rain: 1) Pre-trip: Stuff the shelter so the footprint comes out first, then the fly, then the tent body last. 2) If it's raining, pull out the footprint. Set on ground. 3) Shake out the X frame poles; set the spreader pole aside. 4) Insert X frame pole ends into the 4 footprint grommets, thus erecting the frame. 5) Pull out the fly. Install the fly over the frame, loosely stake out if there is wind. At the least, loosely secure the two fly doors using stakes. 6) Crawl under the fly with the tent body. 7) Lay out the tent body on top of the (wet) footprint, being careful not to get the tent too wet, and aligning those red tabs to those on the fly. 8) Hang the tent body using the sky hook -- it's the little hook at the apex. Attach to the pole intersection at the highest point. 9) Attach all clips. 10) Attach 4 Fastex buckels that secure the fly to the tent body. 11) Done, except for the spreader pole. This is hard to attach for one person while working under the fly. Better to wait for the rain to stop before attaching, or if two persons, make sure fly is very loose and work from both ends under the fly.
Date published: 2017-06-22
Rated

5

out of

5
by
John Pancioli
from
Great tent but a little bulky when packed up
This tent is great. Very strong lightweight poles and stakes, also completely waterproof. I decided to go with green for the natural look and it still has some nice reflectors on it so you don't trip on anything in the night. Very spacious inside for 2 people. My only negative feedback is that it packs up a little big so I couldn't fit it well with everything inside the main pouch of my 44 liter pack. To fix this I stopped rolling it and just stuffed it in a compression sack with the poles strapped to the outside of my pack separately.
Date published: 2020-05-02
Rated

5

out of

5
by
Adam G
from
Perfect Backcountry Tent
I am just now writing a review after having this tent for 5 years and could not be happier with this product! I have taken it on multiple backwoods fishing trips in Canada, back country hikes in Colorado and Oregon, as well as elk hunting trips in Colorado and Montana. I have put this tent through its paces and it has always held up. Light to carry, easy to setup, durable, and waterproof! I've sat in this tent through multiple heavy rains and thunderstorms and always remained 100% dry. Its just the right size for 2 people to sleep comfortably with no extra frills which means no extra weight. If you want a serious back country tent that you can carry into the hardest to reach places, this is the tent for you!
Date published: 2020-07-30
Rated

5

out of

5
by
octothorp
from
Airy and snug at the same time
The design of this tent, with almost all open mesh underneath the fly, makes it really airy and fresh inside. I've used it in warmer temps and it's kept the air moving. But with the fly on, it's ALSO snug and weatherly as a tight little boat. I've been out in it through all-night thunderstorms and stayed perfectly dry. Easy to set up alone, and easy to pack up.
Date published: 2018-10-09
Rated

5

out of

5
by
Juank88
from
Great features, light and comfortable
Bought this tent to camp in Yosemite and Grand Canyon, was cool in summer and stood firm in windy nights. I went back home and use it to camp in the Andes highlands, at 12 000 ft above sea level. It was very cold, windy and rainy outside, but we slept comfortable, don't even felt cold (my girlfriend feels cold very easily). Space inside was enough to fit 2 air mattresses and our small backpacks. I really like the way it is designed to provide more space from floor to ceiling. The hook for headlamp is perfect, and the 2 pockets for storing cellphones and cameras above your head are great. I was worried when I first set it up, because my last tent was a 4 person tent, it was a huge change, but the tent turned out to be ideal for 2 person, the 2 separate doors are great, space is good and the fly forms a vestibule to left your shoes and other stuff you don't want to store inside. My only recommendation would be to get stronger stakes if you are planning to do some serious camping, the ones provided are not so easy to nail, they bend and get dented easily.
Date published: 2017-09-08
Rated

5

out of

5
by
Disco
from
Marmot does it again
I recently had to reassign my Marmot Zoom to backyard camp duty due to a delaminated rain fly that served close to 20 years. My searching and review reading brought me back to Marmot. I ended up with the Tungsten 2P which would allow me use on the trail and to take a kid car camping for an evening. The first trip I took it on was a 23 mile hike on the AT near Mount Rogers in Virginia. This tent was fantastic as it experienced sleet, rain, and wind on that first trip. I am glad that I stuck with Marmot.
Date published: 2019-06-03
Rated

4

out of

5
by
Wes0205
from
Learn from me!
First trip with the Tungsten 2P. Camped in the Everglades on the Gulf in sea breeze winds, guessing 10 knots. Came back from a day of fishing and found a pole failure at a connection, needless to say it was disappointing. However, I did learn by reading the instructions (after the fact) the need to stake the vestibules and supporting poles. My mistake, can't blame the tent. Roomy and dry as bone.
Date published: 2019-03-04
Rated

5

out of

5
by
Saltoe
from
Very roomy tent!
I never write reviews but this tent deserves it. I got this tent maybe 4 years ago now. I live in British Columbia and its been up top mountains and by many lakes and rivers. Its a tad heavy for multi day hikes but overall I am very impressed with its durability and how spacious it is inside! Sleeps 2 and gear if needed no problem! I'll be getting a lighter tent for some longer hikes but this guy stays for the car camping trips because it just doesn't die. (Note I am very careful with my gear so that might help with how good shape it's still in)
Date published: 2020-07-27
Rated

5

out of

5
by
TimeOutdoors
from
Love it
After moving to Alaska from the lower 48 I was concerned my hammock might not be adequate for the winters here. I've used it in wind and snow now and have no complaints. Sets up quick, easy to pack up, and the rain fly dries out quick.
Date published: 2018-11-17
Rated

5

out of

5
by
JLogger
from
Excellent Tent!
I used the Tungsten 2-Person Tent for my backpacking trip to Mount Greylock in Mass. There was enough room in the tent for my girlfriend and I. We were both able to fit our sleeping pads in perfectly. This tent is easy to set up. Our first time setting it up was in the dark and we had no problems. The rainfly held up excellently in a heavy down pour. No leakage at all. Overall I am very happy with the Tungsten. I look forward to using this tent on many more adventures.
Date published: 2019-10-02
Rated

4

out of

5
by
luce
from
Great in Wind, Etc, Awful in Rain...Even Dew
We've used this tent many camping trips, since purchase a couple of years ago. It comfortably holds us and both of our full 65L backpacks. This tent has withstood strong summit winds and has been really quick to assemble and take down, even at dark during strong winds. I also love the included footprint and the breathability. I love this tent, minus the fact that even during a morning dew, we had moisture coming through the fly, and not at the seams, but the tent itself. We had a surprise rainstorm recently and we were drenched. The only part of our tent and gear that held up were the parts we had covered with the tarp(us) and our waterproof protectors and clothing. Water was pouring through the entire tent cover, onto the no-see-um mesh, and onto us. We had to keep using and wringing out our pack-towel. If it wasn't the middle of the night and we weren't risking reaching a full-shelter and being stuck outside, we would've packed up our soaked items and headed off, knowing the rest of our rain-gear would've kept us dry. I don't understand any of the reviewers talking about how this tent stands up in a rainstorm, when water surpassed the fly in a morning dew. Why should tents be sold that require the consumer to spend time and resources....money....having to waterproof it? It should be sold as a 3 Season Dry-Weather Tent...... Did we get a faulty one or is this the way with all of them? I love this tent and would hate to have to switch up because of the lack of protecting us from inclement weather. (We don't have a pic from the rain, as we were getting drenched.)
Date published: 2018-04-15
Rated

5

out of

5
by
TOCG
from
My Third Tunsten
I already owned a one person and three person Tungsten. I appreciate the fact that the tent comes with a footprint and is relatively light. Although not ultralight, both the one person and two person are light enough for one person to carry. The tent has plenty of space for two people and some storage in the vestibule. I loved the tent so much I purchased one for a friend so he would not have an excuse to not go backpacking or use my gear.
Date published: 2020-01-16
Rated

4

out of

5
by
mrpeppermill
from
Nice Tent but...
It's a nice tent and I love the durable material and quality of Marmot. However, compared to other brands available in the same category, the packed weight is 1.5 lbs heavier and the packed dimension 3" longer.
Date published: 2017-05-21
Rated

5

out of

5
by
wanderer
from
In the sipsi and heavy rain
I bought this tent about 2 months ago. Was extremely surprised at how roomy and spacious it is. Nicely fit two people and a small dog. I will say the one thing is that the footprint that comes with it is way to small for the tent. Set up is a breeze and very simple. Had very heavy rain that night and didn't get wet. I would recommend this tent.
Date published: 2017-06-21
Rated

5

out of

5
by
Anonymous
from
Marmot Tents For Life
My girlfriend and I have the Limelight 3P tent, which feels like the bigger version of this tent, and we absolutely love it. Us wanting us to get into backpacking more, buying the smaller version of a tent that we already loved just made sense. After our first backpacking trip with it, our first night endured heavy rains and winds without pause, and I was quite surprised that the tent held out all night long without a single drop of rain inside the tent or the poles bent/broke after the tremendous force of wind. I would highly recommend this tent to anyone as it provides great value!
Date published: 2021-08-27
Rated

5

out of

5
by
Pogobob
from
More features than I expected
This is my first tent and did not know what to expect; especially for the first set up. It was pleasing to find it simple and no instructions needed. Just a short time to realize which pieces were laid out first. Factory packing is different than user packing so it is a much easier set up from the second time onward. Bought it for one person and it was a good decision.
Date published: 2018-03-07
Rated

5

out of

5
by
Humancompass
from
Lite weight Weight/weather proof
I bought this tent a year ago on the recommendation of my son. I was a bit skeptical due to the price. Obama bit of a tent snob due to the fact that I'm a 71 year. Old mountaineer and backcountry skier and a business owner. I've spent dry hot nights at 7,000 feet in the Sawtooths of Idaho and endures cloudbursts of hail in the Whiteclouds in this tent and found that it is dry, airy and cool when needed and dry to the bone when it really counts. A couple of the best feature I appreciate is the roominess for two people, double doors so you don't have to be a contortionist to get in and out and the double vestibules that really are big enough to keep your pack dry. I recommend this tent for 3 season activities and the value is really excellent, a lot of tent for the price.
Date published: 2019-10-02
Rated

5

out of

5
by
Sjjr
from
So spacious!
I bought this tent a year ago for my boyfriend's birthday and it has been the best purchase. It has been a great wind barrier when we've had little protection, it's airy keeping us cool on hot nights and extremely spacious when we've been confined to the tent because of heavy rain storms. I would recommend this tent to anyone looking for a great, light weight, compact tent.
Date published: 2020-05-09
Rated

4

out of

5
by
slickscream
from
Nice Tent
There are alot of things I really like about this tent The Size Doors on both sides Footprint Included Ease to set up Good in the rain The rain fly works very well but I do find the condensation buildup to be pretty heavy in this tent. The only other thing I would have liked to have seen would be adding 2 more stakes for the guy lines, which would have been a minimal cost to Marmot. All in all though, this is a sweet little tent and I wouldn't hesitate to reccomend it to others.
Date published: 2020-09-14
Rated

5

out of

5
by
Josh26
from
Excellent tent
I bought this tent about a year ago. I've used it close to 20 times in the mountains of Idaho. The tent is extremely durable, and the pouch in the corner near the head reflects a small light all around the tent. Easy setup and light weight, lots of head room and enough room for me, a partner and my 3 year old to sleep in it.
Date published: 2019-07-03
Rated

4

out of

5
by
Sella C
from
2 person Tent
Great Tent, fits me (5 ft 3in) and my boyfriend (5 ft 11in) and a small dog. lots of space in the vestibules, but the netting may rip easy if scratched. Overall keeps rain out great and little condensation inside. Lightweight for backpacking. It doesn't pack down too small, but it can be separated and compressed.
Date published: 2020-06-21
Rated

5

out of

5
by
Glenn702
from
Highly recommended!
This tent is very easy to pitch. So far I've only used it 3x without the rainfly and I like it. Good buy! I bought this tent for car camping and I do have 1 person UL Tungsten for backpacking.
Date published: 2020-06-11
bvseo_sdk, dw_cartridge, 18.2.0, p_sdk_3.2.0
CLOUD, getReviews, 0ms
reviews, product
product-detail-view
oos-pdp