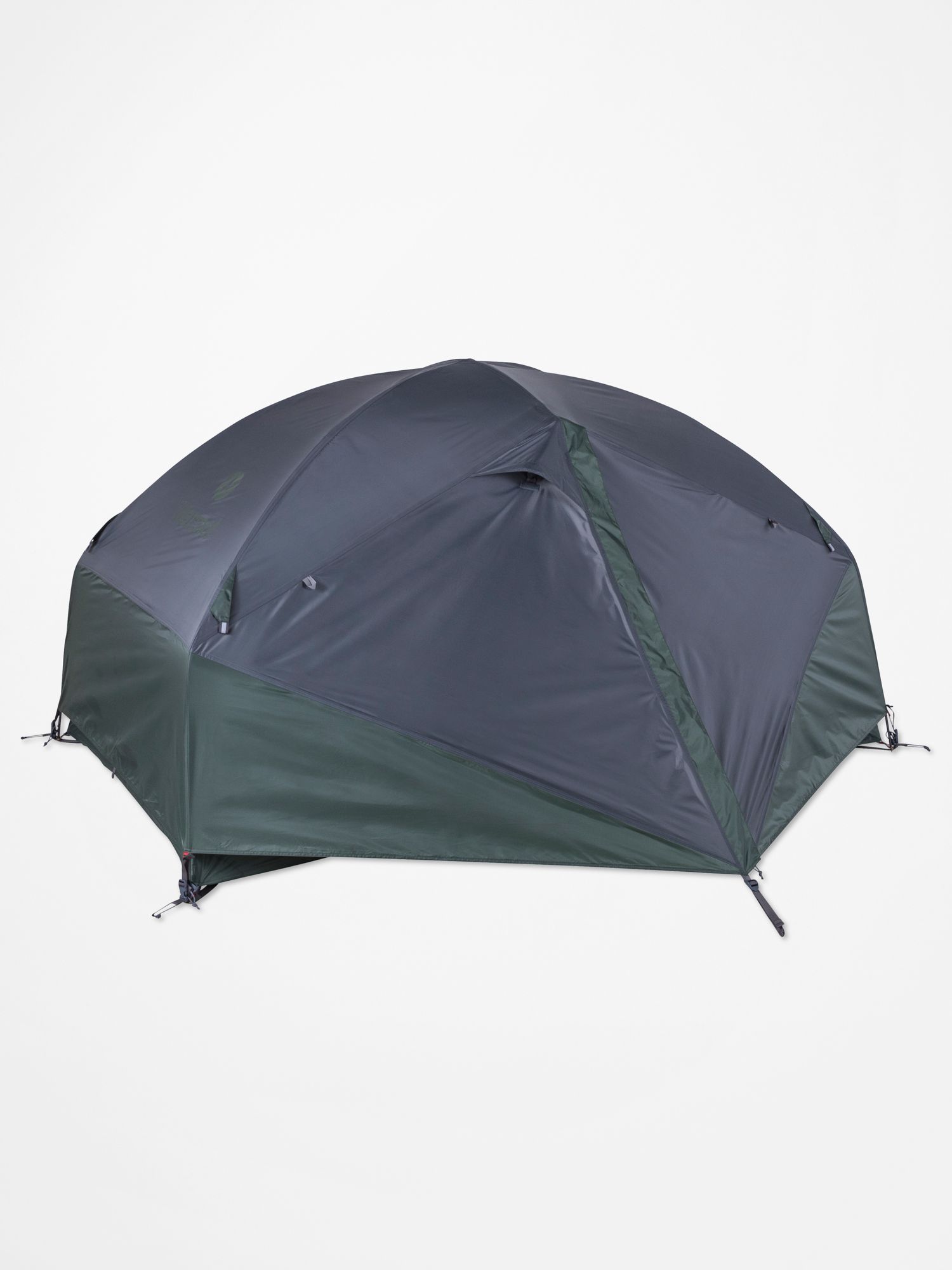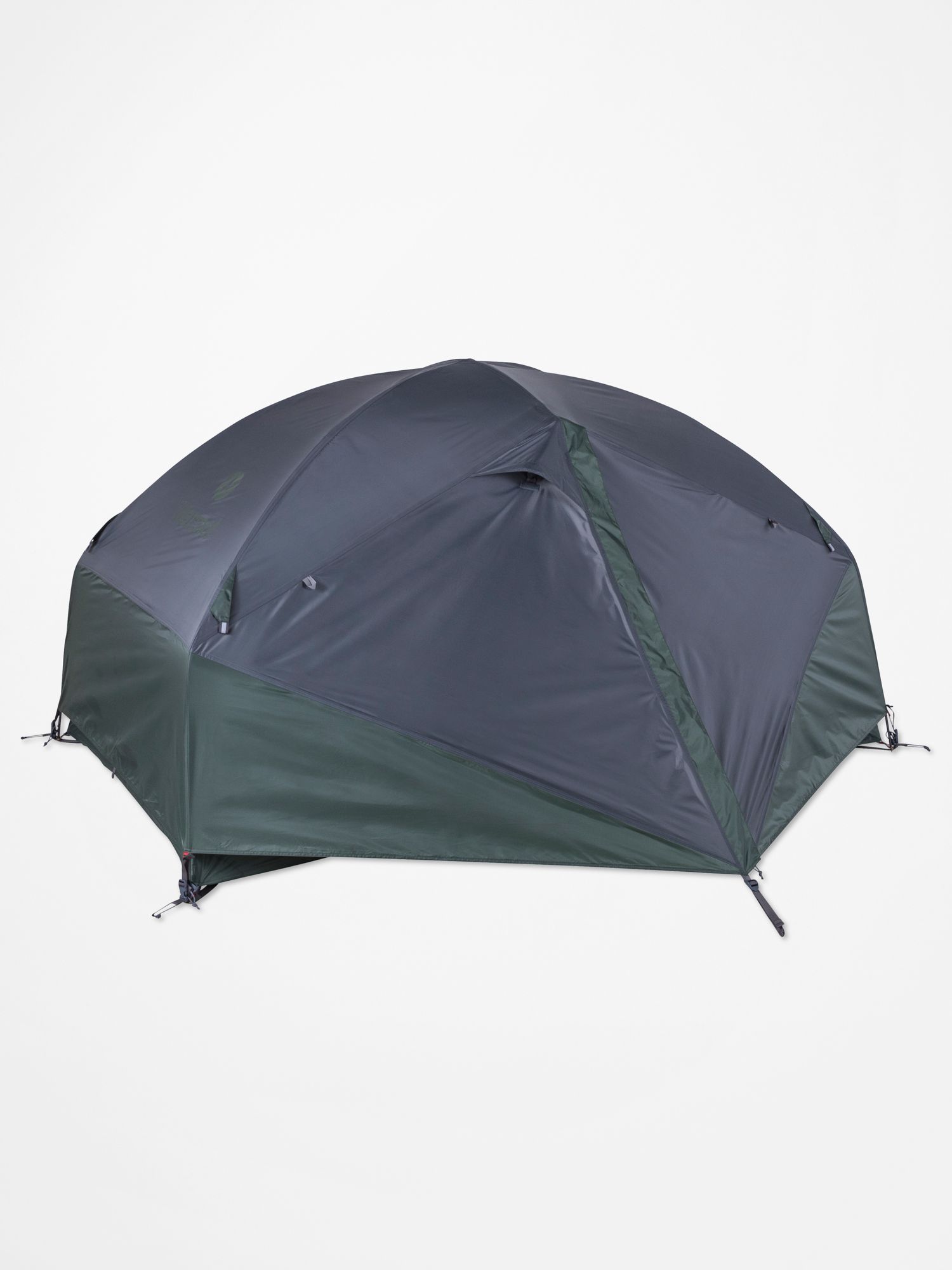 Final Sale: may not be returned or exchanged
Final Sale
This item cannot be exchanged or returned. Valid while supplies last. All sales final.
Selection will refresh the page with new results.
Item currently not available.
Alert
Please select a Size.
Final Sale: may not be returned or exchanged
Final Sale
This item cannot be exchanged or returned. Valid while supplies last. All sales final.
Product Details
Features
Zone Pre-Bend Construction Creates Vertical Walls, More Roomy Sleeping Area and Greater Head Room
One Super-Sized Double Door and Rear D Shaped Door with Two Vestibules
Lamp Shade Pocket Securely Holds Your Headlamp to Provide Ambient Light
Footprint Included
Strategic Clip Placement Provides Larger Interior Volume
Seam Taped Full Coverage Fly with Vents
Seam Taped Catenary Cut Floor
Color Coded "Easy Pitch" Clips and Poles
Interior Pockets for Small Gear Organization
Jingle-Free Nylon Zipper Pulls
DAC Press-Fit Poles Main Poles/Velocity Aluminum 7000 Ridge Pole
Description
Bound to be your new favorite home away from home, the Limelight 2-Person Tent embraces simplicity and straightforward design. Its vertical walls allow for plenty of sleeping space, plus the strategic clip placement provides more interior volume for stretching out. If rain clouds move in, color-coded "easy pitch" clips, poles, and fly make for an easy set-up, and the seam-taped, catenary-cut floor prevents pooling. Protect your investment by using the included footprint. One super-sized door offers easy access, while two vestibules hold all your camping gear. After an epic day of adventuring, tuck a headlamp into the lampshade pocket for ambient light at night.
Specifications
Packed Weight:

5 lbs 10 oz (2550g)

Minimum Weight:

5 lbs 2 oz (2325g)

Fast Fly Weight:

3lbs 5oz (1506g)

Packed Size:

20.5 x 7.5 in | 51 x 17.8 cm

Floor Area:

33 sq ft, 3.1 sq m

Vestibule Area:

11 sq ft, 5.5 sq ft | 1 sq m, 0.5 sq m

Main Canopy Fabric:

68d 100% Polyester Taffeta 1800mm F/R

Secondary Canopy Fabric:

40d 100% Polyester No-See-Um Mesh F/R

Floor Fabric:

70d 100% Polyester Taffeta 2000mm F/R

Fly Fabric:

68d 100% Polyester Taffeta 1500mm F/R

Pole Material:

DAC Pressfit / Velocity HD

Footprint Material:

68d 100% Polyester Taffeta 190T 2000mm F/R
Rated

4

out of

5
by
Elizabeth2020
from
Just do it
I absolutely love this tent! Perfect for sleeping with the fly off and star gazing while camping or backpacking. I do wish both sides of the tent opened the same-one opens almost 360 and the other is just about 180, not sure why but it would be dope if they both opened 360. Also wish there was a canopy up top to hold things and the upper side pockets were more user friendly-they are slanted so it's really kind of hard to hold anything in there. There are great pockets on the bottom inner sides of the tent that are meant to hold the screens when keeping it open where mosquitoes must not be a thing. Overall, this is my favorite tent thus far and highly recommend it! Very large for 2 backpackers. Giant vestibules.
Date published: 2020-08-10
Rated

5

out of

5
by
Anonymous
from
Amazing tent even in high wind and rain!
I've had this tent for a few years now and this past weekend had it on a trip down to Arizona. We expected a little rain but we're surprised by about 14 hours of heavy rain and winds with gusts around 50mph. The tent held up beyond any of my expectations and kept myself and my gear completely dry!
Date published: 2020-02-26
Rated

5

out of

5
by
HayleyK2160
from
Fantastic Tent
This tent is beautiful. The colors are amazing and don't seem to have faded at all since I bought it during the Labor Day sale in 2018. I've camped in it at least once a month since it was purchased. Marmot thought of everything! There are many pouches in the tent that can hold items such as cell phones, lights and glasses. I utilize each added feature each time I use it. I couldn't be happier with the way this tent performs. It is light weight, small and easily assembled and disassembled. The rain fly is legit and has never let water pass through, even in the gnarliest of weather.
Date published: 2019-09-20
Rated

5

out of

5
by
Executive Director
from
Craftsmanship
Our youth group recently went camping at Big Bend Ranch State Park, TX and this tent performed flawlessly. Easy to erect, lots of room and when tied down properly will remain standing even in 83 mile an hour winds and yes you read that correctly, 83 mile an hour winds and this tent didn't even budge. However; there were a couple of roofs blown off houses further down the canyon. Because of how this tent performed we are going to purchase additional Limelight tents as wind is always an issue in the region know as Big Bend Texas.
Date published: 2019-04-09
Rated

5

out of

5
by
Real135
from
Absolutely great
The Sten is proved to be everything I wanted. Because of the way the side walls are perpendicular up for a while it's the first time I've ever had that my equipment didn't get wet in a very damp climate due to condensation. we were in a wet area wet ground lots of humidity and slight rain there was a lot of condensation on the fly but there was nothing wet on the inside because of the the perpendicular side walls. in the large doors made it absolutely great to be able to get into your tent without dragging a lot of dirt and mud inside. I love this tent.
Date published: 2018-05-04
Rated

5

out of

5
by
worncog
from
Roomy for a 2P!
I use this tent for motocamping and it has served me well. Great wet weather performance and also has great ventilation with the extra mesh. Even used it for desert camping with no fly for great night sky viewing. Fast up and down on extended trips where speed of setup and breakdown can make HUGE differences in being a happy motocamper.
Date published: 2018-03-11
Rated

5

out of

5
by
JNAH
from
Reliable, durable, lightweight
I have a few tents, this has been and remains to be my go-to for 80%+ of my outings. From dank forest to sunny, sandy beach and everywhere in between, the Limelight 2 has been and remains my favorite. Caught in a downpour, or hot dusty and dryland, set up is ALWAYS a snap! The tent's utility is on par or exceeds any I have used remains dry in rain and comfortable in heat. It's spacious enough for two with gear. I can't recommend enough.
Date published: 2020-05-07
Rated

5

out of

5
by
thewaterbuffalo
from
Easy to setup, easy to break down, easy to pack
I used my new tent on the Buffalo River Trail and it was great! I had to set it up in the dark because we got to our spot a little late. It was simple and quick to assemble. The second night it rained and I was dry and comfortable. I used a stuff sack instead of the supplied tent bag, and was able to get all the fabric in the small stuff sack, with the tent stakes and poles lashed to side of my pack. This was a great investment and I recommend for it weekend warriors, hikers and backpackers.
Date published: 2017-11-13
Rated

5

out of

5
by
pk12345
from
Sturdy and weatherproof
I bought this tent for a six-day trek in Patagonia, where it held up admirably to strong winds, occasional pouring rain, and freezing temperatures. It was well ventilated, easy to set up and plenty big for a pair of grown men thanks to the pole design (ridge pole + knees at all four corners). The 68-denier fly and floor are durable and weatherproof, and the high inner walls keep out drafts on blustery nights. The Limelight is heavier than many (more expensive) backpacking tents, so it wouldn't be ideal for one person. But this is a trade-off for greater comfort and durability. Divided between two backpackers, the weight is manageable and the spaciousness much appreciated. As other reviewers have noted, the ridge pole is longer than the others when broken down. I resolved this by strapping it to the side of my pack, but Marmot probably ought to divide the ridge pole into three short sections rather than two long ones to make future iterations of the Limelight more compact. Couple of points about the rainfly. First, it was hard to get the base of the fly completely taut at the vestibules, which may slightly annoy certain OCD people (like myself). Second, the fly doesn't extend as close to the ground as it probably could, which may allow more wind-driven rain/snow/dust/cold under the fly if you find yourself testing the limits of "three-season" use. But all these can be considered minor issues for a shelter that costs ~$200, weighs less than six pounds and didn't budge during nearly a week in one of the windiest regions on earth. Overall I found this tent to be an excellent value.
Date published: 2017-12-04
Rated

5

out of

5
by
Ken M
from
good quality for the price
I bought this tent for an extended backpacking trip -- looking for a sturdy 2-person tent that was not too heavy (and not too pricey). This has more than lived up to my expectations. It is a very solid tent that it not too heavy (and not too pricey) and has performed well in the full range of weather over 5 years of heavy-duty backpacking.
Date published: 2019-05-19
Rated

5

out of

5
by
JPro
from
All around great tent
A nice upgrade from our Marmot Aspen 2P in that the sleeping zone has been enlarged without adding weight to the tent.
Date published: 2016-07-12
Rated

5

out of

5
by
CT_Hiker
from
My 3rd Marmot tent and it's a great 2P shelter.
My first Marmot tent was the current Limelight 3P bought a couple of years ago for backpacking with my 2 sons. Love the tent. But one kid moved to LA and the other doesn't want to backpack. Sadly, the 3P tent is just too heavy for one person. So last summer I picked up the Tungsten 1P which cut my tent weight in half and was a really inexpensive solution for solo trips. I love that tent too. It did fine for me in a gentle rain one night and was easy to set up or carry inside my pack. I actually kept my pack inside with my 6'0" 215lb frame that night and it wasn't bad in the 1P tent. I was on bare muddy ground and I didn't want a muddy pack in the morning. But I found myself lusting after the roominess of the Limelight 3P. So this summer (2018) I looked around for a 2 person tent so I could bring my pack inside on a regular basis and have a little more room to change clothes or move around if I'm stuck in the tent all day. I looked at a bunch of brands as well as the Tungsten 2P, the Tungsten 2P UL, and the Limelight 2P. I ended up buying the Limelight 2P and got it a couple of days ago. Having owned the Limelight 3P, there were no surprises. The internal volume is fantastic for a 2P tent. Less weight would be great but I'm willing to trade some weight for the durability of 68D polyester vs 20D polyester or 15D nylon. The only complaint I have is that I weighed the tent in both the max weight and min weight configurations that Marmot publishes and the Marmot published weight is about 10 ounces optimistic for the max weight. As the tent came out of the box as packaged by the factory it weighs 6 lbs 4 oz. That's on a scale with 1 gram accuracy up to a max of 17.5 lbs or 8 Kg. That's a big discrepancy in the published weight. C'mon guys, be honest about the weight. Am I gonna send the Limelight 2P back because of the weight? No way. I love the internal volume, the durability, the set up, and those 2 huge doors. This is a very livable tent. It's the most livable design I've found, period. Especially if you set up in a "base camp" for a few days and day hike out from a fixed camp site. Also, the protection in this tent is way above average. Driving horizontal rain is NOT going to make it into this tent. At the same time, it has plenty of mesh and will breathe about as well as a double wall tent can. The solid wall to mesh ratio is such that this tent can make it pretty far into the shoulder seasons of early spring and late fall in New England where I live and handle some cold weather better than an ultralight tent with tons of mesh. The polyester body and fly mean no stretch or sagging when it's raining and polyester will hold up better over time with exposure to UV radiation. All that stuff are the reasons this tent weighs more than some ultralight competitors that also cost double the price. For me, the value, protection, and durability is worth the extra weight. Everyone will have their own priorities. So now I have myself covered for solo, 2 person, or 3 person trips as well as non backpacking camping. I always research the entire market before I buy but somehow I keep coming back to Marmot every time.
Date published: 2018-07-14
Rated

4

out of

5
by
Motoluxe
from
High & Dry
I purchased this tent mainly for motorcycle camping. The first trip out was a four day ride through the High Rockies and Western Slope of Colorado. As my luck would have it - it rained constantly. So waterproof... check. I stayed high and dry on even the strongest of downpours. Set-up and break-down are breeze - the hub makes it a snap. Goes up in in 3 to 5 minutes depending on if you're drinking whiskey or beer. Coming down is about the same. Plenty of room for one person plus some gear. It's light and packs down pretty small - even with the footprint in the sack. Which brings me to one of my two cons. The stuff sack is too big for the tent. While yes, it's easy to get it in the bag - it's about 6" too long and about 1.5" too large in diameter. I had to use straps to tighten it up and roll up the extra material to keep it from dangling and getting caught in a wheel. Feel free to send me a smaller stuff sack Marmot ; ) The other con I found was the straps on the footprint are a bit too long and its grommets don't line up to the grommets of the tent. So when you pick up the tent to move it or shake it out, the footprint stays on the ground and won't fasten to the tent. Other than that - it's a solid tent.
Date published: 2020-08-10
Rated

5

out of

5
by
ChrisTwoSherpas
from
Well Designed Tent
We just bought a second Limelight tent, so we have two for our larger backpacking trips. While not the lightest tent, it is so well designed and roomy that we don't mind it not being featherlight. The short vertical walls and large vestibules make for a large area to spread out gear and ourselves for a comfortable night's sleep in the backcountry.
Date published: 2019-02-18
Rated

4

out of

5
by
sarahg
from
Great choice
Loved the space inside the tent -- so much room! Also, the two doors are awesome. Love the choices there. Due to the nature of the poles, the fly was a little wonky, but totally weather tight. Wish the stakes that came with the tent were a little more burley, but that's an easy replacement. I would absolutely buy this again.
Date published: 2017-10-09
Rated

1

out of

5
by
correct_dem_specs
from
Packed size larger than stated
One of the tent poles measures ~23'. So that makes it physically impossible to pack it down to 18'. It's a big difference of 5-6 inches when packed.. so if you're looking for something portable, this might not be the best choice. Please correct the specs!!!
Date published: 2018-07-06
Rated

5

out of

5
by
CyclistEquestrian
from
Wonderful Bicycle Tour Tent
I used the Limelight on a bicycle tour across British Columbia in the summer of 2017. It was a fabulous piece of gear; very easy to put up [sometimes in a hurry ... rainstorms], and take down. Very roomy and good vestibules. I accidentally put a gash in it with a knife and sadly disposed of it, at the end of the summer. Plan to buy the new model this summer [2019]. The new Limelight is somewhat different and obviously roomier.
Date published: 2019-05-02
Rated

5

out of

5
by
Ozguy
from
Quality Tent
I did considerable research before purchasing this tent. I was looking for a quality 3-season tent that could be used for both backpacking and car camping, and also provide sufficient room for two adults, or one adult and one medium-sized dog. This tent is the perfect fit for my needs. Although a little heavy for prolonged backpacking, it's worth the couple extra pounds for peace of mind. One person can set it up in about 4 minutes, and breaking it down is equally fast. It's pre-bent pole configuration really does maximize interior space, and everything from the doors to the interior pockets and hooks were well thought out. The mesh canopy allows for great ventilation and reduced condensation, and the fly fits like a glove and works extremely well. The two vestibules provide enough space to keep your gear dry, and the inclusion of a footprint just makes it all that much better of a value. My only suggestion for anyone considering this tent is to purchase some additional (quality) stakes and guy rope if/when needed. I recently spent two very wet and windy days in the Colorado high country and this tent performed flawlessly. You can easily spend more for a tent, but for the money you'd be hard pressed to find one with better value. Highly recommend.
Date published: 2017-07-15
Rated

5

out of

5
by
Oklahoma Winds
from
Winner!!! Still Dry in 60+ MPH Wind and HVY Rain
Withstood 60+ mph winds through a tornado and thunderstorm warning with extreme rain for over the span of two nights and we never got wet at all. Worth every penny. Also very spacious for a two person tent. Absolutely love the double vestibules.
Date published: 2020-07-28
Rated

5

out of

5
by
dwight58
from
Great customer service
I purchased the 2016 2 person limelight and have been satisfied. However, the brow pole came in 2 sections which makes it much longer than the other poles when collapsed. This makes it difficult to fit in my bicycle panniers and tent pole pocket on my backpack. I contacted Marmot and they said they make it in 3 sections now! I said I'd like to order a replacement. When I asked how much they said it was no charge! Now it fits in my bike panniers and backpack perfectly. Thank you Marmot!
Date published: 2020-07-25
Rated

5

out of

5
by
Bogey
from
Great 3 season backpacking tent!
Have had this tent for almost 5 years, used it in the windy desert, wet PNW and chilly Spring Rockies. In all it was excellent, keeping it's structure in the wind and rain out with the cover on. My wife and can easily fit side-by-side in it with either our packs or our dog at our feet without feeling too cramped (I am 6' and she is 5'10"). Light weight too, backpack with it constantly. I would definitely recommend if you aren't getting into sub-freezing temperatures in your adventures!
Date published: 2021-06-02
Rated

5

out of

5
by
Kevin60
from
Solid 2p tent
I have been using this tent for 4 seasons and I am very happy with it. It is roomy and sturdy. I have been through several Sierra downpours and have stayed dry every time. Last summer it held up great in a serious windstorm (another hiker in the area reported broken tent poles from the wind). It swayed, but did not bend or break. The only negatives (and I can live with them) are the length of the cross pole and the weight. There are lighter, but I am not sure they are as sturdy.
Date published: 2021-04-04
Rated

5

out of

5
by
TheRealTOB
from
Excellent tent for price and space
This is a great tent! I've used it on a short backpacking trip and a 40+ mile canoe camping trip already and it's been perfect. I know it may be a little heavier for backpacking if you're not splitting it compared to some others but the extra livability and price (comes with footprint) is tough to beat. I'm using it solo for the most part so it is more than enough room. I prefer the extra space and durability as I'm not doing any extreme through hikes and I don't mind the extra pound or 2. Part of the weight comes down to the sturdy rain fly that will absolutely keep you dry. I plan on using this for some car camping as well. This tent is a great all around we as long as you understand the size and how to keep some gear in vestibules. I even plan on having a dog or 2 for the next trip (1 40lbs Belgian sheepdog and 1 corgi)
Date published: 2020-09-09
Rated

2

out of

5
by
Bluntremedialhen
from
The rainfly leaked
I purchased this tent a month ago to replace an old tent for an upcoming camping trip. The first night using this tent was great. Good weather, loved the doors and the open feel to the design. It was easy to set up. The second night it rained pretty hard and the rain fly leaked. Granted, there was alot of rain and it kept most of the rain out, but my sleeping bag and some of my things were wet. A brand new tent should not leak. I am returning it.
Date published: 2019-08-03
Rated

4

out of

5
by
Clark G
from
It's been great
Had this for years now - super easy set up, very sensible and well crafted. Only recently did the clear window separate, which may not be repairable. Otherwise, fantastic purchase and would do so again. I've experienced great value from this tent.
Date published: 2020-11-16
Rated

2

out of

5
by
dcnm
from
Great Tent, Except in Extended Sunlight
Great tent for camping. We really liked the ease of setup. However, my kids decided to spend the summer sleeping outside in it, and the rainfly was completely shredded by the time school started. Our other tents didn't suffer the same damage. At seventy bucks to replace, that isn't cheap. The tent is probably fine for shorter periods or if you take it down every day, but this does raise questions about long term durability in sunny parts of the country.
Date published: 2017-01-04
Rated

5

out of

5
by
VschectezH
from
Awesome tent.
This tent is a huge 2p. Almost matches in size to my 3p and i love it. Significantly warmer than my old 3 season, yet can be more breathable as well. There is nothing to complain about with this tent at all. Pole design is funky if you are used to conventional cheaper tents but works so well. Cant say enough positive things about it. I use it mainly for motocamping and i never see good weather so a good tent is important to me.
Date published: 2021-08-24
Rated

1

out of

5
by
Amanda1234
from
Heavy and leaky
I bought this tent over a year ago. I had issues with the waterproofing finish being tacky to the touch. Marmot customer service was a nightmare. I ended up exchanging the tent at a store instead. The new tent leaks, water dripping on my forehead and all over my sleeping bag. I bought this for backpacking and it's pretty heavy. This might be good for car camping but I do not recommend for backpacking or harsh weather.
Date published: 2020-07-30
Rated

4

out of

5
by
Foundationsman
from
Spacious and reliable
I have had one of these for years and have never had problems with it. It keeps me and my gear dry and is plenty spacious for two people.
Date published: 2019-06-02
Rated

5

out of

5
by
derrik39
from
Great tent
Really lightweight and durable tent. I used it immediately on a rainy day in Alaska and it was awesome. Hung it up to spray it clean, let it dry and packed it up. Great experience overall
Date published: 2017-06-24
bvseo_sdk, dw_cartridge, 18.2.0, p_sdk_3.2.0
CLOUD, getReviews, 0ms
reviews, product
product-detail-view
oos-pdp