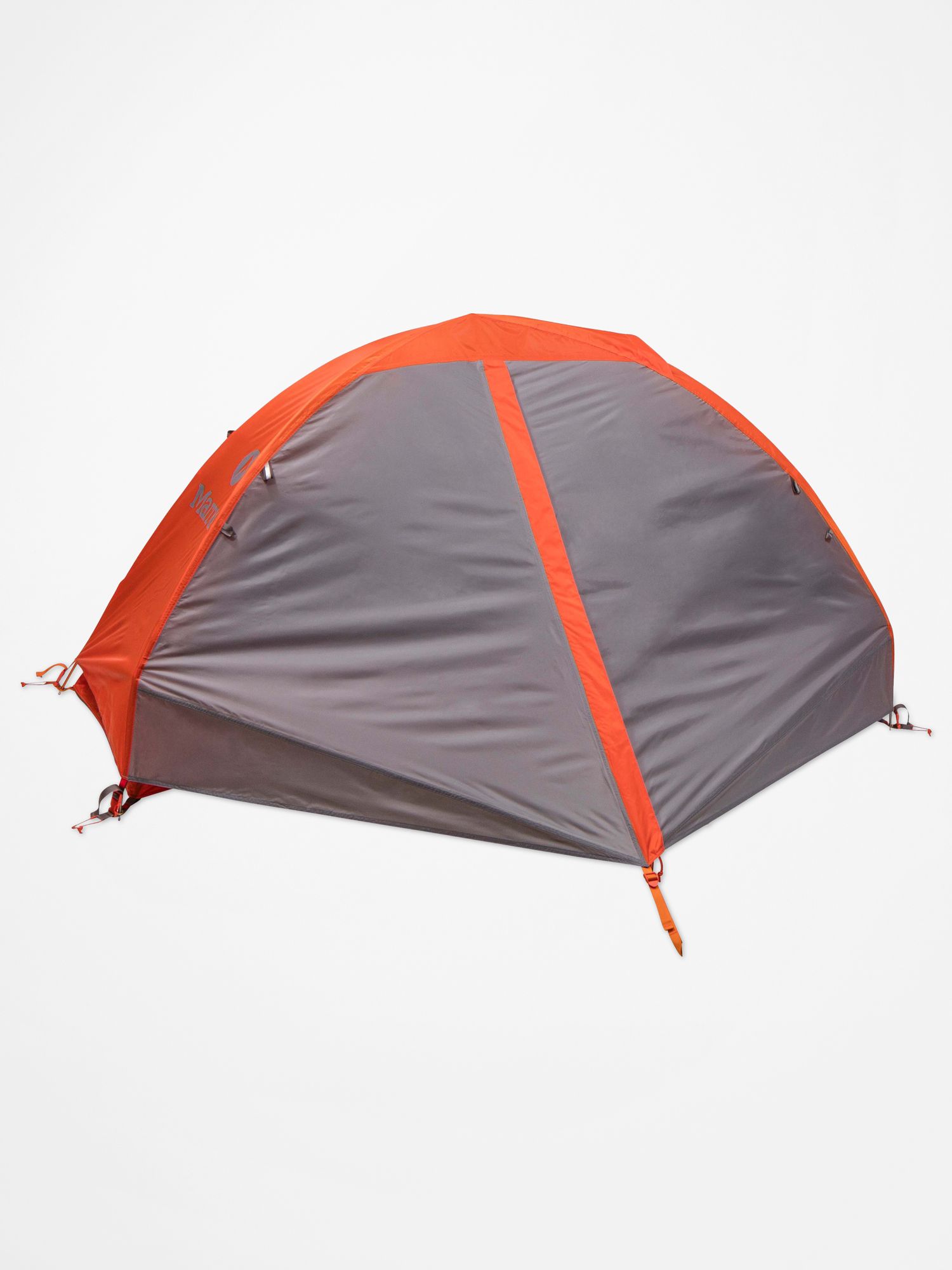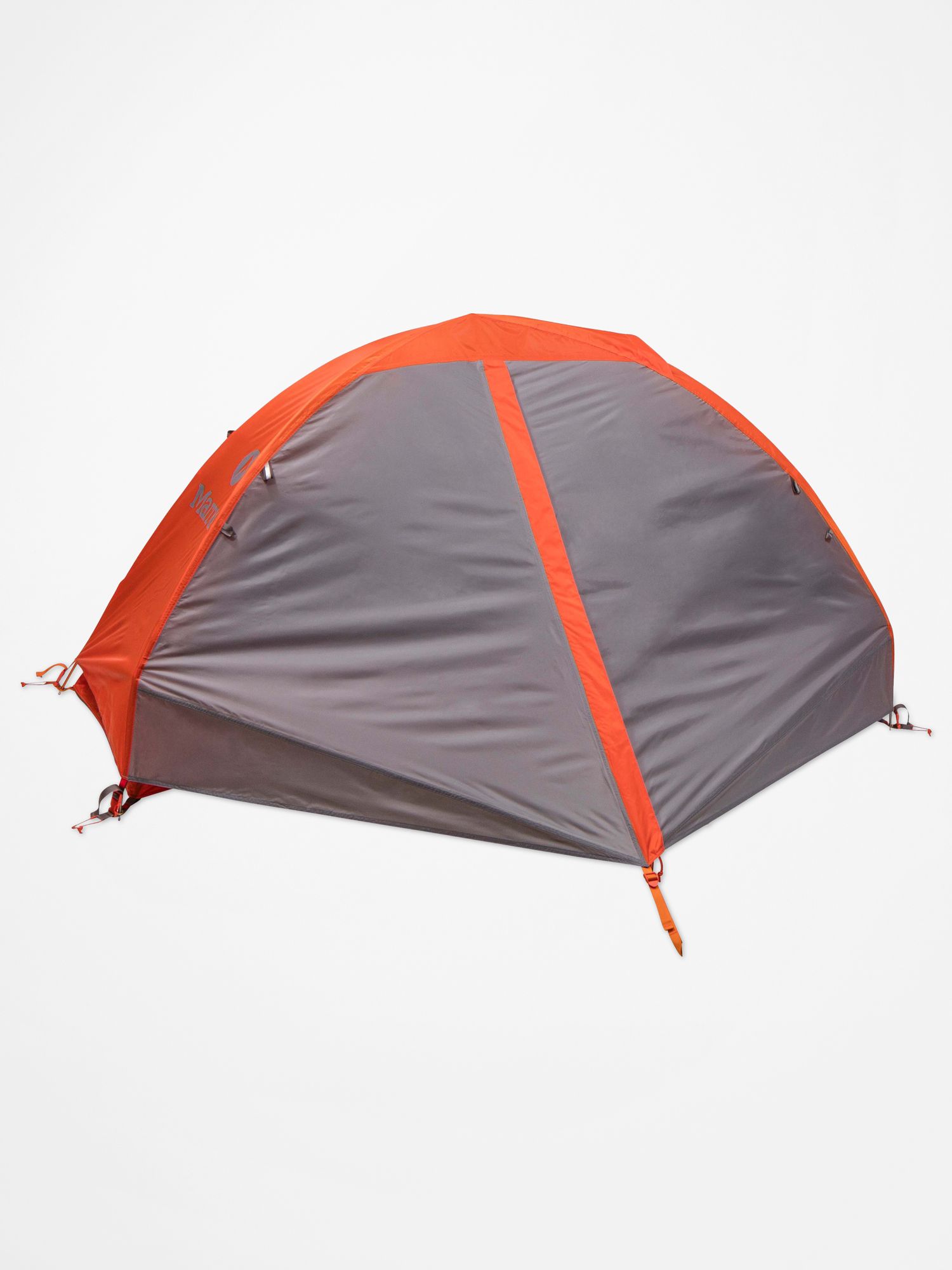 Excluded From Promotions
This product is not eligible for any discounts or promotions
Final Sale: may not be returned or exchanged
Final Sale
This item cannot be exchanged or returned. Valid while supplies last. All sales final.
Selection will refresh the page with new results.
Item currently not available.
Alert
Please select a Size.
Excluded From Promotions
This product is not eligible for any discounts or promotions
Final Sale: may not be returned or exchanged
Final Sale
This item cannot be exchanged or returned. Valid while supplies last. All sales final.
Product Details
Features
Zone Pre-Bend Construction Creates Vertical Walls, More Roomy Sleeping Area and Greater Head Room
One D Shaped Door, One Vestibule. Freestanding Design
Lamp Shade Pocket Securely Holds Your Headlamp to Provide Ambient Light
Footprint Included
Strategic Clip Placement Provides Larger Interior Volume
Seam Taped Full Coverage Fly with Vents
Seam Taped Catenary Cut Floor
Color Coded "Easy Pitch" Clips, Poles and Fly
Interior Pockets for Small Gear Organization
Jingle-Free Nylon Zipper Pulls
HD Velocity 7000 Series Aluminum Poles
Description
Ready to adventure with you mile after mile, the freestanding Tungsten 1-Person Tent blends durability, roominess and an intuitively livable design for the solo hiker. Its strategic clip placement offers more interior volume for stretching out after a long day on the mountain. If a sudden downpour approaches, the color-coded "easy pitch" clips and poles make for a quick set up, and the seam-taped catenary-cut floor and full-coverage vented fly add to its weather protection. The vestibule storage space, lampshade pocket that securely holds your headlamp, and included abrasion-resistant footprint round out the details that make life on the trail easier.
Specifications
Packed Weight:

3lbs 12oz (1700g)

Minimum Weight:

3lbs 8oz (1588g)

Packed Size:

20 x 6.5in | 50.8 x 16cm

Floor Area:

19.1 sq ft, 1.8 sq m

Vestibule Area:

8.5 sq ft, 0.8 sq m

Main Canopy Fabric:

40d 100% Polyester No-See-Um Mesh F/R

Secondary Canopy Fabric:

68d 100% Polyester Taffeta 1800mm F/R

Floor Fabric:

70d 100% Polyester Taffeta 2000mm F/R

Fly Fabric:

68d 100% Polyester Taffeta 1500mm F/R

Pole Material:

Velocity HD

Footprint Material:

68d 100% Polyester Taffeta 190T 2000mm F/R
Rated

5

out of

5
by
Wayne G
from
Much nicer than all the tents I've had before
The Tungsten 1P is my fourth backpacking tent over 3 to 4 decades, and the best yet. The first night out continuous heavy rain and thunder proved this tent protects the backpacker. The vestibule is large enough to store my pack. The weight of the footprint, tent, tarp, poles, stakes, and stuff sacks came in at 3 pounds. I find the side entrance much better than my previous 3 tents front entrances, and the fly on this one buckles into the tent mean there are no guide lines to make comments about while catching them with a boot in the middle of the night. There is a double pocket near the base of the door, and another above your head that is suitable for a flashlight and your glasses (saved weight leaving the glasses case at home). I'm 6'1-1/2" tall and my large sleeping bag fit width wise perfectly with about 8" of room lengthwise leftover. I can easily sit up in this tent without having to shift around to the 'right' spot.
Date published: 2017-08-14
Rated

4

out of

5
by
Waymc
from
Almost perfect
Great backpacking tent. As mentioned, where this tent shines is it's durable and a good value. I thought long and hard about this purchase and almost bought a $400 ultralight tent, but these tents, while really lightweight, are too fragile for my tastes. The weight on this tent isn't too bad and i think it will hold up better than the pricier models. The only negative i can say about this tent is that i wish the poles packed down smaller.
Date published: 2018-10-14
Rated

4

out of

5
by
Billbo
from
Solid value in a one person tent
I bought this for a last minute bike packing trip that did not allow my hammock set up. Overall, it is a good value for an affordable 1P. I have always been pleased with the quality of Marmot products. The positives are that it is a well made tent made with reliable materials. It sets up easily, and has plenty of room for my 6'1" frame. It rained over night, and I was dry and happy. It came with a nice groundcloth, so it is pretty much plug and play. Yes, there are lighter tents, but they cost more. If you are backpacking a multi-day trip, I would consider spending a bit more to save 1/2 pound or so. The vesitbule is on the small side, and the poles pack on the long side. I may upgrade the guy-lines and stakes eventually, but overall, I am very pleased with this purchase. Other than that, I have very few gripes. If properly cared for, I can see this tent meeting my occasional 1P needs for quite a few years.
Date published: 2018-05-10
Rated

5

out of

5
by
Anonymous
from
Tough Little Big Tent
I am an expat and oddly, I could not find green model anywhere in EU. I bought it on Amazon and had it shipped from USA. Amazon calculated import tax and shipping cost in total price which was nearly 300.00 USD. I wanted green. I used this tent recently for a 5 day trek in the Nam Ha NPA in northwestern Laos. At 4 lb it was a bit heavy but tough and sturdy. Mesh was great. I did not have to bring extra mosquitoe netting. Rainfly was easy to add, functioned well and still had good airflow. I am only 5.8 so there was plenty of room for me and my gear inside. Sitting up was no problem. I was able to rig a hook on the top inside of the tent to hang my wet clothes. This did not cause any other condensation. I was warm and cozy. Temps were 10 celcius overnight. No bugs got inside even though directly on forest floor. But there were hundreds of moths between rainfly and mesh which was surreal. Bottom stayed dry on top of ground cloth. I will give it a late fall test over the weekend in the Austrian Alps.
Date published: 2019-11-14
Rated

5

out of

5
by
slachney
from
Perfect!
I bought this for a climbing trip and it worked perfectly for me! Super easy setup and take down. Very roomy inside, and the rain fly kept me dry during a little storm we had. All in all, very pleased with this purchase.
Date published: 2018-07-06
Rated

5

out of

5
by
John W
from
Tungsten is a great line.
I have four of these tents. A 1p, 2p and 4p. Added a second 1p for a backcountry trip in Philmont this year. It's pretty light and extremely durable, which is why I picked over comeptitors. Marmot has the tent market cornered. Great value!
Date published: 2018-12-24
Rated

5

out of

5
by
Weeve
from
Worth the money
I bought this on sale for a section hike of the AT in Georgia. I field tested before the trip through high winds and heavy rain. Held up beautifully! I'm 6' and 205 lbs with broad shoulders, and I was very comfortable in my tent. It's a great compromise on the border of the UL side. Worth the extra pound or 1.5 pounds for it's durability alone
Date published: 2019-08-25
Rated

5

out of

5
by
Yankee 308
from
Mild Winter Wonder
I wrote about using this tent in the forests of Laos last Oktober. I just got out of the Benendiktbeuren Wald in the Bavarian Alps today (23 Feb). We camped at around 1200 meters on a south facing slope. No snow and temps were only down to 35 F overnight. However it rained through the night off and on. I and my gear stayed warm and dry in side the tent. Packed it with a wet rainfly...no problem.
Date published: 2020-02-23
Rated

5

out of

5
by
Cleetus
from
Outstanding tent
I use my Tungsten 1P for winter camping. It withstood 20 mph winds and rain. I was dry throughout the night.
Date published: 2018-12-31
Rated

5

out of

5
by
Tinman
from
Very solid!
I bought this tent about 2 years ago and have spent about 18-20 nights in it. It has performed well especially on the Ouachita Recreational Trail in OK/ARK. One night was torrential rain and extreme wind for nearly two hours. I knew the weather was coming and pitched the tent with all stakes and guyouts. I stayed dry and safe. I'm 6'1" so any one man tent is going to be a little tight but this tent does have good head room. The light diffusing pouch does work fairly well. This tent has a great weight/quality/price ratio.
Date published: 2020-11-10
Rated

4

out of

5
by
Rustydog
from
Roomy 1-Person Tent
The Tungsten 1-person tent has plenty of room for me (6' tall, 220 lbs, broad-shouldered male). The vestibule as enough room for my 88 L backpack and my boots. The shaded light pocket a plus and an included footprint a major bonus. My only grip is the poles bent on door side only. All four ends should have a bend to bring all sides up vertical, slightly.
Date published: 2019-06-19
Rated

5

out of

5
by
a guy
from
Just Right
This tent is the perfect balance of durability and weight. Easy to set up, self standing, right amount of room and comes with ground cloth included. Can't go wrong choosing this tent for all purposes, back packing, motorcycle travel, car camping are all just what this tent is made to do.
Date published: 2018-10-02
Rated

3

out of

5
by
Louisiana Hiker
from
Tungsten 1P
Love everything about this tent with one exception: the mesh is very delicate. I left my headlamp in the built in pocket overnight, and by morning it had almost worn through the mesh due to the wind causing friction. Other than that no complaints, and it functions well.
Date published: 2021-03-12
Rated

5

out of

5
by
CoastalClaudia
from
Sturdy tent
This tent has well met my expectations. I've used it in a variety of conditions: on the beach and mountains of Hawaii as well as winter camping along the Oregon coast. Waterproof, dries quickly, easy to set up and take down, conveniently placed mesh pockets on the interior. Plenty of room for one person. Only negative comment is that the stakes bend easily.
Date published: 2019-02-09
Rated

5

out of

5
by
Trail rider
from
Excellent value and it comes in green!
I've owned my moss green Marmot Tungsten one person tent for approximately five years. It continues to serve well. I use it primarily for motorcycle adventure riding and car camping. Marmot did a good job balancing between price and features. I also can't say enough good things about Marmot offering its tents in subdued colors! Don't change Marmot! I don't want people seeing me tucked off by myself. I recommend this tent.
Date published: 2020-02-23
Rated

5

out of

5
by
Raywebb3
from
Very pleased with my stuff
The tungsten 1P tent is just what I was looking for. Features are spot on and the footprint was included. The Saratoga shorts are in the wash every week. Yea, they are seeing some use.
Date published: 2018-05-24
Rated

5

out of

5
by
Powchaser406
from
My go-to 1 person tent
Bought this for a 21 day float down the Colorado River through the heart of the Grand Canyon. Couldn't have been happier with my purchase. Easy setup and take down. Sits perfectly on top of a pack pad which helped keep some sand out. It's now my go-to 1 person tent. Love it.
Date published: 2020-11-21
Rated

5

out of

5
by
Ally
from
Great size!
This tent is a great size for one person including taller people! It has a vestibule for extra storage space, which is great if it's raining. It's ridiculously light, has great pockets on the inside, and has a place to put your headlamp and use it as a lantern! Great tent!
Date published: 2019-06-20
Rated

5

out of

5
by
Hiker April
from
All the Right Stuff!
Very intuitive set up with or without stakes. Liked the height, but the width was a bit narrow for my larger frame. Kept me dry during a storm. Fits back into the sack with little effort. Little to no condensation with the rain fly on. Loved the flashlight pocket for ambiant light! Was able to fit all my gear under the vestibule/rain fly. Great value for price!
Date published: 2019-10-04
Rated

5

out of

5
by
Caden
from
Really great tent, excellent price
I bought this tent as a first time backpacker! I tested it out on a dry evening, and woke up to rain. I woke up completely dry and the take-down took seconds. I really love how thought out the design is, color-coded fly straps and pole to make set-up really easy. I had plenty of space for my gear and sleeping bag, I am 5'6 160 pounds so the tent is a great size. At first I was worried because it seemed small from the outside but I got in and it was greatt!!!!
Date published: 2020-04-30
Rated

4

out of

5
by
Rockwallaby
from
Been great till now
I bought this tent last June in Australia for a 2 week through-hike and it worked perfectly. I've subsequently used it for a 6 day and 2-month hike here in Australia. No problems at all till recently. I pitched the tent as normal. No high winds or rain. When I removed the fly sheet one of the pole sections split at the joint - simply cracked and gave way along joint. I used the included pole repair sleeve. No dramas. Pitched it again, as normal, but careful with the sleeve in place, no wind. Next morning the next segment failed at joint. Not sure what happened to the poles after nearly 15 months of perfect service. Maybe I just got a faulty pole. Now trying to find replacement sections to repair myself. That said it's been a great tent till recently.
Date published: 2021-10-29
Rated

5

out of

5
by
Mahoney0713
from
Amazing Tent!
So happy with this purchase! As always, Marmot's products are built for the wild and to last for many expeditions. Couldn't be happier!
Date published: 2018-07-23
Rated

4

out of

5
by
sock monkey
from
Marmot solid.
This tent represents a good compromise between ultralight and sturdy construction. Light but not fragile or cramped. Lots of room for me and my solo gear, and built to stand up. But: it's designed to fully set up with nine tent stakes, but only comes with 5. How come?
Date published: 2018-06-27
Rated

3

out of

5
by
tlsimpson
from
Good tent for the price
I love the size and the price. The only feature that I had any issue with is the way the vestibule opens relative to the opening of the tent. It will be very tricky to get into the tent without getting your gear soaked if you enter during a rainstorm. I am assuming this might be an issue with most 1p tents. A slight modification on the angle would increase your chance of not getting things wet. Otherwise, very comfortable, light and good price point.
Date published: 2019-06-19
Rated

5

out of

5
by
klafalcon
from
Great Bike packing Tent
I have tried out the tent in the backyard and am looking forward to a weekend bike packing trip soon. I could have gone with something very minimalistic, but want some space in case I get stuck waiting out bad weather.
Date published: 2019-05-15
Rated

4

out of

5
by
Anonymous
from
A One Person Condo!
This is the best one person tent I've used. Enough space for me and my gear. Felt secure in the wind and early rain. No leaks. Includes footprint.
Date published: 2021-04-13
Rated

5

out of

5
by
Breakaway
from
Initial impression.
Haven't slept in it yet but set it up in the yard. Everything you need included. Enough pegs, guy lines, fly and footprint. Set up was a breeze. I'm 6' 230 lbs. and have plenty of room. I know there are lighter 1p tents but if I've done my research well I'll suffice for durability. I'll let you know more after use.
Date published: 2018-10-08
Rated

4

out of

5
by
ERicM
from
Good option for the price.
I bought this to have a smaller option when I go backpacking, as this is all I need and will take up less space in the pack. It's great quality and did fine in light rain so far. A great option for solo camping. My only "issue" is it's an asymmetrical design which when reading about the tent it sounded like the poles had a straight part to give more head room when laying down which made total sense. The downside is the straight parts on the poles are on the door side. Only one is by your head. This pulls on the fabric in an uneven way and interrupts the head space they marketed. I know it's not user error as everything is color coded. If it was designed for that pole to be reversed it would be even better. May not be for you y'all folks as I'm 5'8" and was almost maxing out the space without my feet or head touching the taper of the tent. These are very small details that brought the rating down just slightly. They were so close to getting this perfect.
Date published: 2020-08-19
Rated

3

out of

5
by
zrexmax
from
Great tent almost ruined by aggravating flaw(s)
I've had my Tungsten 1p for 2 years now and have used it extensively car camping, backpacking, even sleeping in my back yard. I love how it easy it is to set up and break down; the color-coded poles and straps make it simple to figure out where things are. For the price, it's a worthy buy. But, now for the flaws: 1. If you're tall, you might want to look elsewhere. I'm exactly 6ft, and if I sleep on something thick (like my Big Agnes air mattress), I touch the mesh at both ends. 2. No matter how I stake the tent, the mesh above my head sags noticeably, exacerbating #1. It's pretty bad, and always annoying. I've read that I'm not alone in this. The more I deal with this the more likely I am to buy another 1p tent from a different company. 3. Apparently you can set it up without the tent, using just the rain fly. This is a great feature, especially in non-buggy, dry weather. However, you still need the tent itself. It would be great if the footprint had the same female buckles the tent does.
Date published: 2021-03-08
Rated

5

out of

5
by
kennie_b
from
Super easy setup!
I bought this tent about a month ago and have used it a few times so far. The pole tops and the tent stake eyelets are color coded so you can't really mess it up! Also with just 2 poles setup takes 3-4 minutes and taking it down is just as easy
Date published: 2019-05-20
bvseo_sdk, dw_cartridge, 18.2.0, p_sdk_3.2.0
CLOUD, getReviews, 0ms
reviews, product
product-detail-view
oos-pdp