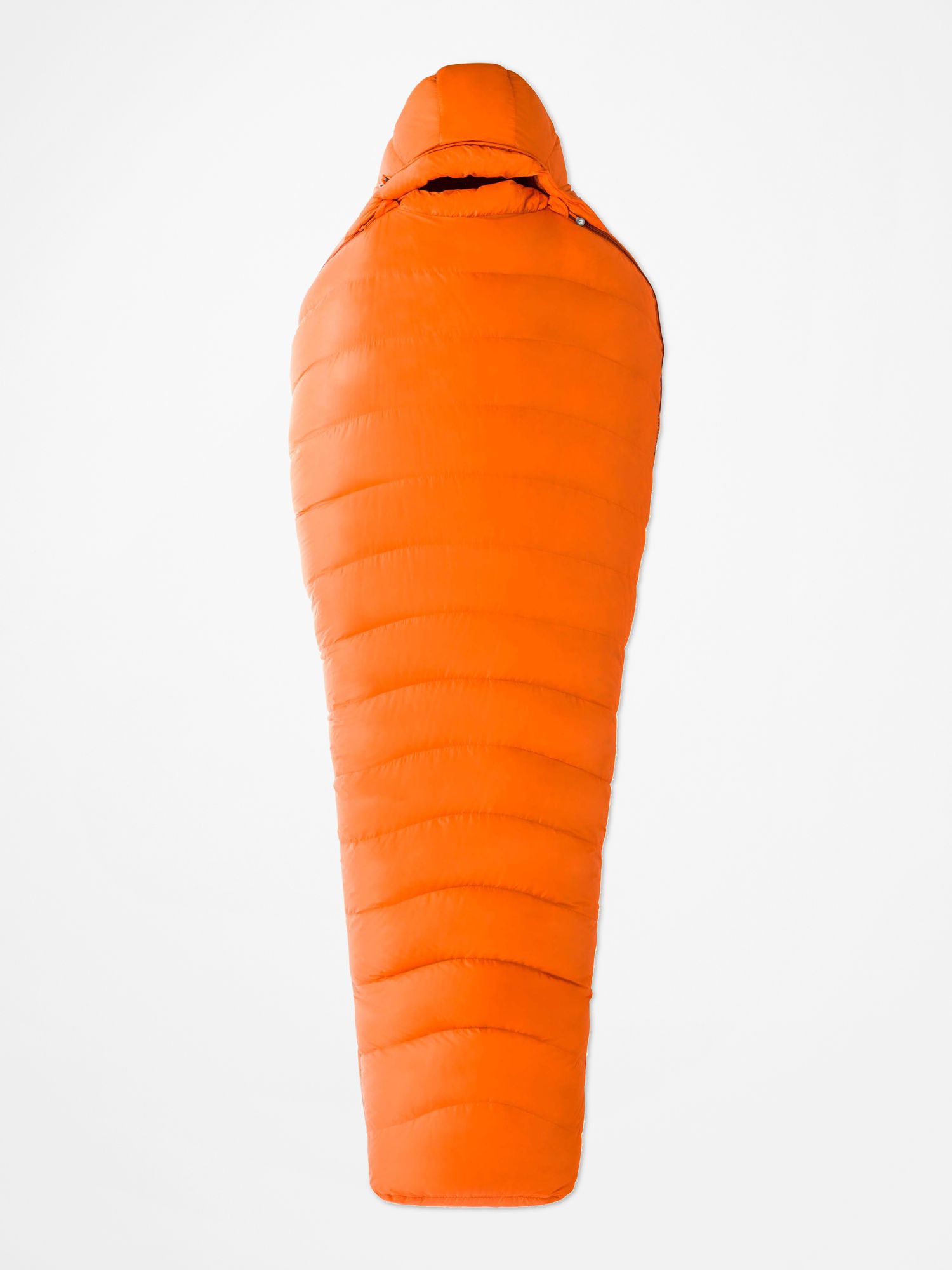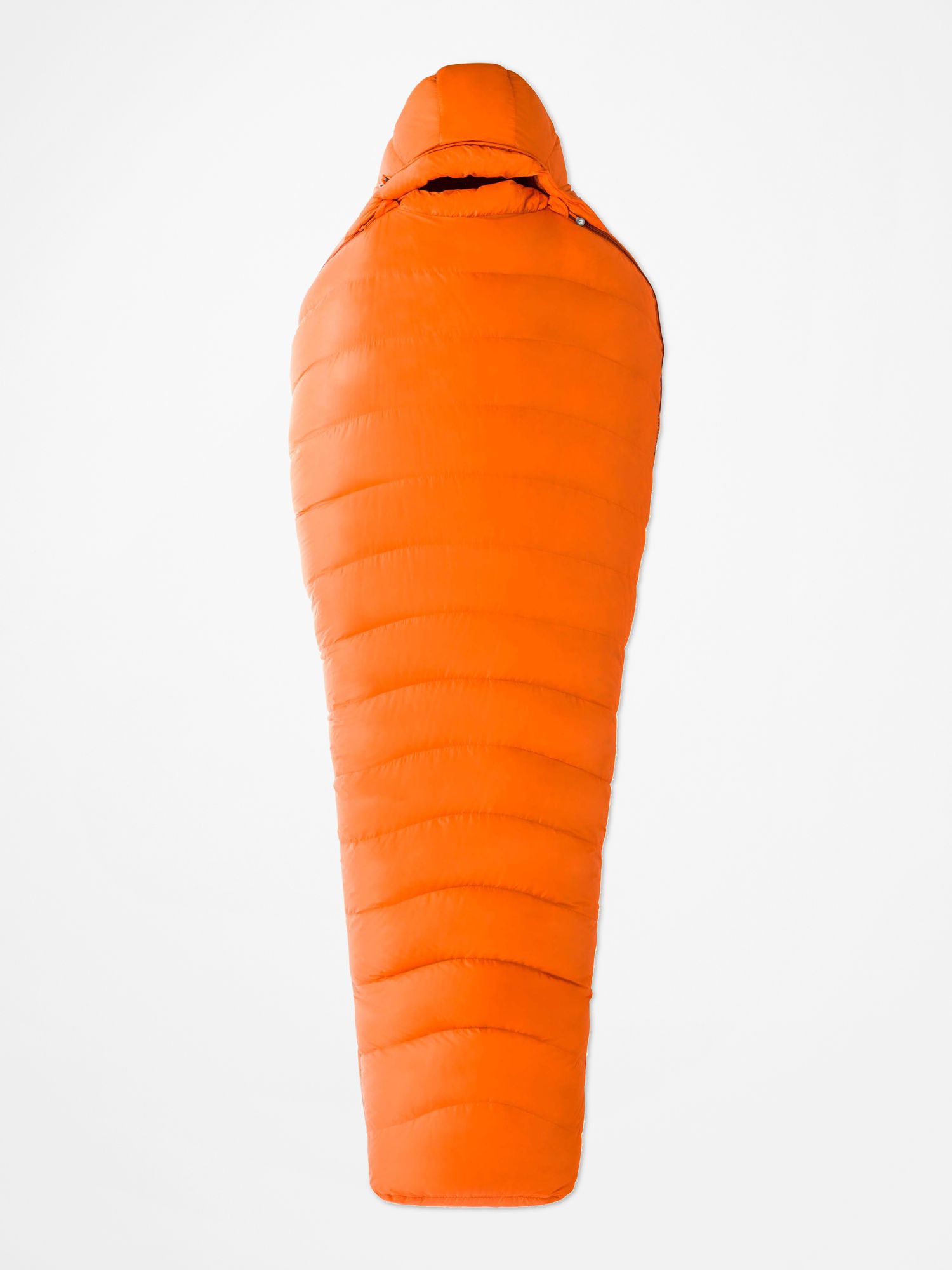 Final Sale: may not be returned or exchanged
Final Sale
This item cannot be exchanged or returned. Valid while supplies last. All sales final.
Selection will refresh the page with new results.
Final Sale: may not be returned or exchanged
Final Sale
This item cannot be exchanged or returned. Valid while supplies last. All sales final.
Product Details
Features
Fold-Down Second Zipper Provides added Ventilation and Easy Access, Main Zipper Anti-Snag Slider reduces Snagging
Anatomically Designed Footbox with Wrap-Around Construction increases Warmth
Smooth-Curved Baffles Reduce Down Shifting. Nautilus Multi-Baffle Hood limits heat loss
Filled and Finished in Rohnert Park, California
Certified 800+ Fill Power Goose Down
Ultralight Pertex Quantum 20d 100% Nylon Ripstop DWR 1.03 oz/sqyd
EN Tested
Full Length Locking YKK Two Way Zipper with Zip-Guard Slider
Down Defender to Improve Water-Resistance in Wet Conditions
Nautilus Multi-Baffle Hood
Internal Stash Pocket
Snagless Insulated Draft Tube
Hood Draw Cord
Two Way Zipper Sliders
Zipper Garage
Stretch Tricot Baffles
Two Hang Loops
Stuff and Storage Sack Included
Description
Ultralight fabric, high-quality down, and a minimalist design come together in the Lithium 0° Sleeping Bag. Suitable for mountaineers and backpackers adventuring in temps down to 0° F, its lofty 800-fill-power-down insulation and water-resistant Down Defender treatment stays warm and dry. After an epic day on the mountain, give your feet a rest in the roomy wrap-around footbox. Smooth, curved baffles help keep the fill in place, while the nautilus multi-baffle hood with a drawcord, snagless insulated draft tube, and full-length two-way zipper with a zip-guard slider limit heat loss. If the interior gets too warm, use the fold-down secondary zipper to get some air. Tuck small items into the internal stash pocket.
Specifications
Bag Temperature Fahrenheit:

0°F

Bag Temperature Celcius:

-18°C

Tested Comfort:

9°F / -12.8°C

Product Weight:

2lbs 9.5oz (1176g)

Main Fabric:

Pertex 20d 100% Nylon R/S 1.03oz/yd

Lining Fabric:

30d 100% Nylon DWR 1.09 oz/yd

Insulation Material:

800+ Fill Power Goose Down

Shoulder Girth:

61in (155cm)

Footbox Size:

39in (113cm)

Stuff Sack Size:

7 x 16 in, 19 x 41 cm

Includes Storage Sack:

No

Includes Compression Stuff Sack:

No

Compressed Volume:

598.0ci » 9.8 liters
Rated

5

out of

5
by
Tyson Kamp
from
Can't find anything close at this price point.
I spent 4 nights in the eastern Sierra @ 10.5k ft, ice in my water bottles inside my 4 season tent each morning. Each night when I crawled into the bag with cold hands and feet, I would wake up for a minute a few hours later with my extremities perfectly warm. It definitely gave me a feeling of security. The first night with my new tent that I failed to vent properly, I had frost covering the top of my sleeping bag and again I was totally warm and comfortable. I waited for an hour after the morning sun hit my tent for the bag to defrost and dry, no problem. I am guessing temps were around 20. I was using a foam pad next to the ground, then an inflatable with a 4.9 r value on top of that, so this adds to the heat retention for sure. A few days later I went to Whitney for 2 nights and it was only getting down near 30 and my setup was overkill, but the wind was really mild. I've searched high and low and given you can find this bag for $400-$500 I've found nothing close in warmth/weight/price.
Date published: 2017-10-08
Rated

5

out of

5
by
ElliM
from
Finally I'm WARM!!!!
I am a very cold sleeper. Originally, I wanted the -20 bag but even in the stuff sack, it was too wide to fit in my backpack so I bought the 0. I add a sleep sheet liner because the industry ratings are absurd - anything below zero is the "you are warm" temp and generally anything zero and above is "you won't die" temp. The Marmot rep said this bag has a "women's comfort rating" of either 9 or 12, can't recall. The sheet takes me down to 0 so even at 16,000' on Kilimanjaro I was toasty warm. The hood on the bag is incredibly thick, read it's warmer to sleep without a hat, OMG. It stays snug without being tight across my nose like a different maker's bag I previously owned. The foot box is also nicely stuffed with extra feathers. The zippers don't get caught in the fabric and in the dark, I can connect the bottom part of the zipper without too much frustration. The interior pocket is kinda cool but I don't use it often. I am quite thin so I have had trouble heating up other bags. This one fits me well. I do highly recommend gettng a winter-rated sleeping pad. I've found no bag can do its job if the pad is not propberly insulated.
Date published: 2019-06-07
Rated

5

out of

5
by
NevadoYerupaja
from
Best Bag
This is a very versatile sleeping bag for mountain travelers, being a great fit for all four seasons. In a tent or bivy it works well to zero, and breathes well enough to work for a summer bag at upper elevations.
Date published: 2017-12-26
Rated

5

out of

5
by
mountainwoman
from
The ultimate cozy sleeping bag
This is one of my favorite purchases ever. I run pretty cold and like to sleep warm, and I have never been cold in this sleeping bag, even down to single digits. The best part is the hood, because it literally will cover your whole head, without feeling suffocating. Great bag, for anyone looking to not be cold anymore! I wouldn't say it is the lightest ever, but personally I spend more time camping in cold temps and would prefer to be warm over carrying a few more grams on the few backpacking trips I take.
Date published: 2020-12-01
Rated

5

out of

5
by
BillD
from
Awesome Warmth
I have used this bag now three times with various ranges of temps from -3 - 19 degrees. Supper warm, packs down nice in the backpack. Must have for me for winter adventures
Date published: 2019-12-03
Rated

5

out of

5
by
Cindy Powder
from
Nailed it.
For spring overnight ski tours in the Cascade mnts of Wa. the bag kept me warm. I'm a petite female who likes to have a warm bag and this one did the trick. Thanks Marmot!
Date published: 2020-05-26
Rated

5

out of

5
by
kap1425
from
Toasty
Before I got this bag I had been using hand-me-down bags from friends or family, and I must say I am BLOWN AWAY with how warm and comfortable this bag is. The down is perfect for those icy nights and the extra zippers make this bag suitable for sleeping in moderate temperatures as well. I especially like the zipper pocket that I've used to keep batteries and stove fuel canisters warm at night, and the extra thick insulation at the feet is a huge plus given that I've always woken up with freezing feet while camping until this bag came along. Would absolutely recommend.
Date published: 2020-09-21
Rated

5

out of

5
by
SierraShawn
from
Finally Warm
I'm a cold sleeper, and a high-sierra mountaineer. Not a good combo. Thank God for this bag! Very roomy for its weight. I'm 5'9"/175lbs, and I was comfortable. And my feet stayed warm for the first time in years. So far so good! First test was sleeping out in the open the night before a climb. Woke up to ice on top of the bag, but I was dry and toasty inside. Shook the ice off. Bag was dry in 5 min. Never better Marmot! Keep up the great work :)
Date published: 2019-05-03
Rated

4

out of

5
by
Hp123
from
A little chilly, but still a solid bag
So I've loved this bag in 20-30 degree weather and up. It's so incredibly light weight, warm and cozy. Definitely a snug fit, but that's to be expected. I would say it's pretty chilly below 20 degrees though, although the comfort rating is 9. The zipper did break on me after about 30 nights sleep, but I work in a super sandy environment and pretty much every sleeping bag I've used out there has had the zipper break at some point.
Date published: 2020-11-16
Rated

5

out of

5
by
Shane1234
from
Lightweight, packs small, and warm
I bought this bag a few months ago to replace a heavy and bulky synthetic bag. I have used it in about 5 °F, and never got cold feet or legs like with comparable bags. I do wish the face gasket would cinch up tighter, and think a chest baffle would keep heat in better. That said, the bags seems to be warm enough that a little heat leaking out of the top hasnt been an issue.
Date published: 2019-02-23
Rated

4

out of

5
by
Le Rico
from
Canadian Winter warmth
I have used this bag for winter camping for the last 7 years. Warm, light and packs down easily. I have been comfortable down to -25 C and just add a few extra layers when it gets colder. The draft tube on the older model is not great compared to other bags, but the company his fixed that in the newer models. I would highly recommend this sleeping bag.
Date published: 2019-02-03
Rated

4

out of

5
by
Miguelius
from
Great companion for adventures
I bought this sleeping bag, for may attempts to reach all the 14 peaks above the sea level, in Bolivia - South America. Since when using this sleeping bag was incredible, in terms of coziness and how lightweight it actually is... Living in tent during the cold mornings, it is hard to get out of it. Worth every dollar that I paid...
Date published: 2020-11-21
Rated

5

out of

5
by
Peaks and a Beer
from
Perfect for the Cascades!
I've been using this pad for about two years now all over the WA cascadr mountains, and it's been pretty solid! I use it mainly in the late spring time and early summer, as well as in early winter up to mid Jan. As Cindy said in a previous review below, this sleeping bag really warms you up for backcountry skiing trips in the spring. It's a nice size, and fits in my Hyperlite and other packs with a lot of space left for other gear. I always bring an Xplorer 2 with me to see the low temps and wind chills while camping, and at 22F coupled with the ThermaRest NeoAir XTherm and BDiamon Fitzroy tent I was pretty toasty. This sleeping bag is great for the low temperatures as long as you add to it other appropriate sleeping pad/gear. I added a SeatoSummit thermal liner and it definitely got hot some nights, but is perfect for colder temps. Highly recommend! Have had no issues with the zipper, and haven't had any tears. Solid bag, I really love it! I'm 6' and I have a bit of space left.
Date published: 2021-01-01
Rated

5

out of

5
by
Dann
from
Warm, small and light
I just used this bag in 15 degree weather and I did not have it zipped up all the way. I tend to sleep hot, but my feet (usually blocks of ice) were not even cold. It is a tight fit, not a lot of room to move around, but that allows it to be very light, which seem like a good trade off to me.
Date published: 2017-11-17
Rated

5

out of

5
by
ClaireF
from
So Warm, So Packable!
I bought bag this for a December trek to Everest Base Camp. Once I got up above treeline, the temperature regularly dropped to five-ish degrees fahrenheit at night, even in the teahouses. But I never had to worry about being cold because this sleeping bag hardcore performed! I was warm and cozy every night, no matter how cold it was. Woke up a few times in the mornings to see my breath frozen on the surface of the bag, but was still super warm! In addition, it packs down to about the size of a football in a compressible stuff sack, so it was very easy to carry. My one sort of nitpick is that is doesn't come in a short version. I'm a 5'1", 120 lb female, and I found it hard to keep my feet warm at times with all of the deadspace at the bottom. Shoving a puffy jacket my feet solved the issue; still, having the choice of a shorter bag would've been great (less weight to carry and all that). I'm still glad I opted for this bag, it was one of my favorite pieces of gear for the month I was hiking. Highly recommend!
Date published: 2019-09-16
Rated

5

out of

5
by
GoHike89
from
Incredible weight to temp ratio
Landing in just over a kilo and packs down really small for a 0°F, this sleeping bag is my winter go to bag. I've slept warm and comfy in - 20°C and I've used it on really humid 0°C hikes without any water absorption, it does not let me down. I'd trust this with my life!
Date published: 2021-06-03
Rated

4

out of

5
by
Sherrr
from
Kept me toasty in the mountains
Super warm sleeping bag for sub zero. Wish is came with a compression stack not just a stuff sack. Outside layer is always soaked when I wake up from condensation. Wish the outer layer was water repellent.
Date published: 2021-10-17
Rated

5

out of

5
by
Johnboy
from
Awesome bag
Bought the bag a few months ago and been in 0 degrees in it in the winter and it's very warm and comfortable
Date published: 2021-06-23
Rated

5

out of

5
by
Ben M
from
SO AWESOME!
For years I had been using a synthetic fill 15 degree sleeping bag for my summer backpacking trips. I'm a cold sleeper, but even on nights when the temperatures only went down to 40 degrees or so I would still wake up in the early morning chilled to the bone with frozen feet, even while wearing two layers of wool socks! Well, thanks to this sleeping bag, those days are all in the past. The down fill is far superior in my opinion: more comfortable, more breathable, and more effective at insulating. The down continued to perform perfectly even when the outside of the bag was covered in condensation. The zero degree rating works perfectly for me, even when the temperatures aren't too low. I never overheat in this bag, but I also have never been cold - just a perfectly comfortable temperature all night long, and waking up to happy feet. Thanks Marmot!
Date published: 2020-08-09
Rated

5

out of

5
by
Arturo
from
Awesome must have bag
Happily living with a marmot lithium for over a decade, averaging 2-3 months a year. I'm 5'11" and go with the long. 0° temp rating is conservative- good! The bag is comfy and warm in thundersnow at altitude, cold, wind when clamped down. Light and compressible enough to take along on 45° nights and know you're going to leave it open and use like a quilt. My first was a membrain bag; really wish that was still available. Try really hard not to get the new one wet, because, you know, Down! Fill Quality has reduced a bit from where this bag was ten years ago. But the new lithium is, was(?) still the best value out there. A good friend returned an more expensive western mountaineering bag and bought a Marmot Lithium. Side note, Hey Marmot, if you're still making something as great as the lithium membrain 850 from ten years ago, please direct me I'll buy and give it 6 out of 5 stars!
Date published: 2021-07-13
Rated

5

out of

5
by
BenG
from
Warm, light, and compact!
I bought this about a month ago for a trip to Patagonia, but tested it out in Sequoia National Park. It dropped down into the mid 20's, so well within the rating of the bag. I was comfortable throughout the night and look forward to putting this thing through the ringer. It's extremely light and packs down really well.
Date published: 2018-10-31
Rated

2

out of

5
by
Halle
from
Pretty chilly
Pretty cold at temperatures around 35 degrees. I would call this a 20 degree bag maybe. Overall nice construction and very light for backpackers and minimalists. Thinking about returning it. I liked my 15 degree trestles bag better even though it's bulky.
Date published: 2021-01-13
Rated

5

out of

5
by
Drew82
from
Great bag
Bought this bag for hunting trips and am amazed at the quality and design. Tremendously better than anything I have had previously and would have no problem sleeping on the bare ground, it's so comfortable. Which I had this bag thirty years ago.
Date published: 2018-12-31
Rated

4

out of

5
by
Daniel Daniel
from
Inner zipper pouch can't fit modern cell phone
The bag is great overall, but the zipper pouch on the inside is too small to fit a modern cell phone. I wish it was a little bigger (which shouldn't add cost or weight) in order to keep phone warm during really cold nights.
Date published: 2022-01-06
Rated

4

out of

5
by
Cambodi
from
Think About It......
I have a question, this sleeping bag says it is a 0. everyone that has posted has said the bag was good at an avg rating saying it was good but got chili. So this bag does not keep you warm and cozy at not at lower temps?
Date published: 2020-11-18
Rated

3

out of

5
by
Matteo
from
Warm bag
Pretty warm bag with a good loft to it. I can't say that I love it, one of the baffles seems to have no down in it. So not sure if this is just poor construction or a fluke, for that I'll get 3 stars instead of 5
Date published: 2018-12-20
Rated

5

out of

5
by
Kathy PCT
from
warm and light
My old bag was supposedly rated at 15 degrees and I was always freezing. I upgraded to this bag last year and it is amazing how warm it is, and how light and packable it is. So glad I bought this!
Date published: 2020-04-20
Rated

5

out of

5
by
Armani
from
Great bag, warm and cozy!
Tent camped overnight, temperature got down to around 35 degrees. Great bag, well made and kept it me me warm all night with it partially unzipped. Should be no problem for zero degrees.
Date published: 2021-04-10
Rated

5

out of

5
by
Celebrating60
from
So Warm!
I used this at Mt Baker....temperatures were in the 30's at night and this was so cosy and warm. It even got too warm at times which was unexpected since I tend to run cold.
Date published: 2018-09-19
Rated

1

out of

5
by
Mareko
from
Drying took forever and still clumps
its a great sleeping bag. But for the price you pay it shouldn't take hours and hours to dry and still clump in spots
Date published: 2016-10-26
bvseo_sdk, dw_cartridge, 18.2.0, p_sdk_3.2.0
CLOUD, getReviews, 0ms
reviews, product
product-detail-view
oos-pdp