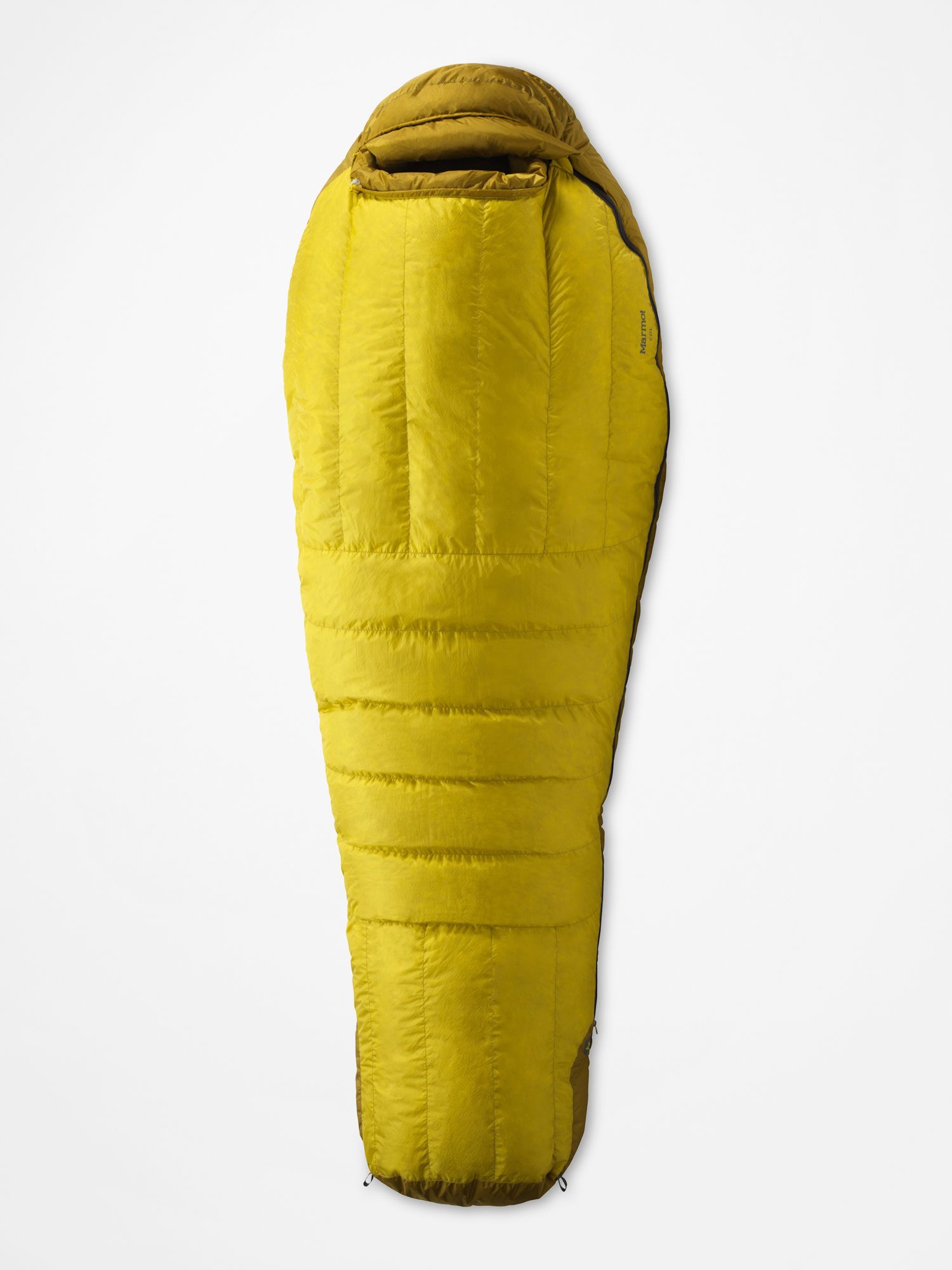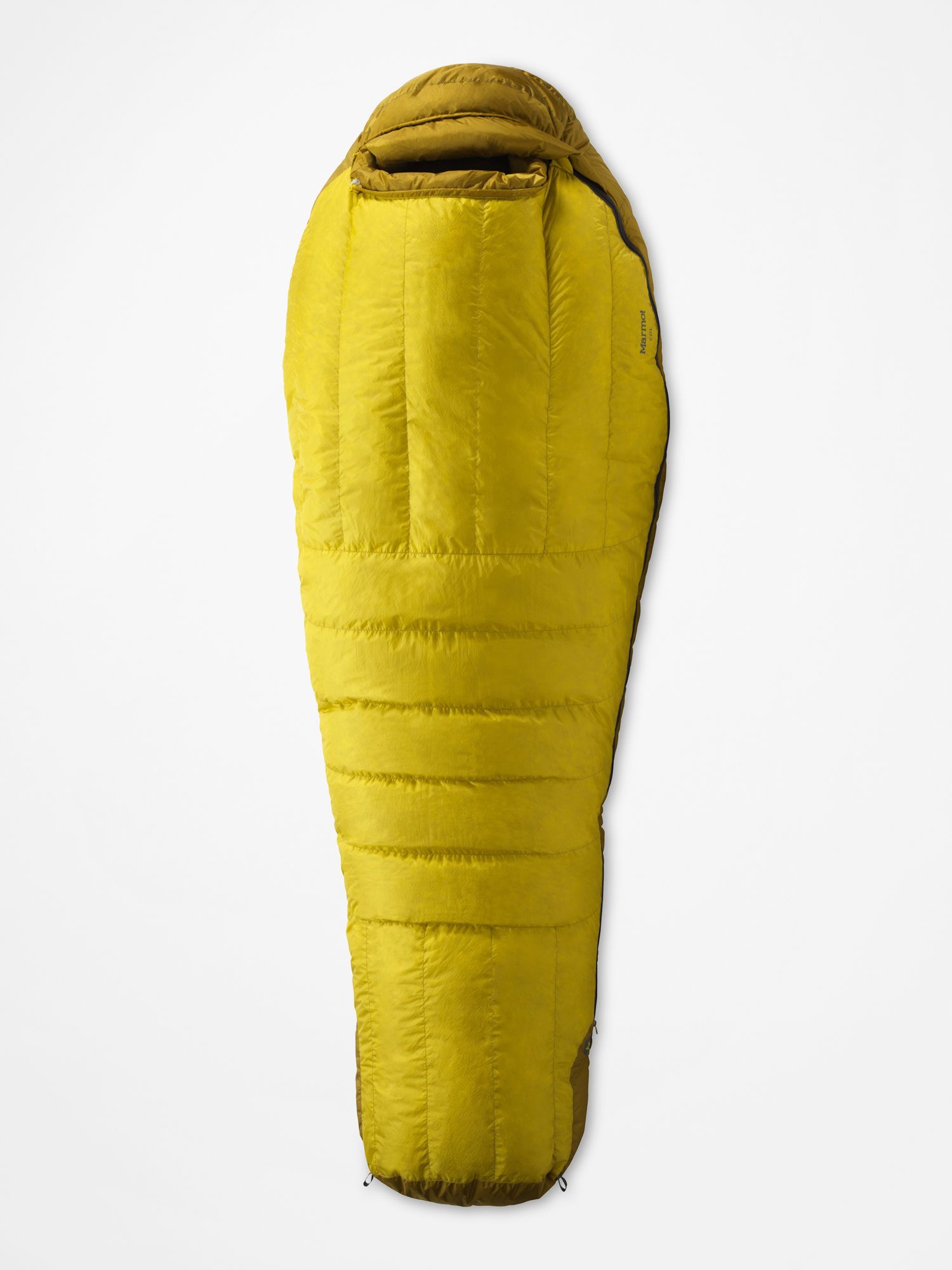 Final Sale: may not be returned or exchanged
Final Sale
This item cannot be exchanged or returned. Valid while supplies last. All sales final.
Selection will refresh the page with new results.
Final Sale: may not be returned or exchanged
Final Sale
This item cannot be exchanged or returned. Valid while supplies last. All sales final.
Product Details
Features
Filled and Finished in Rohnert Park, CA with Certified 800 Fill Power Goose Down
Pertex® Shield Waterproof/Breathable Fabric
Marmot Cross Baffle Construction Prevents Down Shifting and Colds Spots
11-Baffle and Wrap-Around Foot Box Increases Warmth
Reinforced Foot Box Lining
Nautilus 6-Baffle Hood
"Feely" Draw Cords
Down-Filled Draft Tube
Ground-Level Side Seams
Hidden Draft Tube Pocket
Stretch Tricot Baffles
Velcro®-free Down-filled Collar
Zipper Guards
Stuff and Storage Sack Included
Description
The Col -20° Sleeping Bag offers all the comforts of home—even at fifteen thousand feet. The waterproof and breathable Pertex® Shield fabric membrane offers protection from Mother Nature's mood swings, while lofty 800-fill-power-down insulation keeps you warm in plunging temps. When it's time to call it a day, give your feet a break in the 11-baffle wrap-around footbox with reinforced lining for extra comfort. Its stretch tricot cross-baffle construction controls down shifting and eliminates cold spots. The down-filled draft tube and collar, nautilus 6-baffle hood, and zipper guards limit heat loss in the most extreme conditions, so you never have to turn back.
Specifications
Bag Temperature Fahrenheit:

-20°F

Bag Temperature Celcius:

-29°C

Product Weight:

4 lbs 6 oz, 1990 g

Main Fabric:

Pertex Shield 30d 100% Nylon 2 Layer R/S 2.3 oz/yd

Lining Fabric:

Pertex Microlight 30d 100% Nylon RS 1.3oz/yd

Insulation Material:

800+ Fill Power Goose Down

Shoulder Girth:

63in (160cm)

Footbox Size:

45in (114.3cm)

Stuff Sack Size:

9 x 19 in, 24 x 48 cm

Includes Storage Sack:

No

Includes Compression Stuff Sack:

No

Compressed Volume:

945.9ci » 15.5 liters
Rated

5

out of

5
by
Gene55
from
Like climbing into a super lightweight pillow.
This bag is so comfortable and warm. I'm 5'10 and about 165 lbs and there is surprisingly lots more room than I am used to for a mummy bag. Quality of construction is excellent and the weight to warmth ratio is amazing. I have yet to really test the bag in extreme cold or damp conditions but I'm looking forward to being able to. The Pertex fabric is nearly airtight which makes stuffing the bag into it's sack a bit of a workout but it does all fit in. I got a RT zipper for my wife so we can zip them together for pure camping luxury.
Date published: 2018-12-18
Rated

4

out of

5
by
Bella
from
Amazing bag, but big!
I bought this bag to use in the extreme winters of Utah. I sleep in every type of condition for my job, and this bag has been amazing so far. It stays warm and dry in spite of being out in the wind, rain, snow, and frost. I use it with a bivy and because of this, there is usually condensation built up on the top of the bag when I wake up. In spite of this, I have never lost warmth and the bag dries very quickly in the mornings. For me, this bag's price tag was worth it because I will get a ton of use out of it. It's the most affordable neg. 20 down bag I could find, and I am seriously grateful for it. It is definitely large, but I don't need it for backpacking long distances, so the size didn't sway my decision. I put it in my 65L pack without the stuff sack and compress it further with my pack's compression straps and the rest of my gear.
Date published: 2018-11-03
Rated

5

out of

5
by
Mikey
from
The go to sleeping bag - by Mike Leake
Marmot's Col MemBrain sleeping bag is 800 fill goose down and rated to -20 deg F. This bag can be used for a burley expedition in the Alaska Range, but is also packable and lightweight enough for a traverse through a mountain range like the Talkeetna Mountains of Alaska.
Date published: 2014-03-12
Rated

5

out of

5
by
Gone Fishin
from
More great Marmot gear!
I have some Marmot bags I've had for 20+ years and they are all perfect. I have 2 tents that are bomb proof in all conditions. Last year I added a Col, and I love it. Winter nights in Alaska & Montana (trout) or western Washington rainforest (steelhead) this bag kept me warm down to zero (haven't tested below 0). High loft, no cold spots, roomy, warm, dry (it's really wet in Forks in Jan).
Date published: 2018-07-08
Rated

5

out of

5
by
Stone
from
Great Bag!
Only a couple of uses so far, but the warmth, loft, hood are all very well put together. Got down just below zero and I am still almost sweating! Stuff sack is the right size too for most packs.
Date published: 2016-11-17
Rated

5

out of

5
by
Nicktheking
from
Great Bag!!
I work in the Rocky Mountains as a backpacking guide for 8 days at a time. I bought this bag for the winter season. So far its held up nicely. I have been in temperatures at under 10 degrees fahrenheit (not below zero) and I have been warm with no tent. When it starts to get colder i will probably get a liner and a bivy for it. But so far i have not been cold.
Date published: 2019-10-28
Rated

1

out of

5
by
Mowski
from
Too Big, Too Cold
Working and living outside, I spend most nights in my sleeping bag. I invested in this bag for the winter season in Utah and was hoping it would keep me dry, warm and comfortable. One of those things did happen. I am dry in this bag, even when the entire bag is covered in frost/snow. Unfortunately, I would not recommend this bag. And this is why. The down fill is leaking after two uses. The bag has a hard time reaching full expanded mode after being packed in a backpack. If it's colder than 15 degrees, I am cold, even with my 45 degree Marmot down liner bag. I can curl up (knees to chest) while having all my layers and jackets inside the bag (5' 2", 130lbs). And last, the down fill moves around easily, making the part where you back/side/knees end up being very, very cold and uncomfortable. Unless you run very, very warm and are 6' 0", I would not recommend this bag.
Date published: 2021-02-15
Rated

4

out of

5
by
Juice
from
SO warm
This bag is so nice and warm. I use it in the frigid Utah desert over winter. It is quite well constructed, making it heavier than other down bags, but it is definitely going to last. It's also waterproof! The reason I gave it 4 stars is because it is very hard to zip up. I still love the bag though.
Date published: 2017-12-02
Rated

5

out of

5
by
Jake26
from
Super cozy!
I got this as a gift a while ago! I've used it on tons of big mountain adventures. From Denali to the Himalayas, amazing construction and warmth. I've dragged it up big walls and tossed it around on many basecamps. As mine is getting old and showing major wear and tear, I will absolutely buy again!
Date published: 2019-09-20
Rated

5

out of

5
by
McKeag
from
JUST AWESOME!!!
I used this bag for deer season in MI Upper and I tent camp. On my last night it was 4* and I actually had to unzip the bag to get some cooler air inside as it was so toasty. I love this bag as I do the other three Marmot bags I own. You will not be disappointed with this purchase.
Date published: 2019-08-21
Rated

5

out of

5
by
rrnepal
from
SO warm
I used it trekking in the Himalayas in November/December and was *hot* every night ... so grateful to be warm at night when it was freezing outside. SO amazed too that the giant fluffy bag fits in its stuff sac!
Date published: 2017-01-08
Rated

5

out of

5
by
Jade
from
Very warm
I work in wilderness therapy and this bag was perfect for the winter. I slept out in it almost every night and it kept me warm and dry even when I woke up with snow on the top.
Date published: 2018-01-30
Rated

5

out of

5
by
jr100
from
Warm and Just the Right Amount of Room
I have been a wilderness guide for over six years and being warm at night is more than just about comfort. Getting good rest means better decision making, a more enjoyable mood, and so much more adventure. With the Col -20, I was warm and excited to head to bed the next night with the temperatures in the low 20's. There were no cold spots and it was big enough to not feel constricted but still slim enough to heat up quick.
Date published: 2020-11-17
Rated

2

out of

5
by
Max M
from
Good bag, garbage zipper.
Great bag, plenty warm.. But good gosh the zipper is absolute trash. To be completely honest if I paid full price and it was eligible for return I would have sent it back
Date published: 2021-01-25
Rated

5

out of

5
by
TravisK
from
Worth every penny!
I bought the Col -20 degree sleeping bag because I was tired of laying in my tent, never getting good sleep on backpacking trips. Well that no longer happens thanks to Marmot. I haven't tested it to -20 yet, but it did get down to 25 on my 1st night using it and I have to say, I never thought you could be that comfortable and warm in a tent (I actually unzipped it and slept through the night that way). Although it was more than I would usually spend on a "normal bag", this bag is worth every penny and I would make the purchase again.
Date published: 2021-01-11
Rated

5

out of

5
by
JohnMiles
from
Absolute unit
Purchased this bag in September and only just got to use it about a week ago in early November. Ambient temps around 0F. I couldn't believe how warm it is! Of course it is rated to -20F so that really shouldn't be a surprise. Purchased this bag for winter hiking and mountaineering in Alaska and I have 100% confidence the Col will perform flawlessly.
Date published: 2020-11-10
Rated

5

out of

5
by
foxn7
from
FLUFFY!
Bought this for my wilderness therapy job in Maine. It keeps me warm and it's not as heavy as many other bags. It is somewhat difficult to stuff into its compression sack and I do often get the zipper stuck, but those are minor issues for a bag that keeps me warm through Maine winters. Thanks Marmot!
Date published: 2020-05-09
Rated

5

out of

5
by
Moose girl
from
Cozy warm
I am extremely pleased with this sleeping bag, it is warm & cozy and like sleeping on a plush feather bed. I love camping, but it's no fun being cold, a good night sleep is so important, thanks to my col I will be well rested and adventure ready!
Date published: 2020-11-20
Rated

5

out of

5
by
AconcaguaTrip
from
Worthy purchase
Great sleeping bag. A tad bulky but very warm for high altitude climbing
Date published: 2020-05-09
Rated

5

out of

5
by
Bombadil
from
Well Designed and Cozy
I've slept 33 nights in this bag this winter and I'm convinced Marmot will be my sleeping bag outfitter for life. While I had some cold nights around 0F before I dialed my sleep system, I am now very cozy through nights ranging from -10F to 30F. The bag has performed very well for me in frozen fog, snow, sleet, and rain. I've been sleeping in a bivy, using a liner, and bringing a hot water bottle into the bag to warm my femoral arteries and keep my frost nipped toes cozy. Condensation inside my bivy, frozen fog, and light snow haven't been an issue for the waterproof fabric on the bag's exterior and I've stayed dry and warm. It's lofty and packs down small enough for my purposes as a wilderness field instructor in a therapy program based in the high desert of Central Oregon. The main change in my sleep system involved setting my foam pad above my air pad to insulate my body and sleeping bag from the cold air and ground below. When I positioned the air pad above the foam pad and frozen ground, without a liner, I experienced some chilly nights. I love the glow in the dark tab on the hood draw cord. The draft collar and hood cord operations took some getting used to as the cranial and caudal sections draw closed independently- a feature I now appreciate. Marmot's customer service team has been incredibly supportive to me and that means a lot.
Date published: 2019-01-17
Rated

5

out of

5
by
Tlp323
from
Near Perfect.
This bag is simply the best! I have used many others but none have going for them what this bag has. Plus side of this bag! Room excellent, 6 ft 180. Very generous inside. Can move roll freely etc. No other bag in the category comes close. Material is water proof(not resistant) no need for bivy, have slept on the ground in light wet sleet 100% dry! I sleep cold, bag has kept me warm. In real cold 0 or negative temps the bag takes a few min for all that room to heat up for me but its only a few. Down side: I have to really think about this its such a great product. As other mentioned zipper would be awesome with anti snag guard! I tried to get one from YKK. The thing traps air like a balloon! Not sure this is a negative until your trying to put it back in a stuff sack in a hurry. How often does that happen. Honestly i think I could float this on a lake, riding atop! Its that awesome! The draft collar was a little light on fill, could use another ounce or so. Cinched up still works great. If your not a fan of yellow, oddly the things so great it will make you a fan of yellow! It has me anyway. So downside? I guess the zippers lack of anti snag guard, and a better stuff sac like the Paiju's! Hey Marmot how about a retro upgrade kit for us? A YKK anti snag zipper guard, a really cool yellow dry stuff sac like the Paiju's ! Lastly one of your cool air pillows that comes in a match color! Either the yellow or green wheat.
Date published: 2020-07-04
Rated

5

out of

5
by
jillybean10
from
A winter life saver
So happy I finally bought this bag. I work outside in the winter where it gets pretty cold. The first night I slept in it I underestimated how warm it would be and had to delayer quickly after getting into it. My medium sized dog was also able to fit in there with me. She got cold and crawled in during the early AM. Stoked to use this more throughout the coming winter season for work and snowboarding trips
Date published: 2018-11-09
Rated

4

out of

5
by
Trottrrrr
from
Warm and durable
Bought this bag for work in December. I am a wilderness field guide for outdoor therapy program. This is an awesome winter bag. It holds up in windy and below freezing conditions. Does not build up condensation around hood or face area. Great should room and head space. My only dispute about the bag is how long it is.
Date published: 2020-01-08
Rated

5

out of

5
by
Adam D
from
This bag rocks.
I purchased this after I froze my butt off in the Himalayas. Took it on many a winter camping trip since and have been toasty warm. The water-resistant coating works shockingly well and moisture seems to bead off. I'd recommend this one if you are thinking about camping anywhere near the 10F or below mark.
Date published: 2019-11-26
Rated

5

out of

5
by
HannahMaine
from
warm, long, and noses
Very warm and cozy. Extra room at the foot to store boot liners or clothes (I'm 5' 9"). Loft is huge and can be compressed for backpacking. Only warning: don't bury your nose while you sleep, because the condensation will build up and you'll get cold.
Date published: 2021-03-10
Rated

5

out of

5
by
BenK
from
Excellent Cold Weather Sleeping Bag
I've always found Marmot sleeping bags to be high quality warm bags. I have a -30 degree Mountain Hardware bag and this -20 degree bag is significantly warmer. It's perfect for cold nights out on the mountain in the winter.
Date published: 2021-10-15
Rated

5

out of

5
by
hhariri
from
Amazingly warm sleeping bag
This is a high quality winter sleeping bag. It has a water-resistant coating that protects it from any possible condensation. The zipper action is smooth. Comes with a storage bag as well.
Date published: 2020-11-20
Rated

5

out of

5
by
Riggs
from
Perfect bag
I recently purchased this bag again after someone stole my entire pack with everything in it. By far the best bag I've ever owned out of all the major brands.
Date published: 2021-10-17
Rated

5

out of

5
by
Matt7777
from
Keeps ya warm
I have used it a few times! The coldest I have used it for is around -10. It stayed warm and cozy! Good bag.
Date published: 2020-11-10
Rated

5

out of

5
by
Cruzmountains1
from
High Quality
This is a high quality bag. It will be put to use this summer. This is the third Marmot bag in the family.
Date published: 2021-07-07
bvseo_sdk, dw_cartridge, 18.2.0, p_sdk_3.2.0
CLOUD, getReviews, 0ms
reviews, product
product-detail-view
oos-pdp